UK aid budget: Charities call £500m cut a tragic blow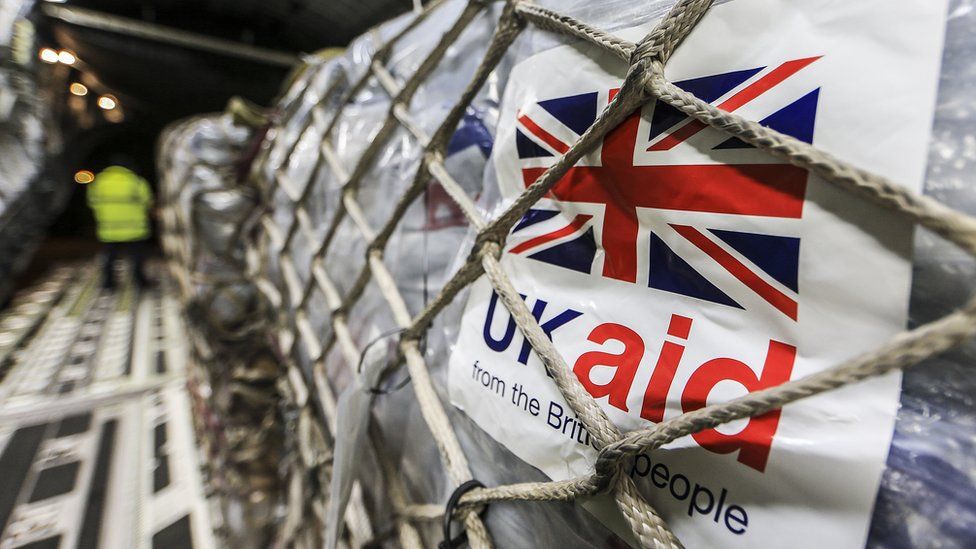 Cuts to humanitarian aid by the UK are a "tragic blow for many of the world's most marginalised people", 200 charities said in a joint statement.
Organisations including Save the Children and Oxfam said humanitarian assistance was being reduced by more than £500m.
Foreign Secretary Dominic Raab said the changes reflected a "strategic shift" in UK aid spending.
He also said the £18m aid budget given to China will be reduced to £900,000.
The Foreign Office controls 80% of aid spending - £8bn - and the priorities were set out by Mr Raab in a written statement.
More than £1bn will be spent on Covid and global health, £500m towards tackling climate change and £400m on getting girls into education.
Mr Raab said it was a "challenging financial climate" due to Covid-19, but said the government had sought "maximum strategic coherence, impact and value for taxpayers' money".
But aid charities said even the priority areas were receiving less than before, and £500m less was being spent on humanitarian aid.
The 200 charities, which also include Christian Aid and Care International, said: "Today's announcement is a tragic blow for many of the world's most marginalised people the UK once supported, and for the UK's reputation as a trusted development partner.
"The government has not even spared countries ravaged by humanitarian crisis, disease, war and poverty."
Kevin Watkins, chief executive of Save the Children, accused the government of "making cuts with no consideration for the human harm they will cause" after reducing aid in Yemen, "the world's biggest humanitarian crisis".
The government announced it was cutting foreign aid last November but it has still to say precisely where the axe will fall. Charities are waiting anxiously to see which programmes will lose funding, and which will survive.
But we are getting some indications from government now about its priorities: climate change, Covid and global health, girls' education, supporting open societies, trade and economic development and so on.
The numbers announced by the Foreign Office allow charities to calculate how much less will be spent on each area than before. That will help them plan. What these numbers will not do is diminish the controversy.
Ministers argue the decision to cut aid has been made, it is time to decide how best to make it happen.
But aid charities and many MPs - including a goodly number of Conservatives - still oppose the cuts and are working to stop them. Plans for a legal challenge are being considered.
The FCDO reckons it can make the cuts without holding a vote to change the law. Campaigners might want a judge to decide who is right.
For now, the government is pressing ahead with cuts it says are needed to keep the Treasury in funds for other priorities.
Of the £8bn, the Foreign Office will give more than £3bn to multilateral organisations, such as the World Bank.
Half of all UK bilateral aid will be spent in Africa, a third in the Indo-Pacific and South Asia.
The remaining humanitarian aid budget, focused on countries most at risk of famine such as Yemen, Syria, Somalia and South Sudan, is £906m.
Mr Raab also announced he would cut Foreign Office aid to China by 95%, to £900,000.
But other parts of government, such as the Department for Business, Energy and Industrial Strategy, give more aid to China and have yet to say if they will cut their payments too.