Greensill: Cameron says he will 'respond positively' to MPs' lobbying inquiry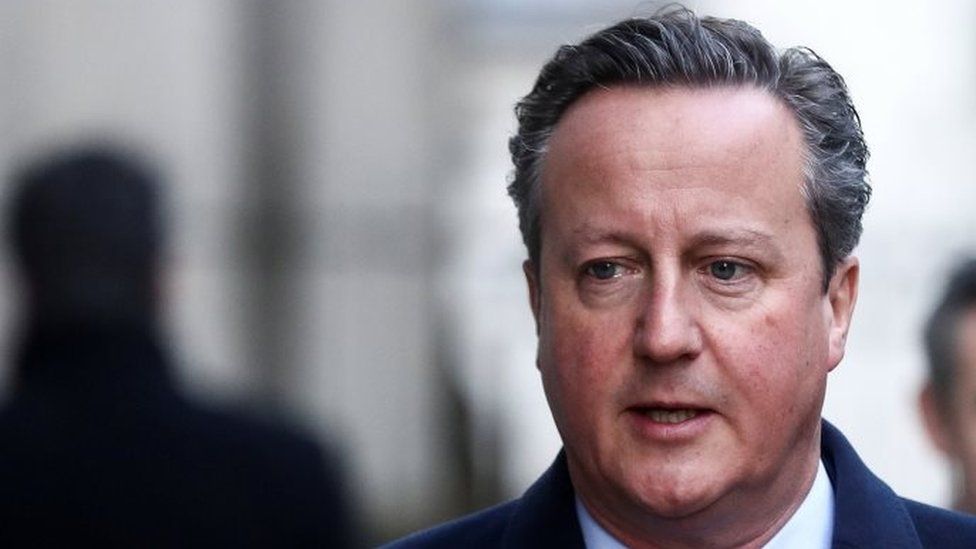 David Cameron has said he will "respond positively" to any requests from MPs for him to give evidence about Greensill Capital.
The former prime minister has faced criticism for lobbying on behalf of the finance firm, which recently collapsed.
It has sparked a wider row over private companies' attempts to influence ministers and officials.
The government has asked a senior lawyer to conduct a review into the issue and to report by the end of June.
But on Wednesday the Commons Treasury committee announced plans for its own probe, with other committees reportedly planning to do the same.
A spokesman for Mr Cameron said he would "respond positively" to requests to give evidence "when the terms of reference of each inquiry are clear".
It is not yet clear whether the former Tory leader will be asked to appear in person, or to provide a committee with evidence such as documents.
Meanwhile, the head of a watchdog which advises former ministers and officials on outside employment will make a long-planned appearance in front of MPs later on Thursday.
The Conservative peer Lord Pickles chairs the Advisory Committee on Business Appointments (Acoba).
The Greensill affair has led to renewed focus on the regulator, which has previously been described as "toothless" by a committee of MPs.
Current rules ban former ministers from lobbying government for two years after they leave office - a rule Mr Cameron appears to have followed.
But critics of the current system, including former Labour prime minister Gordon Brown, have suggested a longer ban is required.
"Former prime ministers must never be lobbying for commercial purposes. Current ministers should not be entertaining such lobbying," said Mr Brown.
It's another word for trying to persuade the government to change its policies
It can be done by individuals, companies, organisations and charities who contact ministers, backbench MPs and other politicians
Some organisations and companies employ professional lobbyists to make their case for them
Former MPs and civil servants often work as lobbyists
Mr Cameron began a role as an adviser to Greensill Capital in August 2018, just over two years after he left Downing Street in July 2016.
The firm's founder, Australian financier Lex Greensill, had previously worked as an unpaid adviser to Mr Cameron's government.
Mr Cameron's work saw him text Chancellor Rishi Sunak on behalf of the firm asking for it to be included in a Covid-related government loan scheme.
Mr Cameron has said he did not break any codes of conduct or rules on lobbying - and welcomes the government's review, to be led by lawyer Nigel Boardman.
On Wednesday, it was also revealed that government departments have been ordered to find out whether senior officials have rule-breaking second jobs.
Cabinet Secretary Simon Case has asked colleagues to declare paid roles or outside interests that "might conflict" with Civil Service rules by the end of the week.
The move came after news that Bill Crothers, a former civil servant, joined Greensill as an adviser in 2015 whilst still working for the government.
Mr Crothers says his recruitment by the firm was "transparent" and had been approved by the Cabinet Office under its internal conflicts of interest policy.
He later went on to join the company as a director in late 2016, after leaving the Civil Service in November 2015.
But Lord Pickles has said there had been a "lack of transparency" about the process - and has asked the Cabinet Office to provide further details.
Speaking on BBC Radio 4's Today programme, former permanent secretary and Civil Service commissioner for public appointments Sir David Normington said it was "absolutely baffling", adding that he had "never come across anything like it in my 40 years in Whitehall".
He said: "There may be an explanation for this which we don't yet know, but we're not just talking here about any old civil servant.
"We're talking about someone who was responsible for commercial dealings in government, had oversight of relationships with a large number of major contractors and the handling of lots of public money.
"It's essential that people like that when they leave the Civil Service are subject to scrutiny and subject to rules which mean that they can't take up appointments immediately."
He added: "We've heard a lot about was this behaviour within the rules. Well, it's not just about the rules.
"It's about the principles of standards in public life, what we need is good behaviour in public life not just the following of rules."
Prime Minister Boris Johnson told MPs on Wednesday it was "not clear" that "boundaries have been properly understood".