Greensill lobbying row: What jobs can ex-ministers do and what are the rules?
By Jennifer Scott & Kate Whannel
Political reporters, BBC News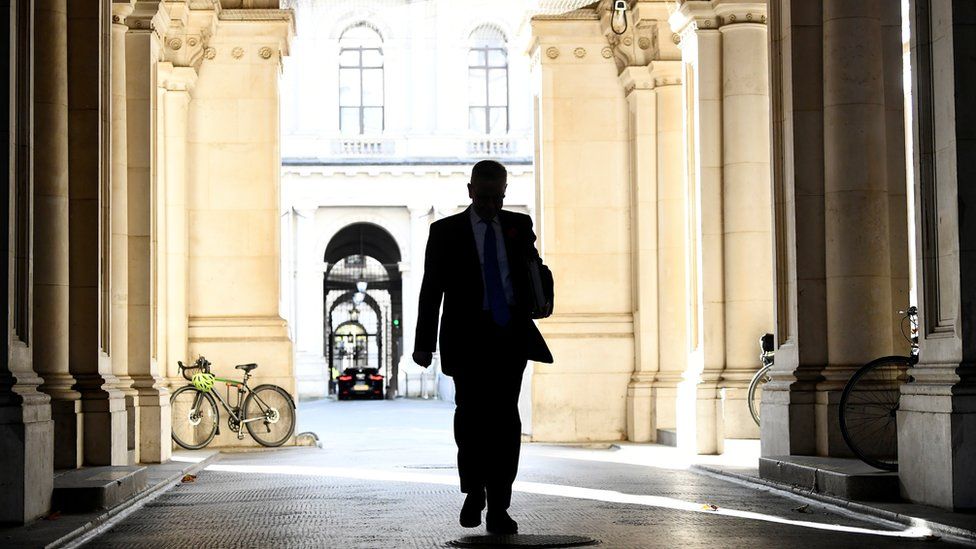 Former government ministers - and top civil servants - are never short of job offers after their political careers end.
But what sort of work should they be allowed to do after leaving the corridors of power? And what are the current rules?
There are a set of of guidelines - established by the government - that former ministers are meant to follow in the first two years after exiting Westminster.
The politicians are instructed to seek advice from the Advisory Committee on Business Appointments - more commonly known as Acoba - on any job offers they get in that time.
The starting point for Acoba is an expectation that senior ministers wait three months after leaving their government post before starting a new job.
The committee then considers whether the new role could be seen as a "reward" from the prospective employer for favourable decisions the ex-minister may have made whilst in power.
And it also looks at whether the former minister has access to insider information which could give their new employer an unfair advantage.
If the committee thinks there are reasons to be concerned, it can, for example, advise the ex-minister to delay taking up the job, or to avoid certain activities whilst in the new role.
And on rare occasions, the committee could say an appointment is "unsuitable".
Similar rules are in place for senior civil servants - as they, as well as senior ministers, banned from lobbying government for two years after they leave office, although the two year ban can be reduced if the committee thinks it is justified.
But, while the rules seem to be clear - and are made clearer still by Acoba telling a minister their decision - the committee's power is limited.
It does not have the ability to make former ministers take its advice, and it can not levy fines or issue any other sanctions.
Instead, as one source close to the process described it, all they have is the "power to embarrass" by publishing the guidance they gave to ministers that was, in turn, ignored.
There are some quite famous examples of people who chose not to follow the committee's advice - such as Prime Minister Boris Johnson, who went straight back to work as a columnist for the Telegraph after resigning as foreign secretary over Theresa May's handling of Brexit.
Other ex-senior ministers have been informed by Acoba there is a risk they would offer "an unfair advantage" to their new employer by taking the job, but moved into the role anyway.
And, after the two year period from leaving office is up, Acoba has no say whatsoever over what jobs former ministers take.
The government and critics alike agree that ministers and civil servants leaving office cannot just put their feet up, as the figures taking the highest office in the land are often still of working age when they move on.
Look at the coalition years, where, having been the youngest prime minister for almost 200 years when he entered No 10, Conservative Prime Minister David Cameron hadn't even hit 50 when he left office.
His Liberal Democrat deputy, Nick Clegg, was a year younger on his exit, and his Tory Chancellor, George Osborne, five years his junior.
And Labour's Tony Blair was only in his 50s when he left Downing Street in 2007.
And Acoba has been deemed a "toothless regulator" with no power to ensure the jobs ex-ministers and senior civil servants take do not bring the integrity of government into question.
The committee's chairman, the former Tory MP Lord Eric Pickles, accepted there were problems, telling a committee of MPs on Thursday there did not appear to be "any boundaries at all" between civil servants and the private sector.
But he defended his own work on the committee and insisted Acoba was "not a watchdog [or] regulator", but an advisory committee "with a very limited and defined role".
He did have some suggestions on "easy steps" that could be taken straight away, such as people signing a "memorandum of understanding" when they take office, making clear "the restrictions that would be placed on them once they left working with the government".
And he also said these documents could be published to improve the transparency of the process.
But Lord Pickles said the suggestion of setting up some sort of AC-12 department like in BBC drama Line of Duty to root out Westminster's "bent coppers" would need "enormous amount of staff" and become "enormously expensive".
Multiple inquiries are now looking into Greensill, lobbying and a working life after politics, so we will have to wait and see if much tougher rules will be coming over the horizon.