Greensill: Government to investigate Cameron's lobbying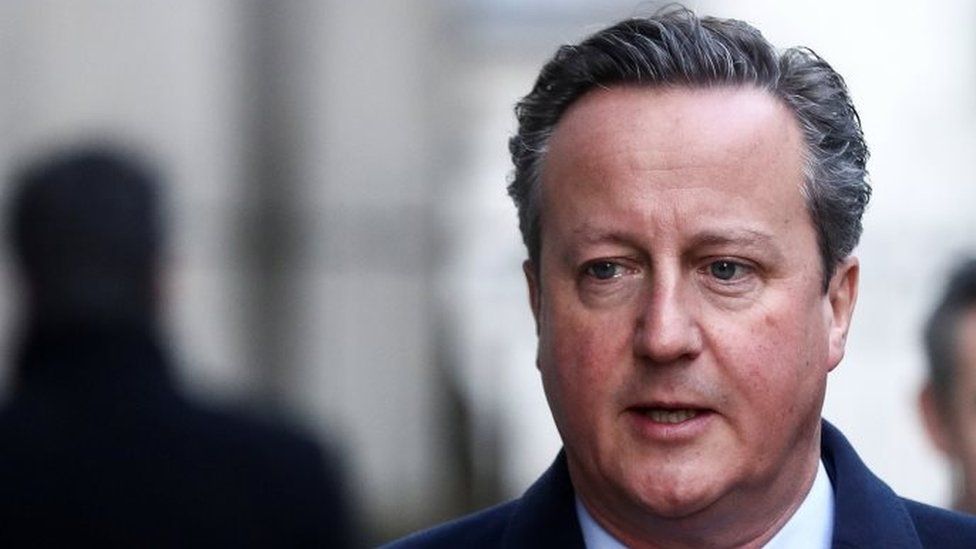 The government has announced a review covering David Cameron's efforts to lobby ministers on behalf of finance firm Greensill Capital.
The former prime minister has been criticised for contacting ministers via text on behalf of the company, which collapsed in March.
Downing Street said the probe would be led by lawyer Nigel Boardman on behalf of the Cabinet Office.
Labour says the government's response is "inadequate".
Mr Cameron has said he has not broken any codes of conduct or lobbying rules.
But in a statement on Sunday weeks after reports of his lobbying emerged, the former Tory leader said that he should have contacted ministers through "formal" channels.
A spokesman for the former PM told the BBC: "David Cameron welcomes the inquiry and will be glad to take part."
Mr Cameron began working as an adviser to Greensill Capital in August 2018, two years after he stepped down as prime minister.
In recent weeks, newspaper reports have revealed he texted Chancellor Rishi Sunak and other Treasury ministers on behalf of the company.
Mr Cameron said he had been trying to involve the company in a government-backed emergency loans scheme for firms hit by the Covid pandemic.
The government went on to reject his plans to involve Greensill in the so-called Covid Corporate Financing Facility.
An ally of Mr Hancock said he had "acted in entirely the correct way".
If you hope that the review that is meant to clear up what happened in this instance will propose some big crackdown, forget it. Just like the organisation that provides rules for former ministers, it has no power of sanction, no statutory, or legal force.
Sources suggests its remit is to find out narrowly what happened with Mr Cameron and Mr Greensill, not to start a conversation about the rights and wrongs of lobbying, let alone to propose a new system.
That is not to cast aspersions either on the ability of the senior lawyer who will carry out the work, who may well turn up more interesting nuggets.
He'll report by the end of June, and has been promised access to the information he needs. But the remit is tightly drawn, suggesting little appetite in government for a big rethink of the landscape.
Downing Street insists the prime minster understands the significant public interest and wants to look at the issues raised and get more details.
While there is no love lost between Boris Johnson and David Cameron, and it is pretty much impossible to think of a similar case where a serving PM commissions an investigation into one of his predecessors, Labour is already warning that it could be a "Conservative cover-up".
Despite that rather dramatic language, do not forget there are questions that remain for current government figures about conversations they had with Mr Cameron and Mr Greensill.
A Cabinet Office spokesperson said the review would look into "the decisions taken around the development and use of supply chain finance (and associated schemes) in government, especially the role of Lex Greensill and Greensill Capital".
"Mr Boardman will have access to all necessary government information required to conduct the review and will engage with those involved at the time when decisions were made."
The spokesperson also said that Mr Boardman would report his findings to the prime minister "no later than the end of June 2021" and that he will pause his work as a non-executive director of the Business Department while the review is carried out.
The BBC's political editor Laura Kuenssberg says it is understood the review will not have legal powers, and is likely to come up with findings rather than recommendations.
And Mr Boardman has not been asked to suggest ways of tightening up the lobbying system, but has been given a limited remit to ascertain how decisions about Greensill Capital were made.
The shadow cabinet office minister, Rachel Reeves, said what the government has announced "doesn't go far enough".
"There is a real risk that the government are attempting to brush under the carpet or cover up this scandal of cronyism, of contracts and of involvement of the former prime minister in lobbying current ministers" she said.
"It is essential that everybody involved in this scandal comes before parliament and answers serious and important questions about possible wrongdoing" she added.
Mr Cameron's predecessor at No 10, Gordon Brown, welcomed an inquiry, adding: "it's important to get to the bottom of this".
The ex-Labour leader told BBC News: "I don't really think former ministers and prime ministers should be engaged in lobbying for particular commercial companies, when they are lobbying their successors whom they know very well and could have privileged access to.
"Lobbying in this commercial way could also be a stain on our democracy, and therefore an inquiry is completely appropriate."
Former ministers and senior civil servants are banned from lobbying for two years after they leave government, a rule Mr Cameron followed.
Mr Brown had suggested earlier on Monday the ban should be extended to five years if existing rules prove inadequate.