Councils filling potholes 'every 19 seconds'
By Justin Parkinson
Political reporter, BBC News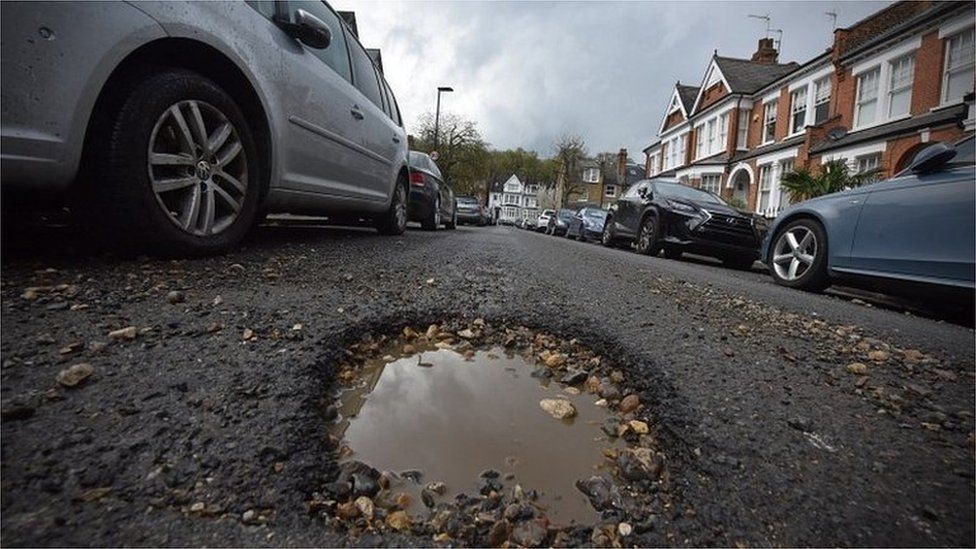 The number of potholes filled in by councils in England and Wales has increased during the past year to almost 1.7 million, a survey suggests.
The total amount spent by local authorities on filling in potholes in 2020-1 was £93.6m, it added.
The government said it was working to ensure "smoother, safer journeys".
Potholes - collapsed areas in the tarmac resulting from the pressure of traffic and bad weather - can be dangerous to motorists and, in particular, cyclists.
The AA told the BBC last year that the pandemic, which has cut traffic levels, presented a "unique opportunity" for local authorities to fix more roads.
But, while the pothole-filling figure has risen this year, the Asphalt Industry Alliance's survey still suggests one million fewer were fixed than in 2014-15, when it went as high as 2.7 million.
It also found that the proportion of council-maintained roads in England deemed to be in a "poor" state fell from 21% in 2019-20 to 16% this year.
But in Wales it increased from 20% to 21%.
Main roads and motorways in England and Wales are maintained by Highways England and the Welsh Government respectively, while councils look after the upkeep of local, usually more minor, roads.
AA president Edmund King said many of these were still in a "perilous state" and that users had to "run the gauntlet of potholes once they turn into their neighbourhoods".
He added: "Government and councils urging more active travel by getting people to switch from car to bicycle doesn't sit right with local roads riddled with potentially lethal potholes."
The Local Government Association, which represents councils in England, has called for £10bn to be spent to bring roads "up to scratch".
Nicholas Lyes, head of roads policy at the RAC, said local authorities were "grappling with crumbling road surfaces" and called for a more "long-term approach" to funding.
But a Department for Transport spokesperson said: "This government is providing £2.5bn in funding over five years to help councils improve their roads, to ensure all road users have smoother, safer journeys."
The government has published daily figures on road use by motorised vehicles in Great Britain since the beginning of the pandemic last year.
They dipped as low as 23% of the usual level during the first lockdown but are currently at about 80%.