NHS blood infection scandal payments to increase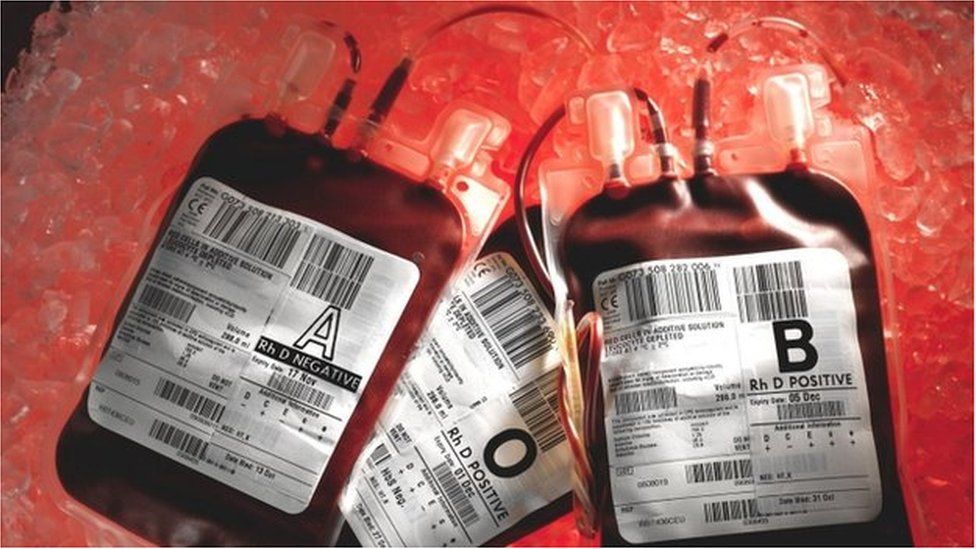 Families in England who lost relatives as a result of the NHS blood infection scandal are to receive the same payments as those in other parts of the UK, the government has announced.
Around 3,000 people have died since being given blood containing HIV and hepatitis C during the 1970s and 1980s.
Treasury minister Penny Mordaunt said all bereaved partners would "automatically" get a £10,000 lump sum.
And regular payments would increase for survivors of infections, she added.
The infections happened when people with haemophilia and other bleeding disorders were given a clotting agent called Factor VIII, introduced to help them recover more speedily from injuries.
Much of the supply was imported from the US, where a large amount of the blood used to make Factor VIII came from donors including prisoners and drug-users.
About 5,000 people in the UK are believed to have been infected - but some estimates put the number at 30,000.
Families of victims have long fought for better compensation and for payments given by governments around the UK to be equalised.
There has been considerable resentment among victims of the contaminated blood scandal and their families over the differing levels of financial support in the UK's nations.
Scotland has been ahead of England, Wales and Northern Ireland and now there's been a move to put all payments at the same level, though campaigners argue that not all the issues have been addressed.
Significantly the UK government has conceded for the first time that compensation could be paid, depending on the outcome of the inquiry.
This implies liability and paves the way for potentially large payments covering areas like lifetime loss of earnings and care costs.
Groups representing victims say this is a major step forward towards an official admission of responsibility for what has been called the worst treatment disaster in the history of the NHS.
In a written statement, Ms Mordaunt said annual payments for bereaved partners would in future be the same as those previously due to their late partners for the first year after death. This already happens in Scotland.
She added that they would fall to 75% of this amount after that, as also happens in Scotland.
And lump sum bereavement payments in England will automatically be set at £10,000, as in Wales.
Until now these have been "discretionary" in England.
Ms Mordaunt also said lump sum payments to survivors with a Hepatitis C stage one infection would increase from £20,000 to £50,000, as in Scotland.
For survivors who contracted HIV, the amount will automatically be set at £80,500 - the figure was previously the "maximum" paid out in England.
Ms Mordaunt said it had been agreed that "any future changes to national schemes would be subject to consultation between the UK government and devolved administrations".
And she announced that an "independent" reviewer would be appointed "shortly" to look into future compensation developments.
Perry Evans, who was infected with HIV and Hepatitis C as a result of treatment for haemophilia, told the BBC he welcomed the government's announcement but it was "disappointing" that full compensation was likely to "take a long time".
"I won't be surprised if I die before anything is settled," he added.
Raising a point of order in the House of Commons, Labour MP Dame Diana Johnson said the government's announcement of the changes to compensation in a written statement - and on the last day before Parliament's Easter recess - would leave "no opportunity" for MPs to discuss the issue for at least two weeks.
She called this "grossly insensitive to people who have suffered so much for so long at the hands of the state".
Earlier this month, Northern Ireland's health minister announced annual financial support for bereaved spouses or partners. It followed an announcement in August 2020 that annual payments to victims would be increased, in line with rates paid in England.