Coronavirus vaccines: PM to telephone EU leaders in bid to stop export ban being imposed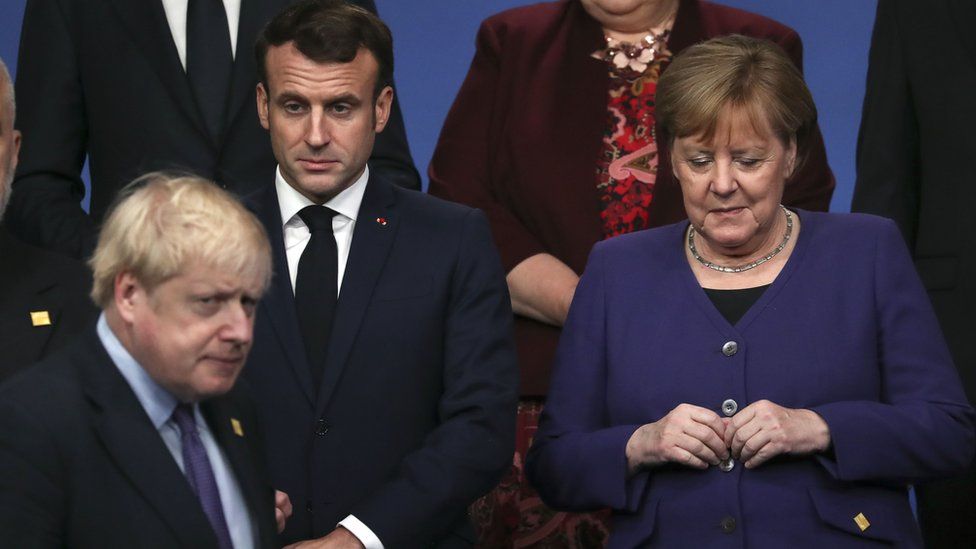 Boris Johnson is expected to speak to his EU counterparts this week as a row over Covid vaccine supplies continues.
EU leaders will hold a virtual meeting on Thursday to discuss a ban on Oxford-AstraZeneca vaccine exports to the UK - but the PM aims to put the UK's case in one-on-one phone calls before that.
The European Commission president says the EU can "forbid" vaccines made on the continent being sent to the UK.
The PM said the vaccination rollout requires "international cooperation".
Downing Street said European Commission President Ursula von der Leyen had told Mr Johnson earlier this year that the EU was not intending to restrict exports of vaccines.
Helen Whately, health and social care minister, urged the EU to stand by this commitment and warned against "vaccine nationalism and protectionism".
European Commission spokesperson Eric Mamer insisted that Brussels was not seeking to ban vaccine exports, but wanted pharmaceutical firms to meet their contractual obligations to the bloc.
Mr Mamer said: "In that context, the president has said that of course we see that, actually, companies that manufacture doses in the EU have been exporting very widely - which is in itself a good thing - but that we want to see reciprocity and proportionality in these exports."
The latest flashpoint appears to be over doses made in a Dutch factory.
Several European leaders paused rollout of the vaccine amid concerns about a possible link with blood clots. UK and EU regulators said there was no evidence the vaccine caused blood clots.
European leaders have faced criticism for the slow pace of the vaccine rollout on the continent.
The EU has encountered production problems with the Pfizer-BioNTech, Moderna and Oxford-AstraZeneca vaccines.
British-Swedish manufacturer AstraZeneca said the fact that EU contracts were signed later than with the UK caused problems with supplying their vaccine.
Downing Street has previously said that it does not believe that vaccine supply issues will affect the current road map for easing lockdown restrictions.
Ms Whately told BBC Breakfast the UK was "on track" to meet its target of offering the vaccine to the top nine priority groups by 15 April and to all adults by the end of July.
There is also enough supply to ensure people have their second doses, she added.
"We always knew that there could be ups and downs in supply but we have a... diverse supply chain and we are absolutely determined to keep on deploying the vaccine," she said.
But the Guardian said a report by data analysts Airfinity suggested that if an export ban was applied to all vaccines - including those from Moderna and Johnson & Johnson that are yet to be deployed in the UK - it would see the offer of a first vaccine to every adult completed in late August rather than the target date of 31 July.
Ministers say that countries should work together for the benefit of everyone.
Is that a hint that Boris Johnson will try to defuse this row by proposing joint working between the UK and the EU to boost vaccine production on the continent?
The UK already has a team of engineers at a plant in the Netherlands.
That might not be enough to satisfy the European Commission President Ursula von der Leyen, who clearly wants to see doses being sent to Europe from AstraZeneca facilities in the UK.
But it's not up to her - it's up to EU leaders to decide at their virtual summit on Thursday.
If they decide to up the ante then the UK will have to choose whether to maintain its diplomatic silence or to retaliate.
Mrs von der Leyen said that 41 million vaccine doses have been exported from the bloc to 33 countries in six weeks, with more than 10 million jabs going to the UK.
She has said that, in contrast, the EU is still waiting for vaccine exports from the UK and she warned last week that if supplies in Europe do not improve, the bloc "will reflect whether exports to countries who have higher vaccination rates than us are still proportionate".
Article 122 of the EU treaty allows measures to be taken "if severe difficulties arise in the supply of certain products". Those measures could in theory include export bans and the waiving of patent and intellectual property rights on vaccines.
Mrs von der Leyen said this weekend that the bloc has the power to "forbid" exports, adding: "That is the message to AstraZeneca."
A government source has described the latest reports from the EU as "concerning".
Labour leader Sir Keir Starmer said the UK government was right to say that contractual obligations needed to be honoured.
Sir Keir told LBC that the EU was not "helping itself", adding: "I don't think that they should go down this road of banning exports."
The latest point of contention between the UK and the EU appears to be over vaccine doses being manufactured at a plant in the Netherlands, with an EU official telling Reuters that those doses should be distributed among member states, and not sent to Britain.
Mr Johnson is expected to use his calls to European leaders in the first half of this week to persuade them to veto any proposal that would prevent vaccine exports from entering the UK.
French President Emmanuel Macron and German Chancellor Angela Merkel are among those likely to be on the PM's list, according to British officials quoted by the Financial Times.
Mr Wallace told the BBC that the language being used by the European Commission was "counterproductive", adding: "Trying to... build walls around this would only damage both EU citizens and United Kingdom."
EU commissioner Mairead McGuinness said that no decisions had been made over any possible export ban and urged all sides to "calm down".
The EU row over vaccines also comes as speculation continues over whether summer holidays abroad will be permitted for those in the UK this year.
It means that more than 27.6 million people in the UK - more than half the adult population - have now received at least one dose of a vaccine.