Air passenger duty: Review planned to cut tax on domestic flights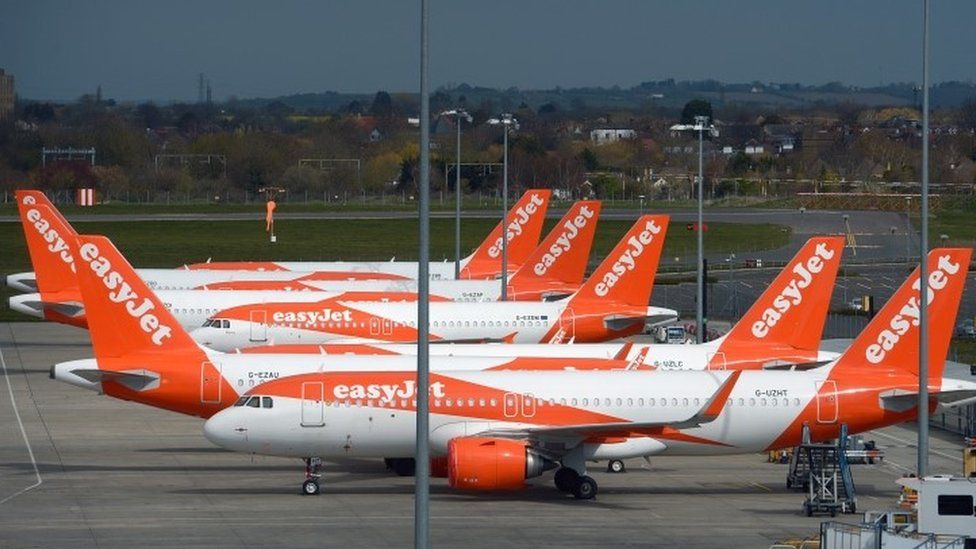 Boris Johnson has said he wants to cut air passenger duty on domestic flights in a bid to boost travel connections across the UK.
A consultation will examine options including creating a new lower domestic rate or exempting return flights.
The move is likely to be welcomed by struggling airline operators hit by Covid, but worry environmental groups.
The PM has also committed £20m for rail and road links and a review of a bridge between Northern Ireland and Scotland.
Mr Johnson has pledged new funding to upgrade road, rail and sea connections across the UK in an effort to reduce delays and bottlenecks and stimulate economic growth.
Writing in the Daily Telegraph, Mr Johnson said a lack of a UK-wide transport strategy had led to "inadequate connections" between the four UK nations.
"For far too long, we have tended to carve up the country through a devolve and forget approach," he wrote.
Mr Johnson has championed the idea of connecting Northern Ireland with the British mainland via a bridge, despite scepticism from the Northern Irish and Scottish governments.
Two routes, between Portpatrick and Larne and Campbeltown and the Antrim coast, have been proposed.
Announcing the findings of an interim report into transport connectivity by Sir Peter Hendy, the PM confirmed a separate feasibility study into the idea.
Two engineering professors will assess an outline cost and timescale and the associated works needed.
Architect Prof Alan Dunlop, who has long backed the idea of a bridge from Northern Ireland and Scotland, said he was confident the project was feasible.
"There are geological and infrastructural challenges, I don't deny that," he told BBC Radio 4's Today programme.
"But I'm absolutely convinced - and I've been looking at this now, researching it quite solidly, for three years - that the UK has both the engineering and architectural talent."
Key arteries earmarked for investment include rail routes between the North coast of Wales and England, enhancements to the West Coast Mainline and the dualling of much of the A75 in south-west Scotland.
Critics say billions of funding is needed to make up for a decade of under-investment in regional transport links in the north of England and that cash has been swallowed up by the multi-billion pound HS2 high-speed rail link.
Mr Johnson said Sir Peter's review, which is due to issue its final report in the summer, "gives us the tools we need to deliver on our ambitions for a UK-wide transport network".
"I also want to cut passenger duty on domestic flights so we can support connectivity across the country," he said.
In his Telegraph article, he added: "It seems wrong that someone flying from Belfast to London and back pays more UK tax than someone flying from Dublin to London and back."
The environmental case over air passenger duty (APD) is not clear-cut.
Environmentalists say the government shouldn't be cutting any taxes on polluting activities, especially because it's hosting a vital UN climate summit in November and it's trying to set an example.
But ministers are promising to balance out any cut in APD for domestic flights with a linked increase in APD on foreign flights.
If ministers make the APD switch, it will iron out what many people consider a tax anomaly.
At the moment, if you take a return flight from one UK airport to another, you pay the APD on both legs. If you fly abroad you pay APD on just one leg.
So you pay more tax flying from London to Belfast than from London to Dublin.
The government believes that's unfair and creates a bias against travel within the UK. Either way, environmentalists argue that aviation is still under-taxed.
Airlines have been lobbying for a reduction in air passenger duty, whose standard rate for UK flights will rise to £26 per customer per flight next month, long before the Covid-19 pandemic brought the industry to its knees.
But environmental groups say reducing the cost of flying will make it difficult, if not impossible, for the UK to meet its target of net-zero carbon emissions by 2050 as aviation is the single largest source of emissions.
The review will also look at the case for increasing the number of international distance bands. Currently, duty is charged on each passenger at the rate for the place where their journey ends.
Since 2015, there have only been two bands, one covering flights of up to 2,000 miles and the other those in excess of that.
Further plans to decarbonise aviation will also be examined, including mandating the use of sustainable aviation fuels across the industry.