High Court urged to overturn PM's decision to stand by Priti Patel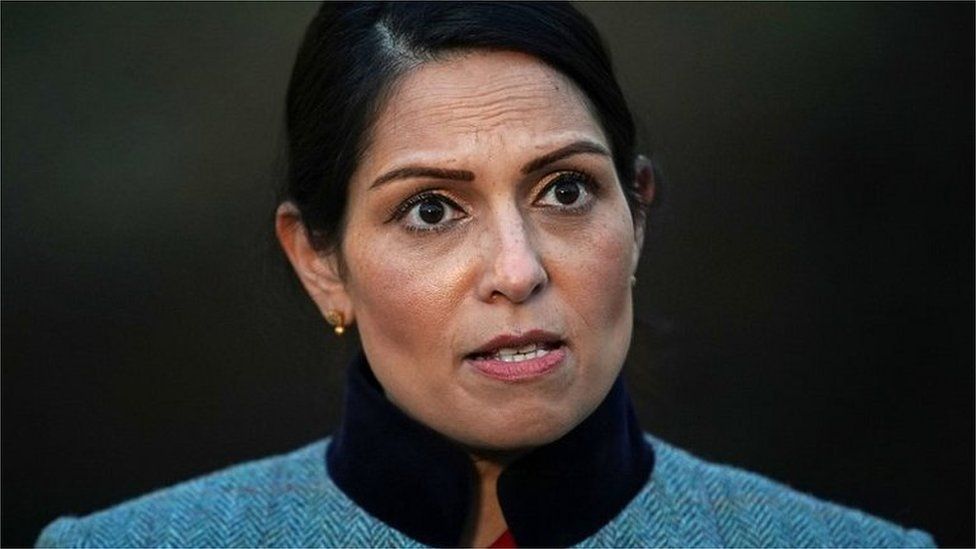 The High Court must overturn Boris Johnson's decision that Home Secretary Priti Patel did not breach government rules on behaviour, a union says.
The prime minister decided not to sack Ms Patel last year after a report found evidence of "bullying" and "some occasions of shouting and swearing".
Mr Johnson backed Ms Patel, saying she had not broken the Ministerial Code.
The FDA union, which represents senior civil servants, said this reaction had "undermined" disciplinary procedures.
And Labour called Mr Johnson's decision the "sign of a broken system".
Home Office Permanent Secretary Sir Philip Rutnam resigned in February last year, saying he had been the target of a "vicious and orchestrated briefing campaign".
He is pursuing an employment tribunal claim for constructive dismissal.
A report last November by Sir Alex Allan, the prime minister's adviser on standards, said Ms Patel had "unintentionally" breached the Ministerial Code, governing conduct.
He found Ms Patel to be "action-orientated" and that she had felt "justifiably in many instances, frustrated by the Home Office leadership's lack of responsiveness".
Sir Alex added: "The evidence is that this has manifested itself in forceful expression, including some occasions of shouting and swearing. This may not be done intentionally to cause upset, but that has been the effect on some individuals."
He resigned after Mr Johnson supported the home secretary, saying she retained his "full confidence".
The FDA, of which Sir Philip is a member, is seeking a judicial review of the prime minister's decision.
In a written submission, general secretary Dave Penman told the High Court that "civil servants should expect to work with ministers without fear of being bullied or harassed".
Mr Johnson's actions had "fundamentally undermined" the disciplinary process, he added, and the prime minister had "misinterpreted" the definition of bullying in the Ministerial Code.
Mr Penman said there was "bewilderment, dismay and anger among our membership" and there had been "serious detrimental effects to workplace relations and confidence in the process for dealing with complaints against ministers".
He added that, if Mr Johnson's decision was not "corrected" by the court, "his interpretation of the Ministerial Code will result in that document failing to protect workplace standards across government".
For Labour, shadow Cabinet Office minister Fleur Anderson said: "Boris Johnson's assertion that Priti Patel did not break the Ministerial Code is not credible and shows why he should not act as both judge and jury.
"It is a sign of a broken system when a cabinet minister is found to have bullied their staff and the prime minister ignores the damning findings and protects them."
Civil servants should have confidence "that they are able to challenge ministerial decisions without fear for the consequences", Ms Anderson added.
A government spokesperson said: "The prime minister has full confidence in the home secretary and considers this matter now closed. It would be inappropriate for us to comment further on live legal matters."