Covid: Labour stands by teacher vaccination policy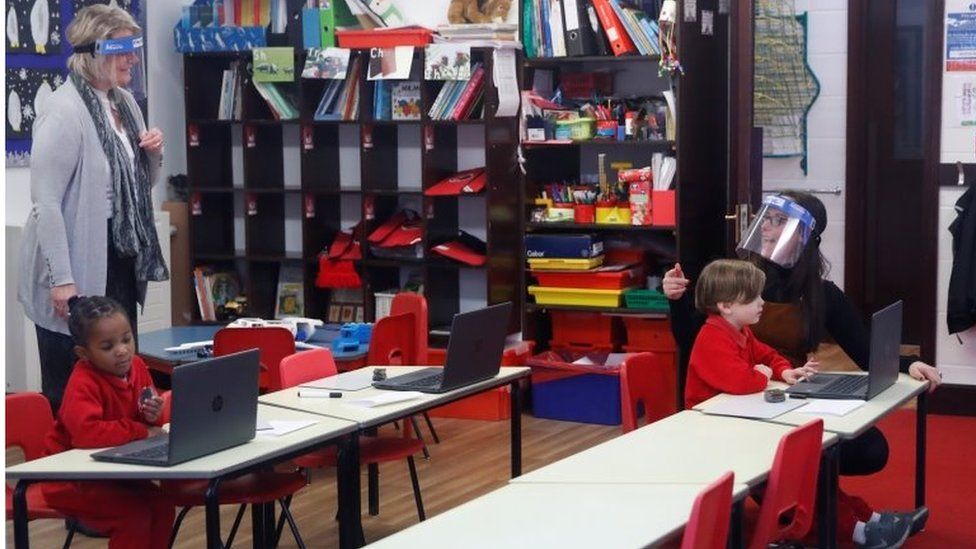 Teachers should be vaccinated against Covid once the most vulnerable have received their doses, shadow Cabinet Office minister Rachel Reeves has said.
She added that Labour wanted the Joint Committee on Vaccinations and Immunisation (JCVI) to look at the evidence on prioritising key workers.
Labour has argued vaccinating teachers could help reopen schools.
But International Trade Secretary Liz Truss said "the most important thing is protecting lives".
Speaking to Sky News, Ms Truss said: "For every person you vaccinate who isn't in the most vulnerable group, that is somebody in the most vulnerable group who isn't getting their vaccine and who is more likely to die in the next few weeks and months."
She said it was right that the JCVI - an independent body of experts - looked at these issues.
The vaccinations committee has said early vaccination of certain professions should be considered - but only once those in the top nine priority groups have been offered a first jab.
The first four priority groups cover those aged over 70 and care home residents and workers. The government aims to offer vaccines to everyone in these groups by mid-February.
The next five groups include people over the age of 50 and those between 16-64 with underlying health conditions.
The committee is expected to look at the next priority groups for vaccination in the coming month.
On Wednesday, Labour leader Sir Keir Starmer called for all school staff to be vaccinated during the February half-term, saying they should receive doses alongside priority groups five to nine.
However on Friday, Welsh First Minister Mark Drakeford - a Labour politician - said he would prioritise teachers for vaccinations only if advised to do so by the JCVI.
Labour later clarified that moving teachers up the queue was a decision for the JCVI - something that had not been made explicit when the Labour leader first announced the policy.
And speaking to the BBC's Andrew Marr programme, Ms Reeves reiterated that Labour wanted the JCVI to look at the evidence but added that using the February half-term to vaccinate school staff would be "the sensible thing to do".
"The government say that getting our kids back to school is a priority - Labour agree but the government have no plan to achieve this."
She said children will have had "the best part of a year" out of school and that although online learning exists "there is no substitute for being in the classroom with a qualified teacher."
"It would take just a couple of days to get our teaching staff vaccinated so the JCVI should look at this," she said.
Her position was supported by former Labour Prime Minister Tony Blair, who said there was a "very strong case" for teachers to be vaccinated before schools reopen.
But Conservative Party Chairwoman Amanda Milling MP said Labour had "abandoned the science and is playing politics with the vaccine".