Indyref2: Is Boris Johnson an asset or a liability for unionism?
By Nick Eardley
BBC political correspondent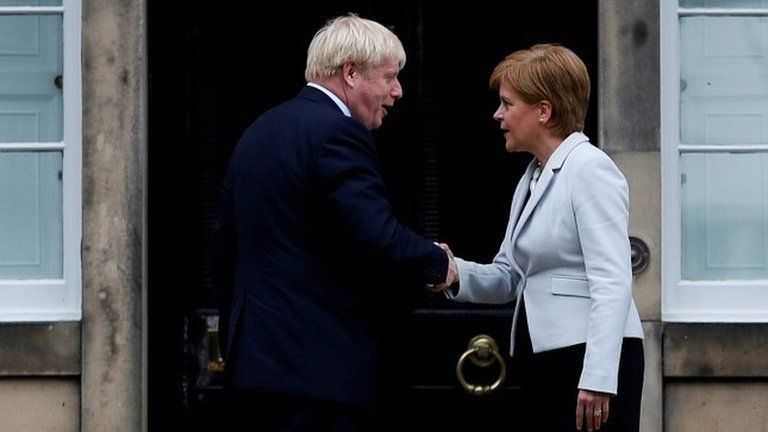 It's a sign of these lockdown times that there's a bit of a row over whether the prime minister should be visiting Scotland at all on Thursday.
First minister Nicola Sturgeon has said people shouldn't be travelling across the UK - and politicians should lead by example.
But Downing Street insists it is a "fundamental role of the PM to be the physical representative of the UK government".
While London and Edinburgh debate whether the visit meets Covid guidelines, many unionists now believe making their case increasingly falls into the essential category.
For months, polls have suggested support for Scottish independence is higher than that for staying the UK.
We at the BBC like to be cautious around polls, but there is now a pattern: support for the Union looks weaker than ever.
There are two key reasons for the increase in support for independence, which come up time and again in conversations. Both are linked to Boris Johnson.
The first is Brexit. A comfortable majority of Scottish voters backed Remain in 2016 - and some of the increased support for independence appears to come from that group.
That's unlikely to be helped by the fact that the most prominent Brexit backer is now prime minister.
The second reason is the way the pandemic has been handled. Health is a devolved issue, so the Scottish government has been making most of the big decisions on it for the past 10 months.
Although Scottish ministers admit mistakes have been made, polls suggest Scots are happy Ms Sturgeon is making the decisions and not Mr Johnson.
Senior unionist campaigners and strategists in Scotland believe the Sturgeon v Johnson choice is one of their weakest points.
SNP politicians only half-joke about rubbing their hands in glee when the prime minister heads north.
Even senior Scottish Tories privately admit their man is just not popular in Scotland. That's why you normally see them focus on the Scottish leadership: Douglas Ross and Ruth Davidson.
One unionist strategist lamented: "Boris is a liability." Yet this source also believes it is important for UK ministers to make regular trips to show they are engaging and making their case.
"There is a sense that Westminster Tories are suddenly paying attention... they're suddenly realising it's an existential threat," they said.
The UK government knows it needs to make the case for the Union more forcefully - and positively.
We've already looked at how it intends to say no to an independence referendum in the near future - arguing recovery from the pandemic is the priority. But in Whitehall, many acknowledge they need to do more than just say no.
Expect to hear more in the coming weeks about the UK government's role in Scottish life. Note how, on Monday, Health Secretary Matt Hancock made a point of talking about the Scottish Ambulance Service receiving support from other UK services.
This isn't uncommon, and works both ways, but unionists believe it shows the strength of cooperation. "The Union in action," texted one person close to the prime minister.
Mr Johnson sees the vaccine programme as another example. The UK government has been responsible for procurement and the Scottish government is then responsible for distribution. "It's a strong example of the governments of the UK working together," said a source.
The Scottish government argues there would still be close cooperation if Scotland were independent. A senior source told me they believed the UK government had held it back at points in the pandemic - also suggesting it had failed to commit properly to a strategy to eliminate the virus earlier this year.
The UK government is prepared to fund projects in devolved areas, despite the row that will cause with Holyrood, because it believes it will show that Scotland has two governments, both of which matter.
None of this disguises the polling, though. Mr Johnson's government has argued for months that the furlough scheme is a perfect example of the UK in action - the Treasury supporting workers across the UK.
That hasn't always worked - and even backfired when the chancellor was accused of only extending the scheme when the South of England went into lockdown, not when Scotland and Wales both asked.
In London, there are debates about what to do next. Cabinet Office Minister Michael Gove is a key figure. The PM's former deputy Brexit negotiator Oliver Lewis is playing a central role too.
A cabinet committee now meets almost weekly to discuss Union strategy, with representation from the Treasury, Cabinet Office, Scotland Office, Wales Office and Northern Ireland Office.
Sources talk of different strategies being floated, but say the main focus will be recovery from Covid, and arguing that's easier as part of the UK.
Insiders talk about a focus on showing the tangible benefits of the Union, rather than "constitutional tinkering".
Labour has set up a commission to look at devolution across the UK. It is being advised by former Prime Minister Gordon Brown, who argues the solution is as much about rediscovering the purpose of the UK as it is about moving more powers out of London.
Much of this is focused on May's Holyrood election. If the SNP wins comfortably - as polls suggest it will do - it will be able to go to Westminster and say it has a mandate for another referendum.
Mr Johnson has said an independence referendum should happen no more than once in a generation, but some believe that position is unsustainable.
As he visits Scotland, the stakes are high.