Overseas aid: No guarantee cut can be reversed soon, says Dominic Raab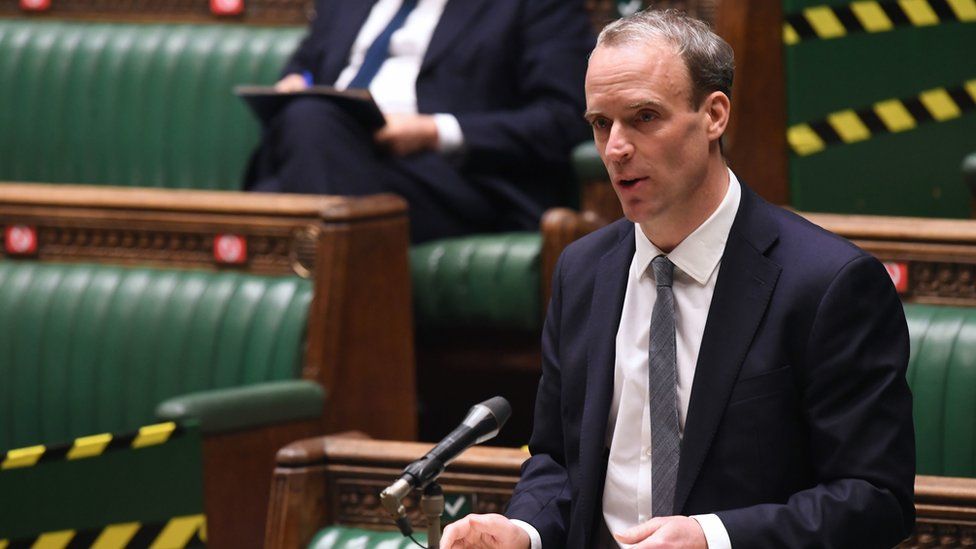 Ministers cannot guarantee a proposed cut to overseas aid can be reversed in the "foreseeable, immediate future," the foreign secretary has said.
Dominic Raab told MPs a new law would be required to reduce aid spending to 0.5% of national income, down from the current 0.7% legal minimum.
He said economic uncertainty meant the £4bn cut could not be made under tweaks to current laws.
Charities and opposition MPs have denounced the cut, due from next April.
The move has also been criticised by some Conservatives MPs, who point out that it was a key promise in the party's 2019 general election manifesto.
But other Conservatives have defended the cut, arguing it is backed by voters and domestic spending should come first during the Covid pandemic.
Mr Raab defended the cut as a "temporary measure" due to the Covid pandemic, and pledged the 0.7% target would return when finances allowed.
The reduction - which will see aid spending fall to £10bn next year - was announced by the chancellor on Wednesday as part of his Spending Review.
Shortly after it was announced, Conservative peer Baroness Sugg quit as a Foreign Office minister in protest, calling it "fundamentally wrong".
But updating MPs on Thursday, Mr Raab said the cut was a "matter of necessity" and the government had taken the decision "with regret".
He said constituents would understand the decision "because they live in the real world," and the amount the UK spends on foreign aid would remain "extraordinary".
He added that assistance to poorer countries would not be "salami sliced" across the board, with the smaller budget targeted at UK development priorities.
He said these included tackling climate change, Covid-19, girls' education, and conflict resolution.
The Foreign, Commonwealth and Development Office (FCDO) will carry out a review of aid spending by other government departments, and will have a greater role in co-ordinating such spending, he added.
He confirmed ministers would need to override legislation guaranteeing the 0.7% target, passed under former Conservative PM David Cameron in 2015.
The International Development (Official Development Assistance Target) Act contains an exemption allowing ministers to miss the target in exceptional circumstances.
But this exemption only applies retrospectively - and ministers are also required to set out steps they are taking to meet the target the following year.
Mr Raab told MPs ministers would not be able to use the exemption because of the "inherent degree of uncertainty" about the future of public finances.
"It's very clear that if we cannot see a path forward back to 0.7% in the foreseeable, immediate future, and we can't plan for that, then the legislation would require us to change it," he said.
"And it would almost certainly face legal challenge if we don't very carefully follow it," he added.
Conservative MP Tom Tugendhat said he was "disappointed" with the cut, and suggested the new law should specify an end-date for any reduction in spending.
Shadow international development secretary Preet Kaur Gill said Labour would work with Conservative opponents of the cut to "stop this retreat".
Other Conservatives backbenchers have however backed the move, including Philip Davies, who said on Wednesday that the "vast majority" of the British public would support a reduction in spending and "will probably be asking why are we still spending so much".
His party colleague Andrea Jenkyns also said on Wednesday she "wholeheartedly" backed the move to cut foreign aid, particularly given the "difficult times".
"We need to invest in our own country's future, so we can become a real global powerhouse once more," she wrote on Twitter.
UK aid spending this year has already fallen by £2.9bn due to the impact of the coronavirus crisis on gross national income (GNI), before the latest cut to the target was announced.