Spending review: Backlash over Rishi Sunak's overseas aid cut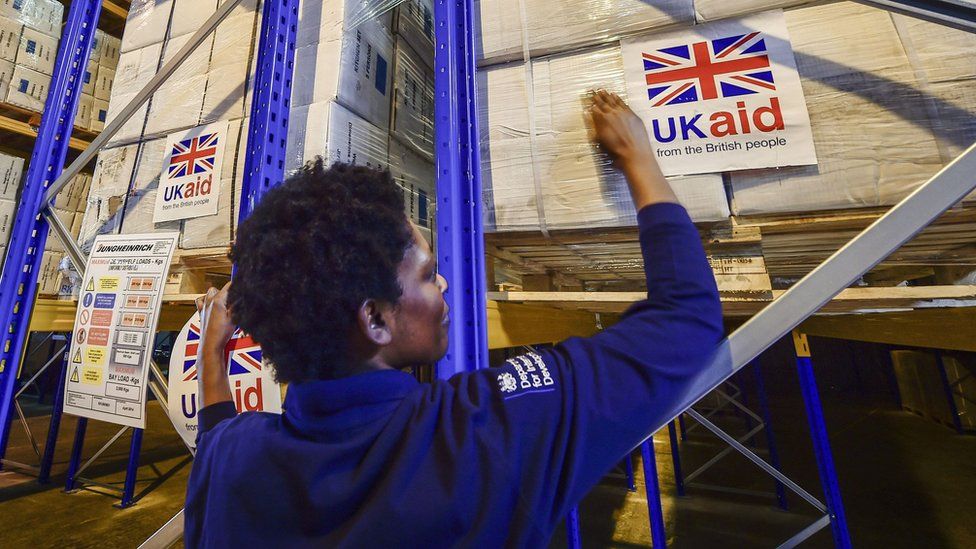 The UK has ditched its policy of spending 0.7% of national income on overseas aid to help deal with the coronavirus crisis at home.
A junior minister, Baroness Sugg, has quit over the move, calling it "fundamentally wrong" at a time of "unprecedented" global crisis.
But Chancellor Rishi Sunak said it was hard to "justify" the policy with the UK facing record borrowing.
The cut - to 0.5% of national income - will save about £4bn a year.
Mr Sunak said this would be "temporary" and the 0.7% target would return when finances allowed.
The move has been criticised by some Conservatives, who point out that it was a key promise in the party's 2019 general election manifesto.
Baroness Sugg, who was David Cameron's chief of staff when he was PM, has quit as minister for sustainable development, overseas territories and the Caribbean.
In a letter to Boris Johnson, she said it was "fundamentally wrong" to abandon the foreign aid promise, which "should be kept in the tough times as well as the good".
He responded by praising the minister's "passion and commitment" to her work and her "efforts in support of girls' education in particular".
How does UK overseas aid spending compare with other countries?
Currently, the UK commits 0.7% of national income to overseas aid.
But if you look at overseas aid spending as a percentage of national income, the UK currently beats them and comes out top of the G7 group of the wealthiest nations.
Germany trails closely behind on 0.6%, with France spending 0.44% and the US on 0.16%.
Chancellor Rishi Sunak said that even after the UK drops to 0.5% next year it "would remain the second-highest aid donor in the G7".
Mr Sunak did say the government's "intention is to return to 0.7% when the fiscal situation allows" but he gave no specific timeline.
Conservative MP Tobias Ellwood, chairman of the Commons defence committee, told BBC News the foreign aid cut "will come back and haunt us in the long term".
He said it would reduce British influence, increase poverty and instability - and "allow China and Russia to take advantage" by moving quickly to fill the "vacuum".
In the Commons, Rishi Sunak said the government had to make "tough" choices, as he set out his Spending Review for the year ahead.
He added that 0.5% of national income would be spent on overseas aid in 2021 - the equivalent of £10bn - and the UK would still be the second-highest aid donor in the G7 group of major economies.
Mr Cameron said the 0.7% promise said "something great" about the UK, adding: "These were brilliant things that we were doing, and I think it's sad that we are standing back from that."
The Archbishop of Canterbury, Justin Welby, described Mr Sunak's decision as "shameful and wrong".
"I join others in urging MPs to reject it for the good of the poorest, and the UK's own reputation and interest," he wrote on Twitter.
Oxfam chief executive Danny Sriskandarajah was among dozens of charity bosses to criticise the decision.
He said: "Cutting the UK's lifeline to the world's poorest communities in the midst of a global pandemic will lead to tens of thousands of otherwise preventable deaths."
And Labour's shadow chancellor Anneliese Dodds accused Mr Sunak of turning his back on the world's poorest, adding that it was "in Britain's national interest to lay the foundations for economic growth across the world".
But Brexit Party leader Nigel Farage tweeted: "At last we have a Conservative chancellor that understands Conservative voters on foreign aid."
And Conservative MP Philip Davies said people in the "real world" will back the cut.
"I suspect that the vast majority of the British public won't be asking why has he cut so much, they will probably be asking why are we still spending so much," he added.
Former Conservative Prime Ministers Sir John Major and his Labour successor Tony Blair were among those calling for the 0.7% target to be kept.
It could also face opposition from some Tory MPs, including former Foreign Secretary Jeremy Hunt and former International Development Secretary Andrew Mitchell, when the Commons votes on it.