US election: Technical error blamed for PM's Biden tweet glitch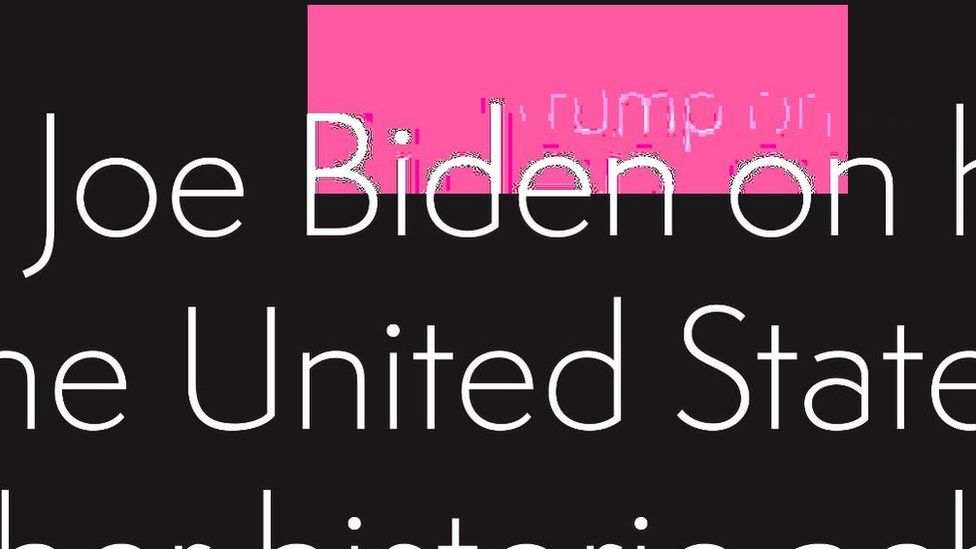 The government has blamed a "technical error" for a Boris Johnson tweet congratulating Joe Biden on his US election victory which faintly showed the name "Trump" in the background.
Social media users commented on the discrepancy while the Guido Fawkes website said the message also included the word "second term" buried in it.
Officials said two messages were prepared before the result was known.
The alternative one had been "embedded" in the other by mistake, they said.
Mr Johnson said he and the president-elect discussed their "shared priorities" and was looking forward to "strengthening the partnership" between the two countries.
The UK PM is believed to be the first European leader Mr Biden has spoken to since the election.
Mr Biden is preparing to assume office in January, although incumbent President Donald Trump is refusing to accept the outcome of the election and is mounting a series of legal challenges in certain states.
The message the PM sent on Sunday read: "Congratulations to Joe Biden on his election as president of the United States and to Kamala Harris on her historic achievement.
"The US is our most important ally and I look forward to working closely together on our shared priorities, from climate change to trade and security."
But the message appeared to include traces of a different one referring to Mr Trump, who has been in office since 2017.
Guido Fawkes said the "remnants" of this could be seen by adjusting the contrast and brightness levels of the actual message that was posted.
A government spokesperson said: "As you'd expect, two statements were prepared in advance for the outcome of this closely contested election.
"A technical error meant that parts of the alternative message were embedded in the background of the graphic."
UK ministers have said they are excited about working with Mr Biden on issues such as climate change and trade.
In recent days, Mr Biden's team has sought to downplay lingering tensions over Mr Johnson's role in Brexit and past comments he has made about both President Trump and his predecessor Barack Obama.
Mr Biden, who has made his opposition to Brexit well known, has insisted maintaining peace in Northern Ireland is paramount in any post-Brexit UK-US trade deal.
The president-elect is continuing a ring-round of world leaders, having also spoken to Germany's Angela Merkel and France's Emmanuel Macron.
Before news of Mr Biden's conversation with Mr Johnson emerged, the Irish PM Michael Martin posted a Twitter message saying he had just finished a "positive" conversation with the president-elect.
The message was quickly deleted, after which the Irish government revealed it had been sent in error and although a call had been arranged the two had yet to speak.
A few hours later, Mr Martin posted another message saying he had had a "warm and engaging" call with Mr Biden.