Brexit: 'Significant differences remain' over trade deal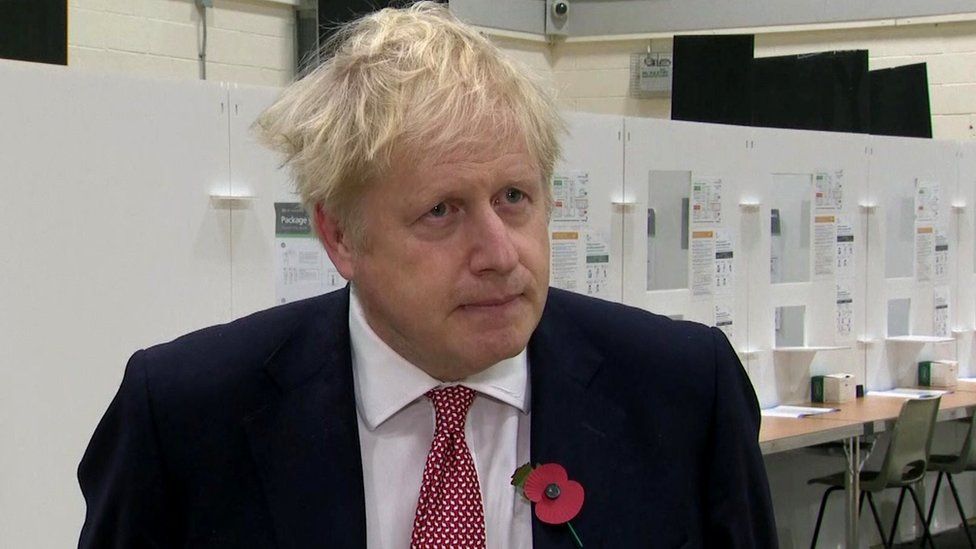 "Significant differences" between the UK and the EU remain, as negotiations for a post-Brexit trade deal continue, Prime Minister Boris Johnson has said
Following a call with EU Commission President Ursula von der Leyen on Saturday, the PM said progress had been made but there were still issues around the "level playing field" and fishing.
Both parties agreed negotiating teams would resume talks in London on Monday.
They also agreed to remain "in close contact" over the coming days.
A statement from Downing Street on Saturday said:
"Prime Minister Boris Johnson today spoke with European Commission President Ursula von der Leyen for a stock take on the progress in the negotiations between the UK and the EU.
"The prime minister set out that, while some progress had been made in recent discussions, significant differences remain in a number of areas, including the so-called level playing field and fish.
"The prime minister and president agreed that their negotiating teams would continue talks in London next week, beginning on Monday, in order to redouble efforts to reach a deal.
"They agreed to remain in personal contact about the negotiations," the statement said.
Echoing Mr Johnson, Ms von der Leyen acknowledged "some progress had been made, but large differences remain". "Our teams will continue working hard next week," she wrote on Twitter.
We took stock of the negotiations with UK Prime Minister @BorisJohnson today. Some progress has been made,but large differences remain especially on level playing field and fisheries.Our teams will continue working hard next week. We will remain in close contact in the next days. pic.twitter.com/UVyyzKeUyW

— Ursula von der Leyen (@vonderleyen) November 7, 2020
The prime minister has said he believes there is "a deal to be done" and "very much hopes" to come to an agreement, but he has insisted the country was "very well prepared" to move on should the two parties not be able to agree a deal.
Meanwhile, the National Audit Office has warned of "significant disruption" when the Brexit transition period ends.
The UK left the EU on 31 January and entered the transition period - continuing to follow many EU rules - while a trade deal was negotiated.
But while both sides said a deal needed to be done in October, they have yet to come to an agreement, and talks between the negotiating teams have intensified.
The transition period is due to come to an end on 31 December, meaning the UK would trade with the EU on World Trade Organisation rules - meaning tariffs are imposed - if a deal is not in place.
Critics say this could cause damage to the UK economy, but the government insists the country will prosper with or without a deal.
Sticking points include fishing rights, competition rules and how a deal would be enforced.
Asked on Friday if the UK could get a deal in the next 10 days, Mr Johnson said: "I very much hope that we will, but obviously that depends on our friends and partners across the Channel.
"I think there is a deal to be done, if they want to do it.
"If not, the country is, of course, very well prepared. As I have said before, we can do very well with on Australian terms [without a deal], if that is what we have to go for."
Thomas Byrne, Ireland's minister for European affairs, said the talks up to this point between the EU and UK's negotiators, Michel Barnier and David Frost, had been "difficult", with "big issues" still remaining.
He told BBC Radio 4's Today programme: "I personally don't expect that there would me major progress today, but at the same time I think it's very good that they are talking - I think that's really positive. But I'm not sure that we would expect a moment at this point."
Mr Byrne was also asked if there could be a "new dynamic" to discussions between the UK and EU if Joe Biden was elected the US president, saying it was "certainly possible".
Mr Byrne said: "He was very clear in his suggestion and statement on the 16th of September that any trade deal between the US and UK must be contingent on respect for the Good Friday Agreement and preventing the return of the hard border."