Extend scheme for cosy homes, green groups say
By Roger Harrabin
BBC environment analyst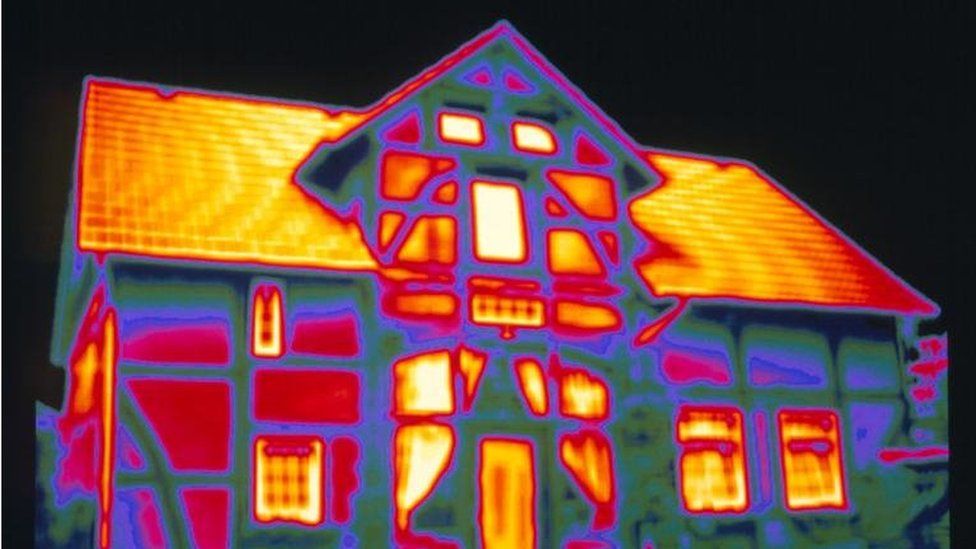 All homes in the UK should be made cosy with government help, according to a coalition of 70 green groups.
It's a key demand from the Climate Coalition to shift the UK towards to a zero carbon economy.
The government's Green Homes scheme currently offers grants up to £5,000 to help households with insulation.
That scheme ends in March and is vastly over-subscribed, so the coalition wants it extended through to 2030.
The groups say 10 million heat pumps should also be installed to keep people warm, reduce bills, improve health and create jobs.
Heat pumps are electrical devices that work like a fridge in reverse, sucking warmth out of the air or the ground. Unlike gas boilers they don't emit gases that overheat the planet.
The Climate Coalition's demands come as the prime minister prepares his own 10-point plan for zero emissions, due next week (most likely on 12 November).
The groups fear Mr Johnson's strategy has been captured by industry lobbyists prioritising profits and jobs over emissions reductions.
The PM's long-awaited statement will be techno-optimistic, committing to offshore wind, nuclear, hydrogen and carbon capture and storage.
The coalition shares his enthusiasm for wind power. They don't reject his other favoured technologies outright, but they argue none is a priority.
One of the report's authors, Ed Matthew, told BBC News: "We're not campaigning against nuclear, but with every passing year, it looks less necessary and comparatively more expensive."
Mr Johnson has said it'll be an important part of the energy mix, but Mr Matthew said: "The government has been seduced by the promise of jobs from industry lobbyists."
He continued: "We can see that for certain industrial hubs such as steel, cement and chemicals, carbon capture (where emissions are caught and buried underground) may be useful - but only at a small scale."
And he expressed doubts about some of the current hype round hydrogen.
"We agree hydrogen will be part of economy," he said. "But it won't be but deployed at scale for a decade so it's not a priority."
"We really fear the prime minister has had his head turned by the oil and gas lobby - they who want to produce hydrogen from natural gas as a way of staying in business. Heating homes with electricity is far more efficient."
Mr Johnson is under pressure to demonstrate how the UK will cut emissions more deeply, because he is inviting world leaders to an online event on 12 December where they will present their own new climate plans.
At the moment, the UK is falling behind its own medium-term emissions targets as the world steadily gets hotter.
Clara Goldsmith from The Climate Coalition told BBC News: "The UK will only be successful in galvanising global climate action if it gets its own house in order.
"Our 10-Point Plan can restore UK leadership on climate change, create hundreds of thousands of green jobs and help rebuild our shattered economy."
So what else is on the Climate Coalition's wish list?
Well, the PM's expected to bring forward the date for phasing out sales of new petrol and diesel cars to 2030 or 2032; the coalition say 2030 is better.
He's also in the process of reforming agricultural grants to reward farmers for protecting the environment; the groups say he should include agro-forestry - in which crops are interspersed with trees.
The coalition urges the government to pass new laws forcing all UK-regulated financial institutions to implement strategies that fit international climate goals.
It says the sector's impact on the environment through lending to fossil fuel projects is greater than the territorial carbon footprint of the UK.
The groups also urge the government to end aid and export finance for fossil fuels overseas.
The coalition says more aid should be given to poor nations already suffering the effects of climate change.
The groups say the UK should lead a global push to restore natural land because this would help wildlife as well as reducing greenhouse gases.
The government said it was committed to the UK reaching the net zero target and would announce new measures shortly.
A government spokesperson said: "We are taking every opportunity to build on the UK's fantastic track record for tackling climate change.
"This month the prime minister outlined ambitious plans to build back greener by making the UK the world leader in clean wind energy, which is just one part of his ten-point plan for a green industrial revolution, which will be set out further this year.
"In December, the UK will co-host the Climate Ambition Summit for world leaders to bring forward plans to cut carbon emissions and set net zero targets in the run up to COP26 next year."
Follow Roger on Twitter @rharrabin