Coronavirus: Chancellor Rishi Sunak sorry for not being able to protect all jobs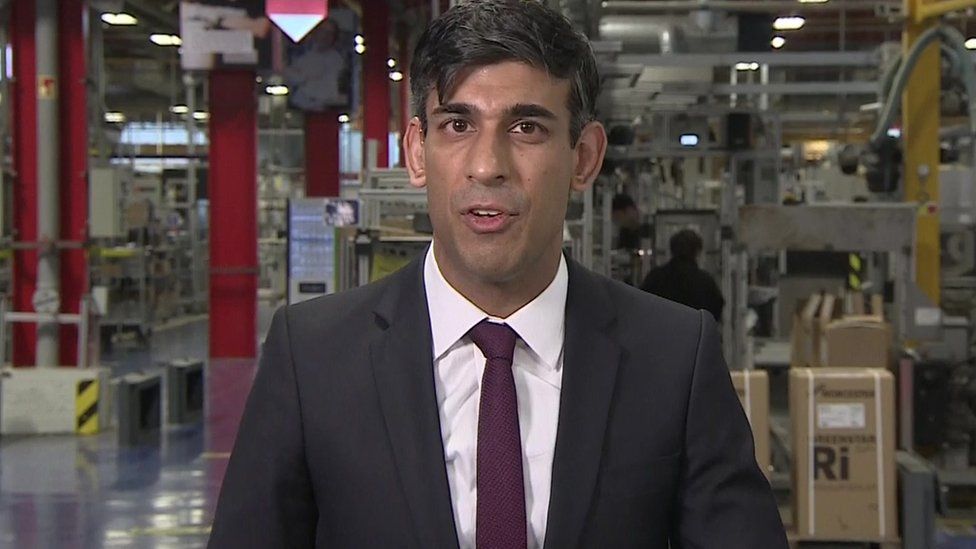 The chancellor has said he is "sorry" for not helping "everyone in exactly the way they would have wanted".
Rishi Sunak said the government was "throwing everything" at stemming job losses with a £30bn stimulus package.
But he told the BBC he will not be able to protect "every single job" as the UK enters a "severe recession".
He also admitted that some of the £1,000 bonuses being offered to take back furloughed staff would go to firms that were already keeping workers on.
Labour has called for a more targeted approach to saving jobs, saying the government will "waste billions at a time when others are crying out for support".
In his summer statement on Wednesday, Mr Sunak said the "jobs retention bonus" could cost as much as £9bn if every worker currently furloughed is kept on.
Meanwhile, it has emerged the most senior civil servant at HM Revenue and Customs did not back two of the key policies in Mr Sunak's summer statement over uncertainty about their value for money.
In letters to the chancellor, Jim Harra, HMRC's permanent secretary, said advice received by HMRC "highlights uncertainty around the value for money" of the job Retention Bonus and Eat Out To Help Out scheme - which gives diners money off some meals in August.
Self-employed curtain fitter Mark Whittaker told BBC Breakfast he cannot "get his head round how the chancellor expects any citizen of this country to get by on zero income".
"If he can manage it, please tell me how to do it," Mr Whittaker said. "I don't want a handout… I want parity."
Mr Whittaker started his own business in Stockport, Greater Manchester, towards the end of 2018 and fell short of earnings requirements to receive support during the crisis.
He said people in his situation have children, mortgages, rent and bills to pay.
Responding to Mr Whittaker's comments, Mr Sunak said more than 2.5 million people who are self-employed will receive support from a "generous" scheme of government funding.
He added: "Have we been able to help everyone in exactly the way they would have wanted? I'm sure not and I've said previously that we haven't been able to do that and for that I am sorry."
Mr Sunak warned the UK was "entering one of the most severe recessions this country has ever seen".
"If you're asking me 'can I protect every single job' of course the answer is no," he said.
"'Is unemployment going to rise, are people going to lose their jobs?' Yes, and the scale of this is significant."
It comes as figures released by the Treasury reveal that public spending on the battle against coronavirus has risen to nearly £190bn.
And the Institute for Fiscal Studies has warned the UK was not in a "normal recession" but "the deepest in history".
With a second wave, it says UK unemployment could reach near 15%.
The chancellor announced a series of measures to help the economy on Wednesday, including a VAT cut for the hospitality and tourism sectors, a bonus scheme for employers and an eating out money off scheme for August.
Mr Sunak said the £1,000 bonus being offered to businesses that keep furloughed staff in jobs until January would be a "dead weight" cost, as some employers who intend to retain workers anyway would benefit.
The Chancellor told BBC Radio 4's Today programme: "Throughout this crisis I've had decisions to make and whether to act in a broad way at scale and at speed or to act in a more targeted and nuanced way.
"In an ideal world, you're absolutely right, you would minimise that dead weight and do everything in incredibly targeted fashion.
"The problem is the severity of what was happening to our economy, the scale of what was happening, and indeed the speed that it was happening at demanded a different response."
He said that "without question there will be dead weight - and there has been dead weight in all of the interventions we have put in place".
But Labour's shadow chief secretary to the Treasury Bridget Philipson said: "The chancellor should be targeting support on those who need it, not handing it out aimlessly to those who don't.
"It's not brave to admit the government plans to waste billions at a time when others are crying out for support."
Some 9.3 million workers are having 80% of their salaries paid for by the government - up to £2,500 a month - under the furlough scheme, which was originally due to end in July, before being extended to October, with employer contributions.
From August, employers must pay National Insurance and pension contributions, then 10% of pay from September, rising to 20% in October.
We are looking to speak to people who used previous unemployment schemes to get work - is that you? Did the 'Future Jobs Fund' in 2009 help you get a job? How useful was it for you in developing your career? Share your experiences by emailing haveyoursay@bbc.co.uk.
Please include a contact number if you are willing to speak to a BBC journalist.