Coronavirus: Cinemas and museums set to reopen in England from 4 July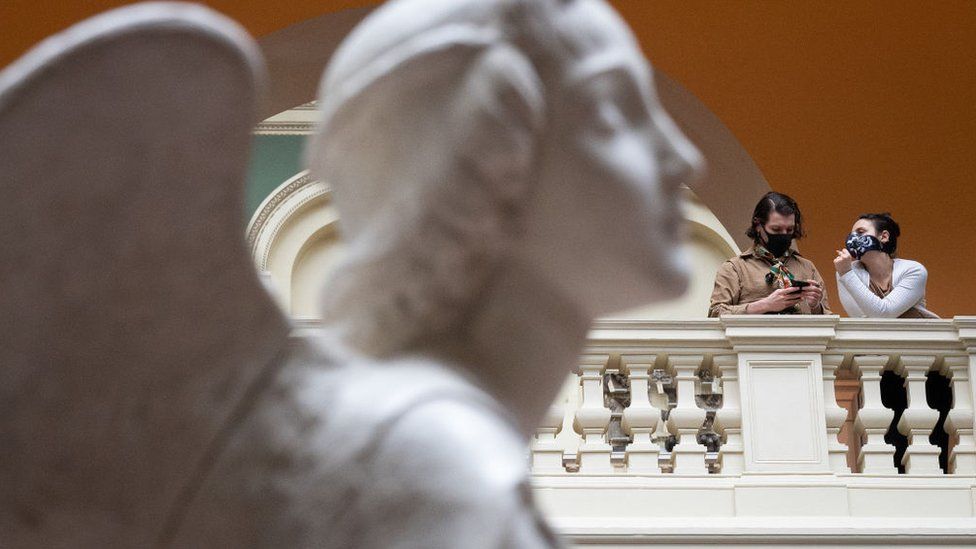 Cinemas, museums and galleries will be able to reopen in England from 4 July, Boris Johnson is expected to announce on Tuesday as he outlines a further easing of coronavirus restrictions.
Venues closed since the middle of March will be able to welcome visitors as long as safety measures are in place.
The PM is also due to set out how pubs can safely reopen following a review of the 2m distancing rule.
Health Secretary Matt Hancock said on Monday the virus was "in retreat".
Mr Hancock said England was "clearly on track" to further ease lockdown restrictions but No 10 warned the moves would be reversed if they led to a surge in new infections.
There were fewer than 1,000 confirmed new cases announced on Monday, the lowest daily figure since the lockdown started on 23 March, while the number of people in hospital with the virus has fallen below 5,000.
The number of daily virus deaths also fell to 15, the lowest since 15 March. However, the figures often dip on Mondays due to reporting delays.
Office for National Statistics figures show the number of overall deaths in England and Wales for the week ending 12 June was back below 10,000 for the first time this year, although still not back to normal levels.
There were 9,976 deaths registered in England and Wales, down from 10,709 the previous week - 6% above the five year average.
On Monday, the prime minister discussed the changes with the Covid-19 strategy committee, attended by the UK's chief scientific adviser Sir Patrick Vallance and England's chief medical officer Professor Chris Whitty.
He is expected to announce the plans in Parliament at about 12:30 BST.
Mr Johnson is expected to say the 2m (6ft 6in) social distancing rule will be reduced to 1m (3ft 3in) from 4 July, with some mitigating measures.
This will enable many pubs, restaurants, hotels and B&Bs to reopen for the first time in more than three months.
Boris Johnson's words today will represent more than a different notch on a measuring tape, more than another kind of business being able to open its own doors in England, and more than the government moving into the final official phase of its so called roadmap set out weeks ago.
Coronavirus has bestowed grief on tens of thousands of families and is bringing recession to the whole UK.
And it has also pushed the capabilities of the Westminster government, arguably, beyond its limits - buffeting ministers' reputations and raising questions about their grip.
Now with the threat to health receding, and the economic danger very real, the political calculus has moved enough to allow the next phase to begin.
Ministers used to boast they were following the science. But that complicated advice was a guide, never a medical diktat.
The decisions on how and when to react to the pandemic were always for the politicians to take.
The government's ambition now is to move steadily towards a more recognisable way of life that gives a chance, ministers hope, to give them, not the virus itself, control.
Read more from Laura here.
The government has come under pressure from the hospitality sector, and some Conservative MPs, to relax the 2m rule, with many saying it would be impossible to trade under the current measures.
Labour said its support would depend on employees having adequate protective equipment, such as face shields, and there being an effective testing and tracing system in place.
Ministers have not ruled out customers having to register when entering pubs and bars so they can easily be tracked down if they come into contact with a person infected with coronavirus.
Peter Borg Neal, chief executive of pub chain Oakman Inns, told Radio 4's Today programme that 1m social distancing was "still very problematic" but would allow most pubs to open.
"We hope to prove very quickly to government that pubs will be a safe environment and they can ease restrictions further in due course," he said.
As part of the government's recovery plan, some arts and entertainment venues are also likely to be able to open their doors from 4 July but only if they follow guidance to ensure they are "Covid secure".
They will be expected to minimise face-to-face contact by requiring customers to pre-book tickets, to stand in spaced queues and to enter and leave through different areas.
Screens could be put up to minimise the risk to staff while ventilation systems will be improved.
Gallery directors have said they are "incredibly excited" to reopen and hope the public will be hungry for culture after three months.
Simon Martin, director of Pallant House Gallery in Chichester, West Sussex, told Today: "I think many are going to feel quite emotional when they come. But for us we really want our visitors to feel welcome, feel safe and have an enjoyable time. We are working very hard to ensure that although we sanitise the building we don't sanitise the experience."
Linda Bauld, professor of public health at the University of Edinburgh, said the public health community was "very anxious" about the pace of changes, adding that the UK still has a far higher number of cases than other European countries.
"I don't think we're in the position where we have a fully functioning track and trace [system] to give us the confidence that if we start to see cases rise again we can contain it," she told the BBC's Newsnight programme.
Northern Ireland Secretary Brandon Lewis told the Today programme that the government will be issuing guidelines to businesses on how to manage safety.
"The reality is we're all going to have to get used to this new kind of normal as we go forward...where we have to take some self-responsibility to ensure the safety of ourselves, our friends, our family, and the people in our community," he said.
The other nations of the UK are yet to announce any plans to change the 2m distance rule for the hospitality industry.
Scottish First Minister Nicola Sturgeon has asked scientific advisers to review the circumstances in which it might be reduced alongside "additional mitigations".
A change has also not been ruled out in Wales - where First Minister Mark Drakeford said he would support a reduction if Welsh advisers said it was safe.
The World Health Organization recommends a distance of at least 1m.
What questions do you have about the relaxation of lockdown measures and Covid-19?
In some cases your question will be published, displaying your name, age and location as you provide it, unless you state otherwise. Your contact details will never be published. Please ensure you have read our terms & conditions and privacy policy.
Use this form to ask your question:
If you are reading this page and can't see the form you will need to visit the mobile version of the BBC website to submit your question or send them via email to YourQuestions@bbc.co.uk. Please include your name, age and location with any question you send in.