Coronavirus: Boris Johnson 'bitterly regrets' care home crisis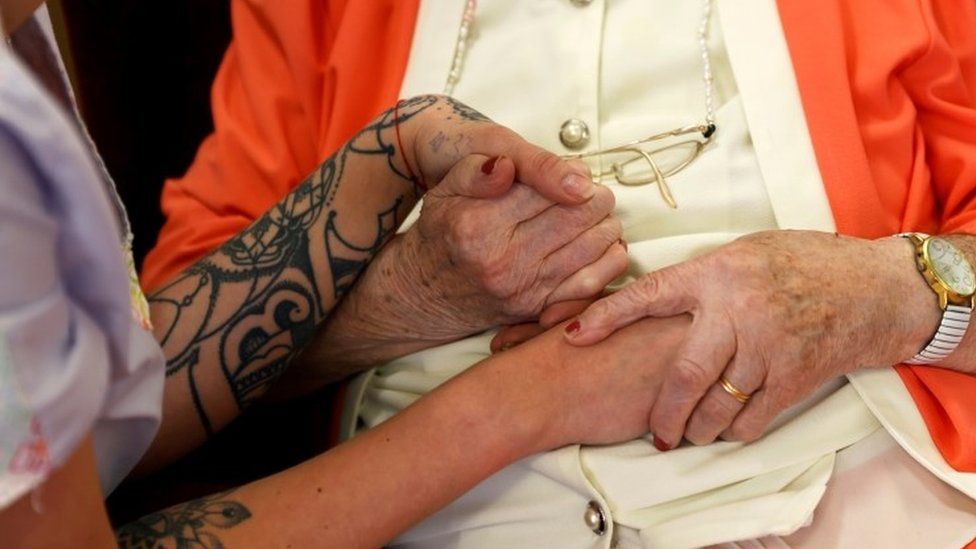 Boris Johnson has said he "bitterly regrets" the coronavirus crisis in care homes - and the government was "working very hard" to tackle it.
Labour leader Sir Keir Starmer accused the PM of failing to get a grip on the issue at Prime Minister's Questions.
The PM said a "huge effort" was going in - and there had been a "palpable improvement" in recent days.
He added that "it has been enraging to see the difficulties we've had in supplying PPE to those who need it" but the government is now "engaged in a massive plan to ramp up domestic supply".
The prime minister also pledged to reach 200,000 tests for coronavirus a day by the end of May.
The government announced it had hit its target of 100,000 tests on Friday, but that number has since fallen back.
The PM said "capacity currently exceeds demand" and the government was taking steps to address that.
The BBC's health editor Hugh Pym said government sources confirmed that the 200,000 per day target refers to lab capacity rather than individual tests.
Mr Johnson said his "ambition" was to hit 200,000 tests "by the end of this month - and then go even higher".
He also confirmed that he would be setting out plans to begin lifting the coronavirus lockdown on Sunday, adding that he hoped to "get going on some of these measures on Monday".
Mr Johnson was making his first appearance in the Commons - and his first PMQs clash with new Labour leader Sir Keir Starmer - since the birth of his son and his recovery from coronavirus.
The government's 200,000-tests-a-day ambition may not quite be what it seems.
Officials are now saying it refers to the ability of labs to process the tests.
If that is the case, the system is probably not far off that.
Testing is essentially a two-stage process. Swabs are taken at hospitals, drive-thru centres, military-run mobile units and sent out to homes for people to do them themselves.
They are then sent to labs to process. Some hospitals can do this themselves, but the majority go to one of three mega-labs in Glasgow, Cheshire and Milton Keynes.
These labs are increasingly using an automated system to process them which means they can carry out an increasing numbers.
Currently capacity is around 150,000 - so 200,000 should not be too difficult to achieve.
What remains a problem, though, is getting people tested and turning those tests around quickly - for some it can take 72 hours.
Care homes are still reporting they cannot always get staff and residents tested, while drive-thru centres, which are not always conveniently located for other eligible groups, are being under-used.
Tackling these problems will be much more difficult if 200,000 tests a day are actually to be done.
The government must review lockdown measures on Thursday by law - but the PM said he was waiting until Sunday to announce the government's plans because more data would be available.
And he warned it would be an "economic disaster" to relax the lockdown in a way which triggered a second spike in coronavirus cases.
In March, the PM said the government was aiming for 250,000 coronavirus tests a day but did not put a timescale on that.
Sir Keir Starmer said only 84,000 tests were done on Monday, meaning 24,000 were not used, from the 100,000 the government said last week were available.
Mr Johnson replied: "Yes, he's right that capacity currently exceeds demand, we're working on that, we're running at about 100,000 a day, but the ambition clearly is to get up to 200,000 a day by the end of this month and then to go even higher."
He told MPs that a "fantastic" testing regime will be critical to the UK's long-term economic recovery.
Labour sources said they planned to hold Mr Johnson to account on his latest testing promise.
Sir Keir said the UK now had the highest death rate from the virus in Europe because it had been too slow into lockdown, testing and the provision of Personal Protective Equipment (PPE).
Mr Johnson said it was too early to make international comparisons.
It came as First Minister Nicola Sturgeon confirmed that the lockdown in Scotland will continue for at least another three weeks.
Asked by the SNP's Ian Blackford if the contents of his statement on Sunday would be "fully agreed" with the devolved nations, Mr Johnson said: "We'll do our level best to make sure that the outlines of this attract the widest possible consensus."