Coronavirus: Sir Keir Starmer calls for new workplace safety standards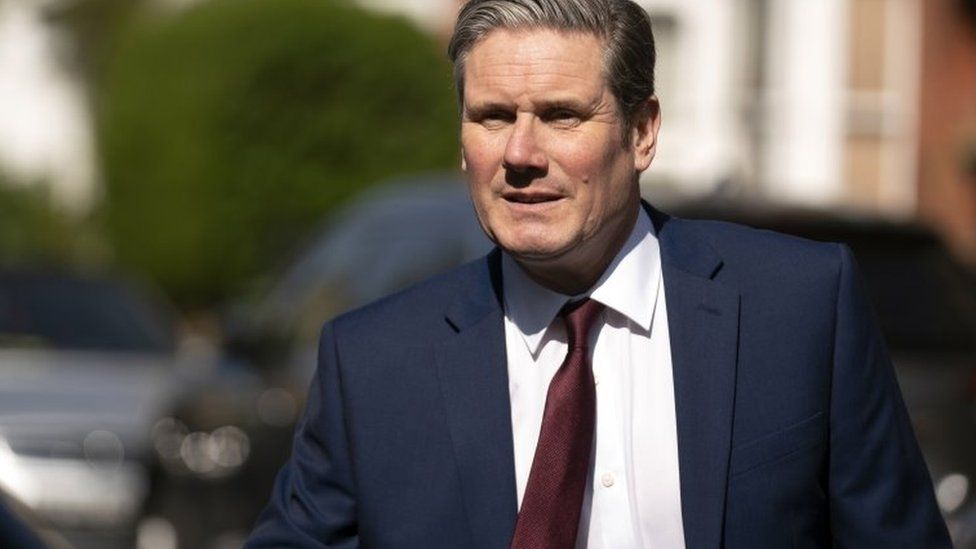 Sir Keir Starmer has said much more needs to be done to reassure people they are safe to return to work when the UK begins to move out of lockdown.
The Labour leader said government plans were "full of gaps" and a "national consensus" was needed between political parties, employers and unions.
He is calling for new safety standards in the workplace to reassure people "very anxious" about returning to work.
Health Secretary Matt Hancock said any new measures had to be "practical".
Boris Johnson is expected to reveal a "road map" out of lockdown on Sunday.
Ministers are required by law to review the UK's lockdown restrictions every three weeks, with the next review due by Thursday. Mr Johnson has warned the UK must not lift restrictions too soon.
Many companies have been shut since widespread limits on everyday life were imposed on 23 March in a bid to limit the effects of the virus's spread on the NHS.
Sir Keir, who took over as leader of the party last month, told the BBC that Labour supported the restrictions being extended and pledged to work "constructively" with the government.
But he said it was "not unreasonable" to ask for more clarity on what was expected of businesses and their staff to minimise the risk of the infection rate going back up again.
Sir Keir, who will hold talks with the PM and other opposition leaders later this week, set out out seven "core principles" which he believed should be considered by the government as part of its planning for an exit strategy.
These include bringing in a "national safety standard" for businesses and schools, in order to address the TUC's concerns about the government's draft guidance on getting people back to work.
"The government put out a consultation document out at the weekend which was very vague, with lots of gaps in it," he told Radio 4's Today programme.
"We need something stronger.
"Reassurance really matters here. I think the vast majority of people are really anxious about going back to work.
"I think people are more likely to be reassured and have confidence if they see political parties, trade unions and businesses lining up behind a standard they think is right and enforceable."
And he said ministers should urgently make the existing furlough scheme "more flexible" to manage people's gradual return to work.
Up to 6.3 million workers - 23% of the UK's employed workforce - have been placed on the scheme, in which the state pays up to 80% of their wages.
Sir Keir said he agreed with Chancellor Rishi Sunak that this could not go on indefinitely and industries expected to return sooner needed more help so they can get their workers "ready to go back to business".
Sir Keir said it was "inevitable" people will "probably" have to wear face coverings in places where social distancing cannot be guaranteed after lockdown while it was likely more train services would have to be laid on.
On vaccines, Sir Keir said the government should set out how it intends to ensure the manufacture and distribution of any vaccine, while ministers should also publish a national plan for the winter flu season.
A plan to ensure supply chains for protective equipment for key workers were guaranteed and a "structured approach to easing and tightening restrictions" must also be formed, he said.
Mr Hancock told the BBC that the government was consulting with unions and employers on the way forward.
"Clearly it is absolutely vital that people are as safe as possible when they're at work. We've got to do that in a way that's practical," he said.
In a video message posted on Twitter on Monday, Mr Johnson said the the UK must not lift restrictions too soon.
The prime minister said the UK would only be able to move on to "the second phase of this conflict" when the government's five tests had been met, including a sustained and consistent fall in daily deaths and being confident any adjustments would not risk a second peak which could overwhelm the health service.