Labour leadership contenders: Lisa Nandy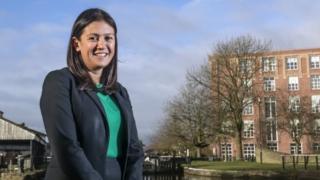 Lisa Nandy has long been touted as a potential Labour leader and now she has thrown her hat into the ring.
The Wigan MP is pitching herself as the candidate who can win back the trust of traditional northern Labour voters who turned to the Conservatives in the 2019 election.
So, what do we know about her?
Personal life
Ms Nandy was born in 1979 in Manchester to Louise and Dipak Nandy.
Politics runs in the family - her grandfather was the Liberal MP for North Dorset in the 1940s - and she has described her father as "one of the few remaining" Marxists in the country.
She attended the mixed comprehensive Parrs Wood High School before moving to Holy Cross College in Bury.
From there, she went on to study politics at Newcastle University, followed by a master's degree in public policy from Birkbeck, University of London.
Her partner is public relations consultant Andy Collis and in April 2015 she gave birth to a son.
Before Parliament
On leaving university, Ms Nandy worked as a researcher for Labour MP for Walthamstow Neil Gerrard, before joining the homelessness charity Centrepoint.
She then worked for the Children's Society - a national charity focused on helping vulnerable young people.
From 2006 to 2010, she was a councillor in the London borough of Hammersmith & Fulham.
In Parliament
She recently told Politics Home she was motivated to become an MP after going to a Conservative Party conference.
"Everyone was pretty sure they [the Conservatives] were going to win," she said adding: "It was in Manchester which is my home town, which was pretty depressing, and I thought somebody has got to do something about this."
In 2010, Ms Nandy was selected as Labour's candidate for the Wigan constituency - a seat the party has held for more than 100 years.
She won the seat with a majority of 10,487 becoming the area's first female, and first Asian MP.
Under Ed Miliband's leadership she sat on the opposition front bench as a shadow education minister.
She later supported fellow Manchester MP Andy Burnham in the 2015 Labour leadership race - a contest eventually won by Jeremy Corbyn.
Under Mr Corbyn, Ms Nandy initially stayed in the shadow cabinet as an energy spokeswoman, but in the wake of the EU referendum she became one of a large group of shadow cabinet ministers to resign in protest at his leadership.
Explaining her decision she said Mr Corbyn was "unable to form a broad, inclusive shadow cabinet that draws on the best of our movement's left and right traditions".
She called for the then-deputy leader Tom Watson to take over as caretaker boss.
In 2018, she helped set up Centre for Towns - a think tank driven by the belief that the current economic model views cities as the engines of growth to the detriment of towns.
In a foreword to one of the think tank's reports, Ms Nandy wrote that "for far too long towns have been ignored, patronised and labelled 'left behind'".
Her interest in towns - and frequent mentions of the subject - has struck a chord in certain corners of social media, triggering an internet meme.
On Brexit, she supported the Remain side in the 2016 EU referendum, but was staunchly opposed to another referendum or revoking the Brexit process altogether.
In early 2019 she said she would consider voting for Theresa May's Brexit deal if given assurances on the protection of workers' rights.
However, after a meeting at Downing Street she concluded she had "not heard anything like enough" to support the prime minister.
Later in the same year, she gave her support to Boris Johnson's Brexit bill at second reading arguing that the details needed to be debated.
Following the December election, she voted against the bill objecting to changes that had been made in regards to workers' rights, the environment and consumer protection.
The pitch
Setting out her stall in a letter to the Wigan Post, Ms Nandy said Labour needed to win back the trust of voters in former Labour strongholds such as Workington and Wrexham.
"Without what were once our Labour heartlands we will never win power in Westminster and help to build the country we know we can be," she wrote.
"I have heard you loud and clear when you said to earn that trust means we need a leader who is proud to be from those communities, has skin in the game, and is prepare to go out, listen and bring Labour home to you."
She said representing Wigan meant she had "a deeper understanding of what has gone awry in our discredited political system".