General election 2019: Nigel Farage hits out at ex-Brexit Party MEPs over Tory support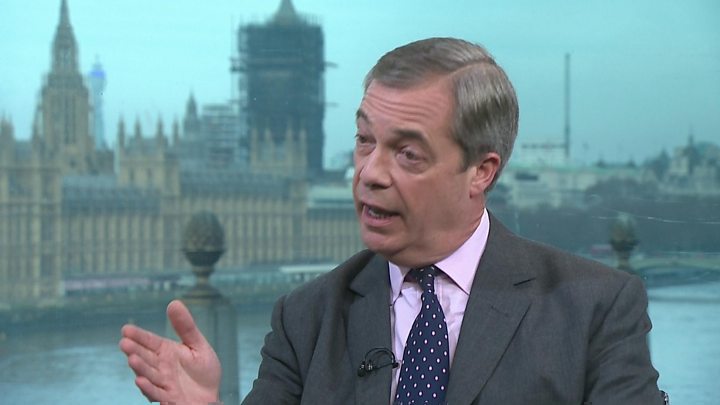 Brexit Party leader Nigel Farage has hit out at three MEPs who quit the party and are now urging voters to back the Conservatives in the election.
He told the BBC that Annunziata Rees-Mogg, Lance Forman and Lucy Harris had strong personal links to the Tories.
But the MEPs say the Brexit Party's participation in the election will split the Leave vote.
A fourth MEP, John Longworth, lost the whip on Wednesday for criticising the party's election strategy.
The Brexit Party, which is not contesting seats won by the Conservatives in the 2017 general election, has maintained it is taking votes away from Labour in Leave-supporting areas where it is standing.
And it says it is saving the Tories from losses to the pro-EU Liberal Democrats in the south of England.
The four former Brexit Party MEPs are asking voters to back Boris Johnson's Conservatives in order to "deliver" Brexit, by giving him enough MPs to get his deal with the EU through Parliament.
Asked about the resignations of Ms Rees-Mogg, Ms Harris and Mr Forman from his party, Mr Farage told the BBC's Andrew Neil: "One of them [Ms Rees-Mogg] is the sister of a cabinet minister. Another one has a boyfriend working for that cabinet minister and another one is a personal friend of Boris Johnson's."
When challenged on whether he was smearing the MEPs, Mr Farage said he was presenting the facts.
"They joined the Brexit Party. They joined the coalition that I put together. They clearly were disaffected with Mrs [Theresa] May as leader," he said. "We are not the Conservative Party."
Mr Farage added: "I tell you something - Boris Johnson's deal unamended is unacceptable. I certainly stand by that."
The MEPs have also called for Mr Farage to stand down his candidates in the 12 December election.
Ms Rees-Mogg, a former Tory parliamentary candidate and sister of Commons Leader Jacob Rees-Mogg, said it was "tragic" that the Brexit Party "are now the very party risking Brexit".
"It is clear to me that the Brexit Party is splitting the vote of Leavers in marginal and not-so-marginal constituencies," Ms Rees-Mogg said.
"The Brexit Party are permitting votes to go away from the Conservatives, providing us with a Remain coalition that will do anything not to honour the Brexit referendum."
Ms Rees-Mogg said it had "not been an easy decision for any of us" to quit the Brexit Party, but "we all feel it's one we had no choice but to make".
She said that Mr Johnson's Brexit deal was "the only Leave option we have", with the others being "more damaging delays, a second Remain-Remain referendum or straight revoke".
She also rejected the suggestion that her brother had influenced her decision as "disturbingly old-fashioned", saying: "We have completely independent views from each other and I am only concerned about Brexit."
The four MEPs have said they will continue with their roles in the European Parliament, with Miss Harris saying they would stay as MEPs in order to vote for the prime minister's withdrawal agreement.
'Hammering Labour'
The Brexit Party, formed earlier this year, won 29 seats in July's European Parliament elections.
In November Mr Farage announced it would not contest the 317 Westminster seats the Conservatives won in 2017, in order to help Leave-supporting candidates win.
Mr Longworth has been critical of this decision, arguing that the party should be targeting between 20 and 30 seats.
Earlier, Mr Farage said he was "disappointed that four of our MEPs don't seem to understand that we both saved the Conservative Party from large-scale losses to the Liberal Democrats in the south and south-west of England".
He added that the Brexit Party was "hammering the Labour Leave vote in its traditional heartlands, making it much easier for the Conservatives to win many of those seats".
However, Mr Farage said he would continue to target Labour-held Leave areas, despite these being a key part of the Conservatives' plan to win a majority and pass a Brexit deal.
Liberal Democrat deputy leader Ed Davey said there had been a Brexit Party "takeover of the Tory party", adding that "Boris Johnson is only attracting the support of Farage and his stooges".
While Mr Johnson is campaigning to leave the EU under the terms of his deal, the Brexit Party is calling for what it calls a "clean-break Brexit". This would mean leaving the EU without a formal deal and trading under World Trade Organisation terms.
Labour wants to renegotiate Mr Johnson's Brexit deal and put it to another public vote. Leader Jeremy Corbyn says he would remain neutral during that referendum.