Voting: Could ID checks affect who participates in elections?
By Reality Check team
BBC News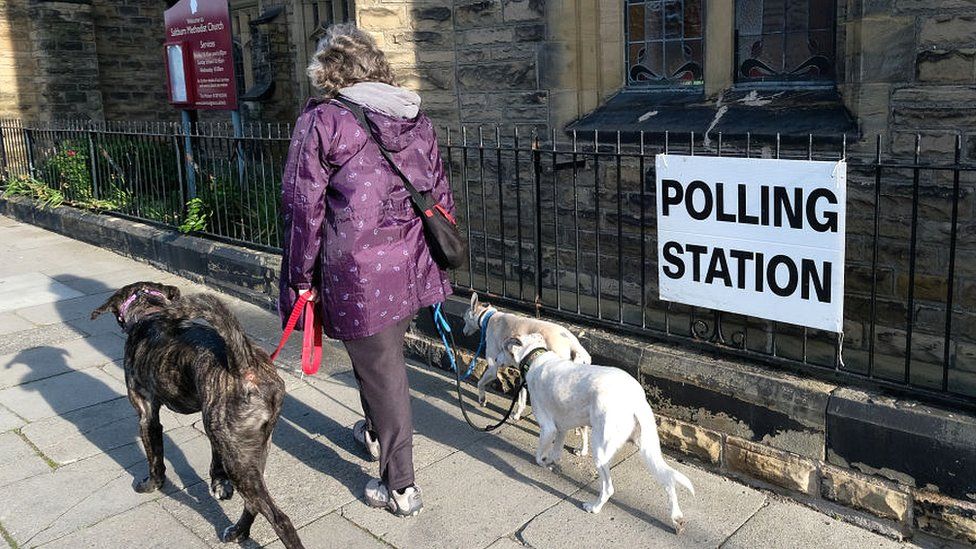 The government plans to pass a law requiring people to show an approved form of identification in order to vote.
It would mean people need identification to vote in a polling station, as is already the case in Northern Ireland, where photo ID is required.
The government says this would "tackle electoral fraud" and give voters "confidence that their vote is theirs, and theirs alone".
It plans to extend this to elections in the whole of the UK and is talking to devolved governments about extending it to assembly elections in Scotland and Wales.
How much electoral fraud is there?
There are very few complaints about electoral fraud in the UK - and even fewer convictions.
about 47 million people registered to vote in general elections
just 33 allegations of "personation" - the offence of pretending to be somebody else to vote
one conviction - a man in West Yorkshire who admitted voting once in his own name and once in his son's in the European Parliament election
one caution

So why consider requiring voter ID?
The report suggested fraud may be overlooked because of "over-sensitivities about ethnicity and religion".
It could be similar to the system that has existed in Northern Ireland since 2003, where voters must show photo ID at the polling station before receiving a ballot paper.
The acceptable forms of photo ID are:
passport
UK, Irish or European Economic Area (EEA) driving licence
electoral identity card - a free card issued by the electoral authorities (using a much wider range of ID)
various types of passes issued by Translink, the public transport provider
A House of Commons Library report said: "There has been no evidence that the ID requirements in Northern Ireland have affected turnout."
The Electoral Commission recommended a small number of other forms of ID could be added to this list, such as:
military and police ID cards
firearms licences
It estimated that would mean about 92.5% of the electorate already had suitable ID.
In a pilot scheme of voter ID checks in 10 areas during the local elections in England in 2019, about 2,000 people were turned away at polling stations for lack of ID. Of those, 750 failed to return with ID.
The government says it will also "increase protections" on postal voting, including banning "harvesting" - this is when somebody collects up people's postal votes and delivers them to a polling station.
Campaign group the Electoral Reform Society has raised concerns that the ID plans could prevent eligible people voting.
There are variations across different groups - for example, women are considerably less likely than men, and black people considerably less likely than white people, to have a driving licence. Certain ethnic groups such as Gypsies and Irish Travellers are much less likely than the average to have a passport.
The government plans to offset this risk by introducing a form of identity document voters can apply for free of charge.
In the 2019 pilot, awareness of the new ID requirements differed by demographic group, with younger voters and those from black and minority ethnic backgrounds being less likely to know about the requirements.
And that is an issue that might not necessarily be mitigated by supplying free ID, since voters would have to be aware of the requirement in order to apply, and would have to do so in sufficient time.
At a Downing Street press conference, Boris Johnson was asked about suggestions that Labour voters are less likely to have suitable ID and whether the policy could be "a way to suppress votes for people who would not vote for the Conservative Party".
The prime minister replied that that was "complete nonsense and what we want to do is to protect democracy, the transparency and integrity of the electoral process".