General election 2019: The MPs standing down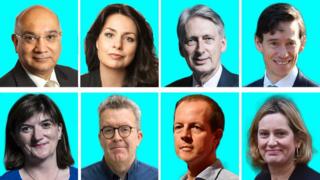 The general election date is fast approaching and many familiar faces from the House of Commons have cleared their desks for the last time.
The Commons will lose more than 1,000 years of parliamentary experience as more than 70 incumbents have decided not to stand for election again.
All sitting MPs lost their titles when Parliament was dissolved for the election to take place. Most of them will be seeking re-election on 12 December but here are the ones we know who will not be coming back:
Independents
Ken Clarke is the longest-serving MP in the House of Commons, known as the father of the house, having served his Rushcliffe constituency for almost half a century.
A long-time supporter of the UK's membership of the EU, he was expelled from the Conservative Party by Boris Johnson, after he rebelled against the government over Brexit.
Sir Oliver Letwin, the former Conservative minister and West Dorset MP, was recently at the forefront of Parliamentary attempts to delay Brexit.
"With great sadness" former Chancellor and Foreign Secretary Philip Hammond (Runnymede & Weybridge) said he would quit the House of Commons after not being restored to the Conservative Party before the election.
Former Education Secretary and Tory Brexit rebel Justine Greening (Putney), thinks she can "achieve more positive change outside Parliament" and will now focus specifically on improving social mobility.
One-time Conservative leadership candidate and walking enthusiast Rory Stewart(Penrith and the Border), has switched his focus to next year's London mayoral election, in which he will try to beat Labour's Sadiq Khan as an independent candidate.
Former Home, and Work and Pensions, Secretary Amber Rudd - MP for the ultra-marginal Hastings and Rye seat - resigned from the cabinet and surrendered the Tory whip over Brexit in September. She was not among those who later had the whip restored by the PM and is not standing again.
Guto Bebb (Aberconwy), is another Brexit rebel kept out in the cold by Boris Johnson, who won't be standing again.
Nick Boles (Grantham & Stamford) also quit the Conservative Party over Brexit and has chosen not to stand again as an independent.
Suspended Conservative Charlie Elphicke (Dover), who lost the Conservative whip after being accused of sexual assault - which he denies - will not stand again this time. He is being replaced as Tory candidate by his wife, Natalie.
Ian Austin - a former minister for regional affairs under Gordon Brown - quit the Labour Party in February, when he criticised the party's approach to tackling anti-Semitism. In November, Mr Austin announced he would be standing down and called on voters to back Boris Johnson's Conservative Party in the polling booths.
Louise Ellman (Liverpool Riverside) also quit Labour over claims of anti-Semitism within the party.
Suspended ex-Labour MP Kelvin Hopkins (Luton North) is retiring, saying he wants to spend more time with his wife, who is in ill health.
Another former Labour MP, John Woodcock(Barrow and Furness), announced he wouldn't stand because he was having a baby with his partner, Isabel Hardman. He has also been appointed as an "extremism envoy" by the Home Office.
The only person actually elected as an independent in 2017 was Sylvia Hermon (North Down). The one-time Ulster Unionist is standing down after 18 years as an MP, saying she wants to spend more time with her family.
Conservatives
Nicky Morgan(Loughborough), the current culture secretary, surprised Westminster watchers by announcing her departure. She gave as her reasons the "clear impact" on her family and "the other sacrifices involved in and the abuse for doing the job of a modern MP".
Her decision prompted some to question whether abuse aimed at female MPs was prompting them to step down in disproportionate numbers - and whether women were standing down at a younger age and after fewer years of service.
However, just 26% of those standing down are women - compared with 32% overall. While they are on average a little younger - at 59, compared with 61 for men, the difference is not large. Women do seem to be standing down after less time in the Commons than men - four and a half years sooner on average.
Claire Perry(Devizes), a former energy minister and president of COP26, a UN climate change conference, stepped down after nine years, saying she still backed Mr Johnson and his "brave" Brexit strategy.
Sir Nicholas Soames (Mid Sussex), grandson of wartime leader Sir Winston Churchill, was among those kicked out of the party by Boris Johnson over his opposition to a no-deal Brexit. He has since been welcomed back into the fold, but is standing down.
Other readmitted rebels Alistair Burt (North East Bedfordshire), Richard Harrington (Watford), Richard Benyon (Newbury) will all leave the Commons too.
Former Defence Secretary Sir Michael Fallon who has been the MP for Sevenoaks since 1997 and before that MP for Darlington, said he had always intended to stand down in the next few years.
Sir David Lidington(Aylesbury) de-facto deputy PM under Theresa May wants to spend more time with his family while he is "still in active and good health".
Former miner - and former minister - Sir Patrick McLoughlin (Derbyshire Dales), is retiring after 33 years of service.
Dame Caroline Spelman (Meriden), blamed the "intensity of abuse arising out of Brexit" for her decision to resign.
Jo Johnson(Orpington), the PM's brother, resigned from the cabinet over Brexit and quit as an MP, saying he was "torn between family loyalty and the national interest".
Other Tory MPs leaving the green benches will be:
Jeremy Lefroy (Stafford)
Glyn Davies (Montgomeryshire)
Keith Simpson (Broadland)
Nick Hurd (Ruislip, Northwood and Pinner)
Mark Prisk (Hertford and Stortford)
Bill Grant (Ayr, Carrick and Cumnock)
Sir Hugo Swire (East Devon)
David Tredinnick (Bosworth)
Mark Field (Cities of London and Westminster)
Seema Kennedy (South Ribble)
Sarah Newton (Truro and Falmouth)
Sir Alan Duncan (Melton and Rutland)
Peter Heaton-Jones (North Devon)
Margot James (Stourbridge)
Mark Lancaster (Milton Keynes North)
Ross Thomson (Aberdeen South)
Sir Henry Bellingham (North West Norfolk)
Nick Herbert (Arundel & South Downs)
Ed Vaizey (Wantage and Didcot)
Sir George Hollingbery (Meon Valley)
Andrew Griffiths (Burton)
Labour
Deputy leader Tom Watson(West Bromwich East) is to step down from his role and not run again for Parliament citing "personal not political" reasons. He will continuing campaigning on gambling regulation, public health and preventing press intrusion.
Former minister Keith Vaz (Leicester East) is standing down, after he was suspended from the Commons over an inquiry into his conduct by the standards committee.
Of the other Labour MPs who have announced their intention to step aside, a good number are either Brexiteers or against a second referendum.
Jim Fitzpatrick (Poplar and Limehouse) and Sir Kevin Barron (Rother Valley) have both voted for Theresa May's Brexit deal at some stage. Veteran trade unionist Ronnie Campbell (Blyth Valley) and Kate Hoey (Vauxhall) backed leave in the 2016 referendum.
John Mann (Bassetlaw) has already left and now sits in the House of Lords after being nominated by previous PM Theresa May.
Ex-shadow justice ministerGloria De Piero (Ashfield), expressed concern over the "lack of tolerance for different viewpoints" within her party in her resignation speech.
One-time leadership challenger Owen Smith (Pontypridd), who was sacked from the shadow cabinet over Brexit, cited both personal and political reasons for not standing again.
Ann Clwyd (Cynon Valley), who at 82 is the oldest woman to sit in the House of Commons, is leaving after 35 years.
Other Labour MPs stepping down are:
Stephen Pound (Ealing North)
Stephen Twigg (Liverpool West Derby)
Roberta Blackman-Woods (City of Durham)
Geoffrey Robinson (Coventry North West)
Teresa Pearce (Erith and Thamesmead)
Paul Farrelly (Newcastle-Under-Lyme)
Albert Owen (Ynys Mon)
Jim Cunningham (Coventry South)
Ian Lucas (Wrexham)
Helen Jones (Warrington North)
Adrian Bailey (West Bromwich West)
Other parties
Former Lib Dem party leader Sir Vince Cable (Twickenham) and colleague Sir Norman Lamb (North Norfolk) - both former ministers in the coalition government - both announced their decisions to stand down back in August. Sir Norman will focus on setting up a fund for people with mental health issues and learning disabilities.
Former Conservative and Change UK MP Heidi Allen (Cambridgeshire South), who only joined the Lib Dems a few weeks ago, said she had suffered "utterly dehumanising abuse" as an MP in a letter to her constituents announcing her intention to quit.
Joan Ryan (Enfield North) and Ann Coffey (Stockport) are both former Labour MPs who quit to join Change UK. Heidi Allen to stand down as MP
The DUP's David Simpson (Upper Bann) is leaving the green benches after a reported affair with a party colleague.
The Speaker
In addition to being the House of Commons referee, former Conservative John Bercow has been the MP for Buckingham since 1997.
Before he announced his decision to step down, the Conservative Party said it intended to break convention and run a candidate against him at the next election.
More on the election