Lib Dems: Davey and Swinson vie to replace Sir Vince Cable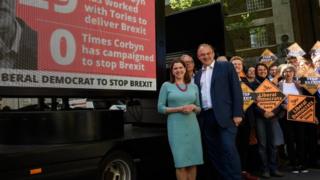 Nominations in the race to become the next Lib Dem leader have closed, with two candidates competing to replace Sir Vince Cable.
Deputy leader Jo Swinson and former Energy and Climate Change Secretary Ed Davey will face a series of hustings, as party members choose a winner.
Party President Baroness Brinton said she was "delighted at the calibre" of both runners.
The result of the postal ballot will be announced on 23 July.
Candidates needed support from 10% of the party's 11 MPs and 200 members from at least 20 local parties in order to run.
The winner of the contest will replace Sir Vince, who became party leader without a contest after Tim Farron's resignation in 2017.
Under him, the Lib Dems have been at the forefront of the campaign for another EU referendum as a means of stopping Brexit.
Until recently, the party struggled to get out of single figures in opinion polls. But it gained more than 700 councillors in last month's English local elections and came second in the UK's European elections three weeks later, winning 20.3% of the UK vote.
Announcing her candidacy, Ms Swinson said the country was "crying out" for a movement "to challenge the forces of nationalism and populism".
"The Liberal Democrats need to be at the heart of that movement and I'm the person to lead it," she added.
Setting out his plans, Sir Ed said the country needed "a new economic model".
He added: "I'm talking about de-carbonising capitalism, making capitalism turn green so Britain is a world green finance capital."
Baroness Brinton said: "I am delighted at the calibre of our two candidates. Whichever of them wins will be able to build on the remarkable achievements Vince Cable has led the Liberal Democrats to."