Trump: Prepare for no deal and send in Farage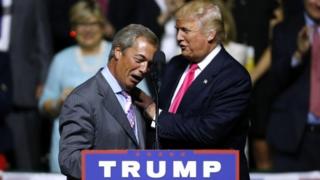 Nigel Farage should be involved in the government's Brexit negotiations and the UK should be prepared to leave the EU with no deal, Donald Trump has said.
In a Sunday Times interview, the US president was critical of government's Brexit negotiations, saying it left the EU "with all the cards."
The interview comes before his state visit to the UK begins on Monday.
On Saturday Mr Trump also said Boris Johnson would be an "excellent" Conservative Party leader.
Breaking with diplomatic convention, Mr Trump said the leader of the Brexit Party - an arch critic of Prime Minister Theresa May - "has a lot to offer" in negotiations with the EU, and should be included.
"Think how well they would do if they did," he added.
He also said the UK should walk away if it does not get what it wants from EU negotiations.
"If you don't get the deal you want, if you don't get a fair deal, then you walk away."
Meanwhile, the Mayor of London, Sadiq Khan, has marked Mr Trump's visit by calling him "one of the most egregious examples of a growing global threat".
In an article for the Observer, Mr Khan said: "The far right is on the rise around the world, threatening our hard-won rights and freedoms and the values that have defined our liberal, democratic societies for more than 70 years."
In April, Labour Party leader Jeremy Corbyn said he was boycotting Mr Trump's state banquet at Buckingham Palace, in protest at the president's "racist and misogynistic rhetoric".
But the US Ambassador to the UK, Woody Johnson, said he believed "everything is going to go great" on the trip.
Speaking to the BBC's Andrew Marr Show, Mr Johnson also talked about potential future trade agreements between the two countries after Brexit.
He said the UK would not have to accept US agriculture standards to get a deal - although he said the "American food supply is as safe as anything in Europe".
And while he called the NHS the "pride of the country", he said that in order to strike a deal, "all things that are traded would be on the table" - including healthcare.
Trump's views on...
Jeremy Corbyn: Asked if he would share US intelligence with a Corbyn government, the US president said: "I would have to know him, I would have to meet."
Brexit: On paying a £39bn ($50bn) divorce bill: "I wouldn't pay $50bn. That is me. I would not pay - that is a tremendous number."
Nigel Farage: "I got to know him when he liked my campaign and he actually came to a speech and I met him. I think he is a terrific person. Really, a terrific person."
A US-UK trade deal: "One of the advantages of Brexit is the fact that now you can deal with the No 1 country by far."
Boris Johnson as PM: "[He] would do a very good job - he would be excellent. He has been very positive about me and our country."
The US president also reiterated his praise for Boris Johnson - who is willing to leave the EU with no deal.
Mr Johnson is one of the candidates in Tory leadership contest to replace Prime Minister Theresa May.
Sajid Javid, Esther McVey and Dominic Raab have said the UK should leave the EU on the current planned departure date of 31 October with or without an agreement.
But Rory Stewart does not back a no-deal Brexit - and Matt Hancock says politicians must be honest about the trade-offs involved in getting a deal approved by MPs.
Foreign Secretary Jeremy Hunt said trying to push through a no-deal Brexit would be committing "political suicide", although he agreed the option had to remain on the negotiating table.
To compensate for lost trade with the EU, Mr Trump vowed to "go all out" to secure a free trade deal between the UK and US within months of Britain leaving the bloc.
The first day of Mr Trump's state visit to the UK will include a private lunch with the Queen, tea with the Prince of Wales and the Duchess of Cornwall, and the state banquet at Buckingham Palace.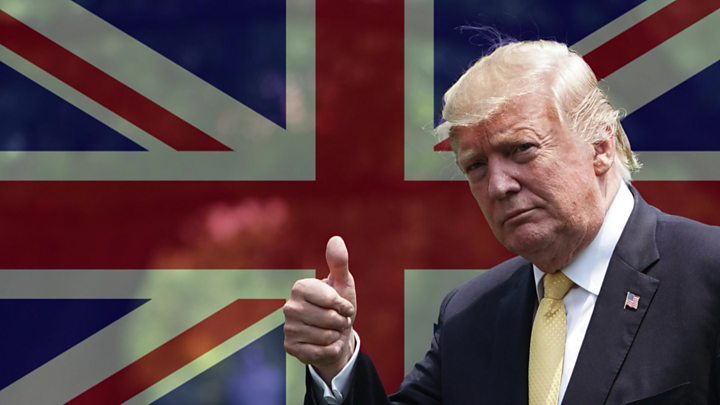 Tell us what you think we should be looking into.