Tory leadership candidates compared: Johnson v Hunt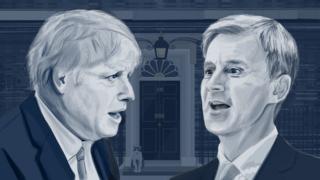 Conservative MPs Boris Johnson and Jeremy Hunt are going head-to-head to become the next Tory leader and prime minister.
After getting the backing of Tory MPs, they are now waiting to hear whether they have won the support of around 160,000 Conservative Party members in the ballot for the top job.
Voting closes at 17:00 BST with the winner to be announced on Tuesday morning.
But where do the potential new prime ministers stand on key issues?
Here's a quick guide to their positions on Brexit, immigration, tax, spending, health and social care and education.
More than half the ballot papers sent to the homes of party members are thought to have been returned so far, and the winner will be announced on 23 July.
In a recent Conservative Home poll of 1,300 party members, Mr Johnson came out on top.
The bookmakers are offering odds on who the next leader will be and Mr Johnson is the clear favourite.
The two candidates have been taking part in a series of hustings or debates to try to win over party members. The last one was on Wednesday, 17 July.
Out of the two, Jeremy Hunt, who replaced Mr Johnson as foreign secretary last year, has more experience in government and has held more cabinet posts.
He was made culture secretary under the coalition government in 2010 and oversaw the 2012 London Olympics before becoming health secretary.
In 2018, Mr Hunt became the longest-serving health secretary, and arguably one of the most controversial, since the NHS was created, completing six years in the role.
During his tenure, Mr Hunt clashed with unions over contracts for junior doctors, who took part in a series of walkouts in 2015.
Mr Johnson was the MP for Henley for seven years before being elected Mayor of London in 2008. He returned to Parliament as MP for Uxbridge and South Ruislip in 2015.
On a personal level, the two candidates have similar backgrounds - being educated at private schools and both attending Oxford University.
Mr Johnson was born in New York to English parents, giving him dual nationality. But he later renounced his US citizenship.
How did we get here?
Tory MPs voted five times to choose their preferred candidates.
In the fifth and final round of voting, Boris Johnson came out on top with 160 out of the 313 votes cast. One ballot paper was spoiled.
Jeremy Hunt was second with 77 votes and Michael Gove was eliminated after securing the support of 75 fellow MPs.
But 10 candidates started the race on 10 June.
Mark Harper, Andrea Leadsom and Esther McVey were eliminated in the first round after failing to get the necessary 17 votes.
Matt Hancock, who won 20 votes, later withdrew from the contest, pledging his support for Boris Johnson.
Dominic Raab was eliminated in round two, after falling three votes short of the required 33.
Rory Stewart's campaign came to an end after he finished last in the third ballot.
Sajid Javid and Michael Gove were knocked out after they finished last in last two successive ballots.