Gauke: Brexit deal will return as soon as possible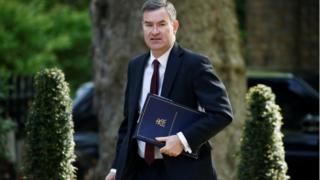 A vote on the prime minister's Brexit deal should take place "as soon as possible", says Justice Secretary David Gauke.
He said: "I think we want to bring it back as quickly as we can but we want to bring it back to succeed."
Before the UK can leave the EU, MPs must approve a Brexit deal, which then needs to be turned into UK law in the form of a withdrawal agreement bill.
The Brexit deadline was delayed to October after MPs did not agree a deal.
Number 10's spokesman has said it is the government's "hope and expectation" to bring the withdrawal agreement bill in ahead of European elections.
Labour and Conservative representatives have been engaged in cross-party talks to agree a deal to leave the EU which both parties can agree on.
The discussions are expected to continue next week.
'Not impossible but extremely difficult'
BBC political editor Laura Kuenssberg says getting a deal through parliament is "not impossible but extremely difficult".
"When you ask almost anyone else in Westminster whether that is realistic, you get a variety of answers from 'that will never get through' to 'Downing Street must be living in la-la land'," she says.
Theresa May's deal has already been defeated by MPs three times - most recently by a margin of 58 votes.
The withdrawal agreement the prime minister reached with EU leaders covers how much money the UK owes the EU, citizens' rights and a proposed method of avoiding the return of a physical Northern Ireland border.
A political declaration included in the deal is about the future relations between the UK and the EU.
It covers areas such as trade, customs and freedom of movement.
Commented on the prime minister's future, Mr Gauke said: "It would be a mistake to have a change of leadership at this point.
"Her going doesn't change the parliamentary arithmetic."
Theresa May has come under pressure to announce the date at which she will step down as prime minister and leader of the Conservative Party.
The justice secretary was speaking before giving a speech at the Onward think tank, warning his colleagues against embracing populist politics which he said would "make us a poorer and a more divided nation".
He argued that conservatism "should be based on an appeal to the common-sense, pragmatic instincts of the majority".