Amber Rudd apologises over 'coloured woman' comment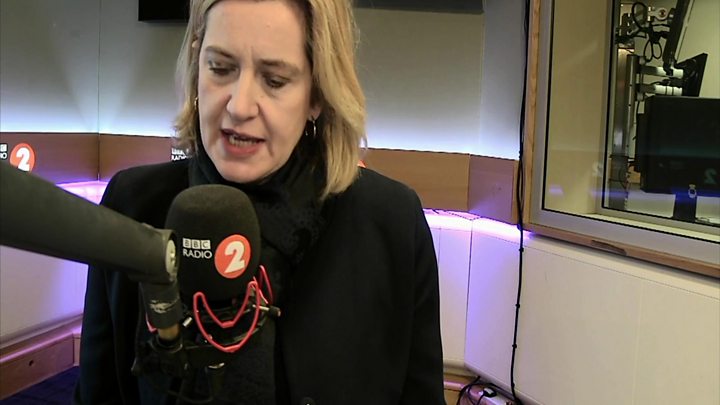 Work and Pensions Secretary Amber Rudd has apologised for using the word "coloured" in a BBC interview.
Shadow home secretary Diane Abbott criticised the use of the term, saying it was "outdated", "offensive" and a "revealing choice of words".
During a discussion about MP abuse, Ms Rudd said: "It's worst of all if you're a coloured woman. I know that Diane Abbott gets a huge amount of abuse."
In her apology, Ms Rudd said she was "mortified at my clumsy language".
The prime minister's official spokeswoman said making an apology was "absolutely the right thing to do".
Historically, the word is associated with segregation, especially in the US, where black people were kept separate from white people - on public transport, or at drinking fountains which were described as "coloured-only" for example.
It is regarded as an offensive racial slur which recalls a time when casual racism was a part of everyday life.
The exchange happened during an interview on BBC Radio 2's Jeremy Vine show.
Host Jeremy Vine asked Ms Rudd: "The question is, given that all people in the public eye seem to get terrible tweets from strangers, whether it's worse if you're a woman?"
Ms Rudd replied: "It definitely is worse if you're a woman, it's worst of all if you're a coloured woman.
"I know that Diane Abbott gets a huge amount of abuse, that's something we need to call out."
But Ms Abbott responded on Twitter, saying it was a "revealing choice of words".
Former home secretary Ms Rudd apologised on Twitter.
Separately, Commons Leader Andrea Leadsom has been criticised for her response to a question from Labour MP Naz Shah, about Islamophobia.
The shadow women and equalities minister had called for a Commons debate, after the former Tory minister Baroness Warsi criticised the Conservatives over Islamophobia.
Ms Shah added that the all-party parliamentary group on British Muslims had recently published a definition of Islamophobia.
Mrs Leadsom replied that the Conservatives had an "extremely robust and urgent" response to Islamophobia but went on to suggest that, on the definition of Islamophobia, Ms Shah "can discuss with Foreign Office ministers whether that would be a useful way forward".
Ms Shah said later: "To say that British Muslims facing Islamophobia here in the UK is a 'Foreign Office' issue is truly baffling and horrifically alludes to British Muslims as foreigners.
"It just goes to show how out of touch the Tories are with a problem that their politicians and councillors are exacerbating."
A spokesman for the Commons Leader's office spokesman said: "Islamophobia is unacceptable wherever it takes place.
"It was thought the MP for Bradford West was referring to a global definition of Islamophobia.
"International efforts to combat Islamophobia (and all forms of religious persecution and prejudice) are lead by the PM's special envoy on freedom of religion or belief, Lord Ahmad, at the Foreign & Commonwealth Office.
"Of course, any form of Islamophobia in the UK would be dealt with swiftly by the Home Office or Ministry for Housing, Communities and Local Government as appropriate."
But Baroness Warsi, a Conservative peer, tweeted: "What is wrong with some of my colleagues?"