Anti-Semitism: Labour could face human rights probe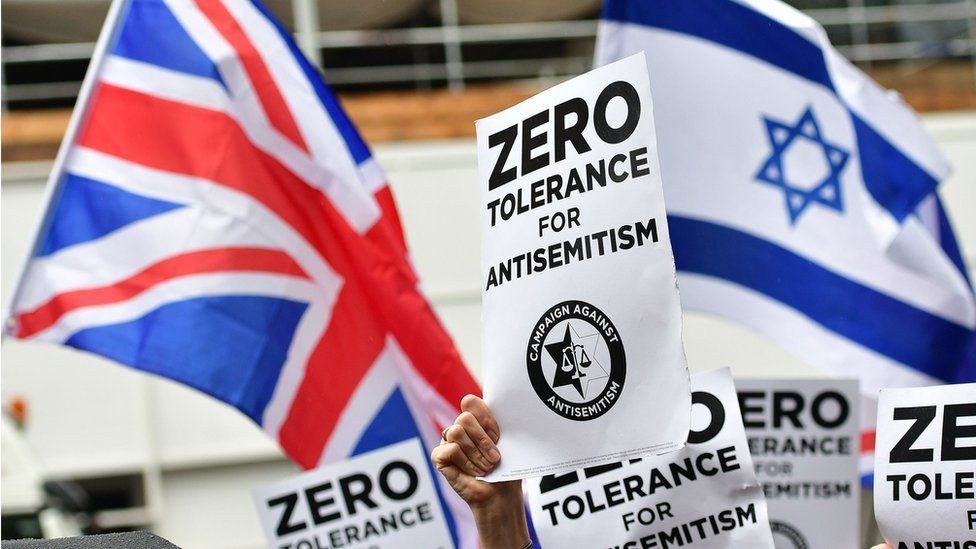 The Labour Party may have unlawfully discriminated against Jewish people, the UK's human rights watchdog says.
The Equalities and Human Rights Commission said it was considering launching a formal investigation into anti-Semitism in the party.
The Labour Party said: "We completely reject any suggestion the party has acted unlawfully and will be co-operating fully with the EHRC."
The watchdog is asking the party to work with it to improve its processes.
Once the EHRC's formal letter is received by Labour, the party will have 14 days to respond to the concerns raised.
Depending on the response, the commission can take enforcement action ranging from a voluntary agreement with the party to a full-blown investigation.
If a formal investigation was launched, the EHRC would request interviews with key figures in the party and have the power to demand access to correspondence, emails and other information to determine how Labour dealt with allegations of anti-Semitic discrimination.
The action comes in response to complaints from a number of organisations and individuals, including the Campaign Against Anti-Semitism.
An Equality and Human Rights Commission spokesperson said: "Having received a number of complaints regarding anti-Semitism in the Labour Party, we believe Labour may have unlawfully discriminated against people because of their ethnicity and religious beliefs.
"Our concerns are sufficient for us to consider using our statutory enforcement powers.
"As set out in our enforcement policy, we are now engaging with the Labour Party to give them an opportunity to respond."
Equalities and Human Rights Commission announces it believes Labour might have broken the law by unlawfully discriminating against Jewish people - so 'considering using statutory enforcement powers' - party now has chance to respond - v serious indeed

— Laura Kuenssberg (@bbclaurak) March 7, 2019
If the watchdog concludes Labour has a case to answer, it could launch an inquiry under section 20 of the Equalities Act, which would examine whether the party's internal processes were compliant with the law.
A Labour Party spokesman said: "Labour is fully committed to the support, defence and celebration of the Jewish community and its organisations.
"Anti-Semitism complaints received since April 2018 relate to about 0.1% of our membership, but one anti-Semite in our party is one too many. We are determined to tackle anti-Semitism and root it out of our party."
The party wants former Lord Chancellor Lord Falconer to carry out a review of its handling of anti-Semitism claims.
The Labour peer says he is considering whether to accept the offer, amid claims by prominent Jewish Labour MP that he is not independent enough.
One of his critics, Dame Margaret Hodge welcomed the EHRC announcement, saying "faith in Labour's complaints process is at rock bottom" and it was "essential the EHRC make all necessary inquiries".
Faith in Labour's complaints process is at rock bottom. It's essential the EHRC make all necessary inquiries. We desperately need a culture of zero tolerance towards antisemitism in the Labour Party https://t.co/uCcE8LtI9D

— Margaret Hodge (@margarethodge) March 7, 2019
Gideon Falter, of the Campaign Against Anti-Semitism, said his group had been "forced" to "seek an external, impartial investigation" after calls from the Jewish community for tougher action from Labour officials had been "persistently rebuffed".
"The Labour Party has repeatedly failed to address its own anti-Semitism problem, resulting in MPs and members abandoning the party.
"It is a sad indictment that the once great anti-racist Labour Party is now being investigated by the equality and human rights regulator it established just a decade ago."
'Institutionally anti-Semitic'
The Jewish Labour Movement said it made a submission to the EHRC in November last year, asking it to investigate the allegation that the Labour Party was "institutionally anti-Semitic".
"We did not take that decision lightly," it said in a statement.
"After years of anti-Jewish racism experienced by our members, and a long pattern of denial, obfuscation and inaction by those with the power and ability to do something about it, we felt there was little choice but to secure a fully independent inquiry, not encumbered by corrupted internal practices.
"Everything that has happened in the months since our referral supports our view that the Labour Party is now institutionally anti-Semitic."
Labour has been plagued by accusations of anti-Semitism since mid-2016.
The party leadership has been accused of tolerating a culture of anti-Jewish prejudice by a number of its own MPs, some of whom have quit the party in protest.
Leader Jeremy Corbyn insists he is getting to grips with the issue and has beefed-up the party's internal disciplinary procedures.
Last week, Labour MP Chris Williamson was suspended after saying the party had been "too apologetic" and "given too much ground" to its critics.