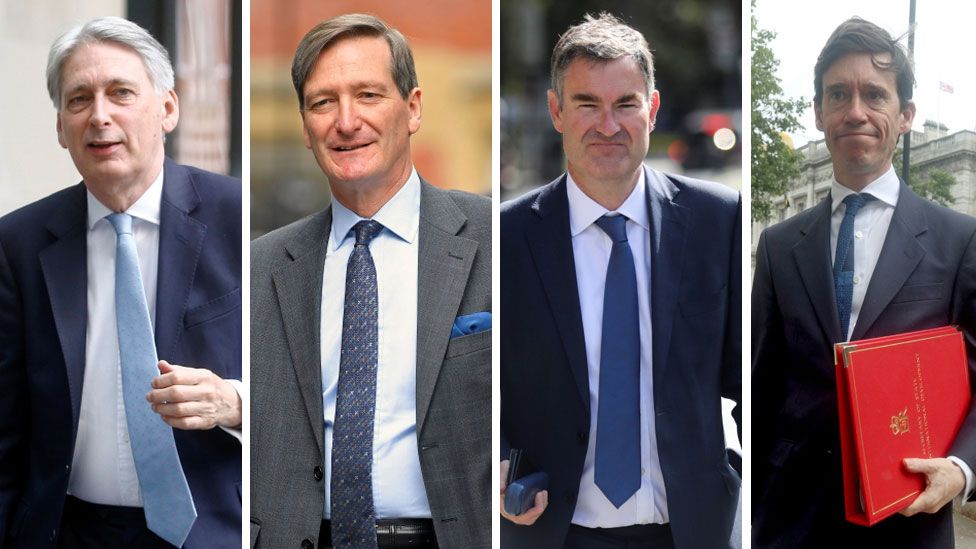 Boris Johnson has warned Tory MPs threatening to rebel over Brexit they will be barred from standing as Conservatives at the next general election and effectively thrown out of the party.
Up to 20 former ministers, including ex-Chancellors Philip Hammond and Ken Clarke and former Justice Secretary David Gauke, face the prospect of being "deselected" if they support Labour attempts to block a no-deal exit from the EU.
What does being deselected mean?
If an MP is deselected, it means they are removed as a candidate and cannot represent their party at a general election.
It's not a new phenomenon - Winston Churchill faced deselection in 1904 in a row over free trade - but happens rarely.
The next election is not scheduled to take place until May 2022.
But with Boris Johnson's government seemingly on a collision course with Parliament over Brexit, the chance of a snap poll happening in the next couple of months is growing.
Tory MPs have been told if they defy the government in a series of Commons votes this week, they will have the parliamentary whip withdrawn and will not be able to apply to be a candidate.
No 10 hopes this ultimate sanction will force rebels into line.
How are Tory MPs normally chosen?
Conservative election candidates are traditionally chosen at a local level.
Each constituency has what is known as a Conservative Association which is responsible for deciding who they want to represent them at general elections.
An existing MP who wants to stand again must apply in writing to be re-adopted as the party candidate. The executive council of the association then votes, by secret ballot, on whether to choose them again.
In many cases, this is a relative formality and MPs are re-adopted with a minimum of fuss. But Brexit tensions have led to a growing number of grassroots attempts to oust MPs.
Four former Conservatives who left the party earlier this year - Anna Soubry, Heidi Allen, Sarah Wollaston and Nick Boles - either faced explicit deselection threats or were coming under local pressure from activists to call a by-election.
More than 40 Conservative MPs have openly said they will do everything they can to oppose a no-deal Brexit on 31 October.
Some, such as Ken Clarke and Dominic Grieve, have gone further by suggesting they might be prepared to bring the government down in a vote of confidence.
Mr Grieve is already facing calls from activists in his Beaconsfield constituency to stand down, more than 35,000 people having signed a petition urging him to go.
The biggest name under threat is Philip Hammond, who just over a month ago was one of the most powerful figures in the government. The Sun reported the ex-chancellor was seeking to secure his re-adoption as quickly as possible.
What are the rebels saying?
Mr Gauke has accused Downing Street of trying to "purge" critical voices.
He suggested the government was "almost goading people into voting against" it to pave the way for a general election.
He also pointed out that many of those demanding loyalty now repeatedly defied Theresa May by voting against her Brexit deal.
Ex-ministers insist they are entitled to express their opinions without being hounded out of Parliament, while some, such as ex-Development Secretary Rory Stewart, have almost appeared to welcome the looming confrontation.
Is there any way out for them?
Deselection is not a straightforward process and MPs have several weapons at their disposal to fight it.
MPs who lose the confidence of their constituency associations can appeal to the wider membership of their local party for support. In the past few years, a number of MPs have won votes of confidence and remained in place that way.
However, this unlikely to be an option for any MP barred from standing and opposed by Conservative Central Office.
Some MPs opposed to a no-deal exit - such as Guto Bebb, Richard Harrington and Oliver Letwin - have taken pre-emptive action and already announced they will not contest the next election.
Whether this will influence their future actions remains to be seen.
MPs who are barred from standing as Conservatives could, theoretically, stand as independents, but independents have an extremely poor record in general elections.
Are MPs in other parties under threat?
Until recent weeks, most talk about deselection surrounded the Labour Party.
More than a dozen Labour MPs at odds with the party over Brexit and other issues have quit in the past year.
Some, like Chuka Umunna, have joined the Liberal Democrats, while Frank Field intends to stand as an independent whenever an election comes.
Unlike the Tories, Labour MPs can be made to compete for selection as a candidate against all comers. The threshold for so-called "trigger ballots" has been reduced, making MPs potentially more vulnerable.
There are not currently thought to be any SNP or Lib Dem MPs facing the threat of deselection.