Brexit: UK still safe in no-deal scenario, says Javid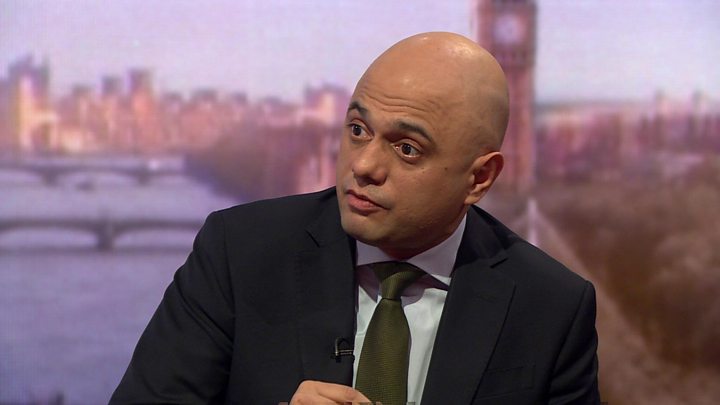 Home Secretary Sajid Javid has said the UK would remain "one of the safest countries in the world" in the event of a no-deal Brexit.
But he told the BBC's Andrew Marr Show that there would be a "change in capability" in terms of access to certain security databases.
He also said a general election was the "last thing this country needs".
His comments on security come after the Met's counter-terrorism chief said no deal would be "very bad" for policing.
The UK is due to leave the EU at 23:00 GMT on Friday, 29 March, when the two-year time limit on withdrawal negotiations enforced by the Article 50 process expires.
Prime Minister Theresa May has said she is "determined" to deliver Brexit on time, ahead of talks on the Irish backstop.
The backstop forms part of the withdrawal agreement negotiated by the UK and EU and is aimed at keeping the border between Northern Ireland and the Irish Republic open after Brexit.
But Irish Prime Minister Leo Varadkar told RTE Radio that it was "very frustrating" the UK government seemed to be considering alternative arrangements that had "already been rejected".
Meanwhile, Nissan has confirmed that the new X-Trail originally planned for its Sunderland plant will instead be made in Japan, saying continued Brexit uncertainty is not helping firms like it to "plan for the future".
Mr Javid said he wants to leave with a deal on 29 March, but "it makes sense to plan for all contingencies, that of course includes no deal planning".
"It is true if we have a no deal situation there will be certain capabilities that we rely on for security with the EU, such as databases, arrest warrants... that will change," he said.
"There are capabilities we would want to keep, but they require co-operation with the EU and I have to plan on the basis that in a no deal scenario the EU will no longer allow us to access those capabilities."
He said that most of those capabilities began in 2015, saying: "We were a safe country then and we'd be a very safe country in a no deal scenario."
"I want a deal... but even in a no deal scenario we would continue to be one of the safest countries in the world."
Last month, the Met's Assistant Commissioner Neil Basu told the BBC the possibility of a no-deal Brexit was "incredibly concerning" for police operations.
Echoing comments from Met Police Commissioner Cressida Dick in December, he said the UK and Europe would be in a "very bad place" if police could not exchange data or biometrics on suspected criminals and terrorists.
Mr Basu said the Met was working on contingency arrangements with police forces and agencies in Europe.
'Never forgive us'
Mr Javid also dismissed speculation about a summer general election, saying that the Conservatives were only preparing for local elections in May.
"I think the last thing this country needs is a general election," he said.
"I think the people will never forgive us for it, what they want is this Parliament to deliver Brexit in an orderly way, that is what they are looking for."
The next general election is due in 2022.
Writing in the Sunday Telegraph, the prime minister said she would return to Brussels with a "fresh mandate, new ideas and a renewed determination", ahead of talks on the Irish backstop.
MPs have voted to seek an "alternative arrangement" to guarantee the Northern Ireland border stays open after Brexit.
She insisted the departure date will not change, saying she would "deliver Brexit on time".
And she said she rejected the suggestion "that seeking alternative arrangements for the backstop constituted 'ripping up the Good Friday Agreement'".
The prime minister added that MPs wanted the government to go back to Brussels to renegotiate the deal after the Commons voted in favour of Tory backbencher Sir Graham Brady's amendment on Tuesday that called for "alternative arrangements" to be found.
Mr Javid said an alternative arrangement to the Irish backstop "can be done" using "existing technology".
He said: "I asked Border Force months ago to advise me to look at what alternative arrangements are possible and they've shown me quite clearly you can have no hard border on the island of Ireland and you can use existing technology - that is perfectly possible.
"The only thing that's missing is a bit of good will on the EU side."
And International Trade Secretary Liam Fox said it was "irresponsible" for the EU and the Irish Republic to say they will not discuss changing the backstop in the withdrawal agreement.
He told Sky's Sophy Ridge on Sunday: "For the Irish it's even more important than for most to talk to us for alternative ways of achieving a no hard border."
He said a no-deal Brexit would have an impact on the EU's economy, saying: "Are they really saying they'd rather be in a no deal position? It's not a responsible position to take."
But Mr Varadkar told RTE Radio it was "very frustrating" the UK government was "going back to idea of technology".
He said the EU had already "examined all of that" in terms of how other borders operate.
He himself had been to look at the US-Canada border, he said, adding: "Yes, there is lots of technology but it's a hard border."
What is the backstop?
By Tom Edgington, BBC Reality Check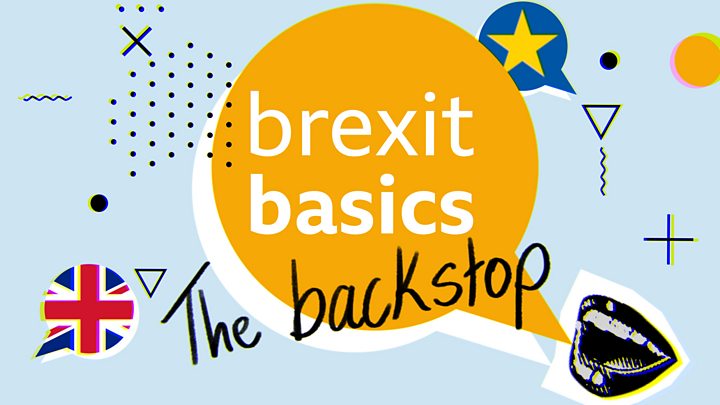 The backstop is an "insurance policy" - designed to avoid a hard border "under all circumstances" between Northern Ireland and the Irish Republic.
Under the current Brexit deal, the 310-mile Irish border would become the only land border between the EU and the UK.
This would probably mean checks on goods crossing it, unless both sides could reach a comprehensive trade deal.
If such an agreement could not be reached, then to avoid those checks and border posts or other infrastructure, the backstop would come into force.
It would keep the UK in a "single customs territory" with the EU and leave Northern Ireland effectively in the EU's single market for goods.
A number of MPs fear the UK could be "trapped" in this arrangement for years, leaving it unable to strike its own trade deals on goods with the rest of the world.
The EU has repeatedly said that there would be no renegotiation.
Speaking at the European Parliament last week, the EU's chief negotiator Michel Barnier said the backstop was a "realistic solution" to preventing a hard border.
Arlene Foster - leader of the DUP, the party that props up Mrs May's government - told the BBC she was hopeful of finding alternatives to the backstop but it depended on the "willingness" of the Irish government.
Meanwhile, some Conservative backbench MPs, including senior Tory Brexiteer Steve Baker, have said they still have other issues with the Brexit deal.
Mr Baker, deputy chairman of the Eurosceptic group the European Research Group (ERG), warned there was "trouble ahead" for the prime minister.
In response to Mrs May's article, he tweeted: "Leave-backing MPs voted to support alternative arrangements in NI but with grave misgivings about the whole agreement.
"Now the PM co-opts us into accepting everything but the backstop and, on the backstop, accepting a codicil."