Brexit: Jeremy Corbyn urges Theresa May to cut short MPs' break for vote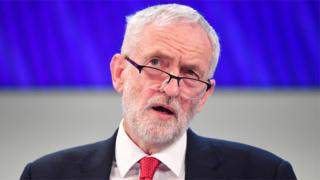 Labour leader Jeremy Corbyn has urged the prime minister to cut short MPs' Christmas break to allow for an earlier vote on her Brexit deal.
MPs are due back in the Commons on 7 January, and Theresa May has said the vote on the EU withdrawal agreement will take place the following week.
However, in an interview with the Independent website, Mr Corbyn said it must happen "as soon as possible".
A Downing Street source told the Press Association it was a "silly demand".
The vote on the withdrawal agreement negotiated by the PM with Brussels had been due to take place on 11 December. It was postponed by the PM when, after three days of debate, it became clear it would be "rejected by a significant margin".
There was widespread anger among opposition parties when Mrs May told MPs they would not vote until mid-January. The UK is due to leave the EU on 29 March.
Mr Corbyn told the Independent: "What I suspect is that it's a completely cynical manoeuvre to run down the clock and offer MPs the choice of the devil or the deep blue sea."
Ministers and the opposition alike argue that leaving without a deal would hit the UK economy badly.
Official analysis published in November suggested that although output would continue to expand after a no-deal exit, growth would be 9.3% lower over a period of 15 years than would have otherwise been the case if the UK remained in the EU.
The government has stepped up its planning for that scenario, while the EU revealed its contingencies before Christmas.
'Let's have it'
Pressed on whether he believed Mrs May should recall Parliament a week early, on 2 January, Mr Corbyn said it was "in her hands".
"I want us to have a vote as soon as possible, that's what I've been saying for the past two weeks, and if that means recalling Parliament to have the vote let's have it," he said.
Responding to the article, a Downing Street source was quoted by PA as saying: "Instead of making silly demands, Jeremy Corbyn should be honest with voters that he has no alternative plan and only intends to frustrate Brexit, ultimately betraying the referendum result."
'We can get this through'
Meanwhile, Foreign Secretary Jeremy Hunt has said a "version" of Theresa May's agreement with the EU can get through Parliament but that MPs who have threatened to vote against it will need further reassurances about the Northern Irish backstop.
"We can get this through, we absolutely can," he told Radio 4's Today.
"The best thing is to put our heads down and make sure we have a version of this agreement that we can through Parliament."
The backstop is the plan aimed at avoiding the return of physical checks on the border between Northern Ireland and the Republic of Ireland - but many MPs fear it will leave the UK tied indefinitely to EU rules and split Northern Ireland from the rest of the UK.
Concerns over the Irish border were solvable, Mr Hunt insisted, if the EU was willing to spell out in more detail how and when the backstop, if it were to come into force, would cease to apply.
"The EU has agreed that the backstop is temporary and what we need them to do is define what temporary is," he said.
"Because if it is temporary then Parliament can live with that, but you need to show us."