Brexit: Andrea Leadsom questions Speaker John Bercow's impartiality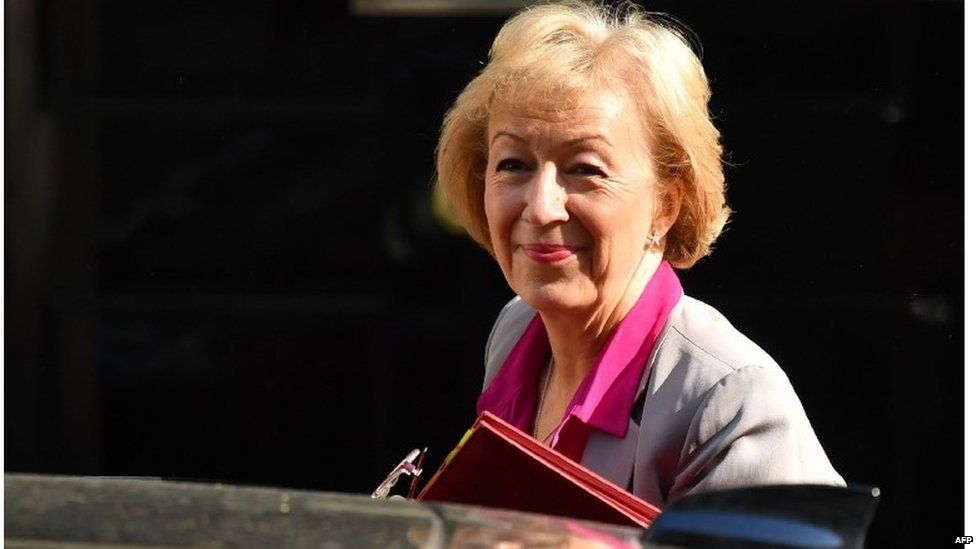 Commons leader Andrea Leadsom has questioned Speaker John Bercow's impartiality over Brexit.
It followed his criticism of the government's decision to cancel Tuesday's crunch vote on Brexit.
Mr Bercow said that doing so was being "deeply discourteous" to MPs.
A spokeswoman for Mr Bercow hit back at the criticism, saying he had "never allowed his personal views to influence" his chairing of debates and statements in the Commons.
Mrs Leadsom told BBC Radio 4's Today: "He's made his views on Brexit on the record, and the problem with that of course is that the chair's impartiality is absolutely essential."
She was asked whether she believed Mr Bercow's position - chairing debates in the House of Commons - was "tainted", she replied: "He's made his views known on Brexit... it's a matter for him but nevertheless it's a challenge and all colleagues need to form their own view of that."
Last year the Daily Telegraph reported on a video where the Speaker told students: "Personally I voted to Remain. I thought it was better to stay in the European Union than not."
There have been questions over Mr Bercow's neutrality on other issues in the past, including voicing his opposition to the US President speaking in Parliament in February 2017.
There have been reports the Speaker would stand down in the summer of 2019, although he has not commented publicly on the claims, which have been attributed to his 'friends'.
Mr Bercow's stance, in trying to persuade the government to hold a vote on whether to cancel the planned vote on the Brexit deal, was backed by a number of MPs on Monday.
Their current jobs mean they have to work together, and there has been previous friction between Mr Bercow and Mrs Leadsom:
The role of the Commons leader is to organise government business in the House, to chair the Parliamentary Business and Legislation Committee, and update MPs each Thursday on business for the following week.
The Speaker's main job is to chair debates in the Commons, and to keep MPs in order, as seen during Prime Minister's Questions on Wednesdays.
The office holder - an MP who remains politically neutral - can direct MPs to withdraw remarks or be quiet, suspend a sitting of the House, or suspend MPs after 'naming' them for their behaviour.
He can also play a key role when there are disputes over Parliamentary rules and procedure - something which has been increasingly the case during the Brexit process.
Asked for Mrs May's opinion on the impartiality of the speaker, following Mrs Leadsom's comments, Theresa May's official spokesman said: "That's not a question I've ever discussed directly with the prime minister.
"What I would say is that established convention is that the speaker must remain politically impartial at all times. It is for the House to determine if this is not the case."
When asked whether Mrs May believed Mr Bercow should stand aside during the remaining Brexit debate and allow a deputy to take the chair, the PM's spokesman said: "It's for the House to determine these matters."
The Speaker's spokeswoman said: "Impartiality has been the watchword for John Bercow's Speakership. He is fair to all sides - both government and opposition - and to different points of view within and between parties."
She added: "Many would observe that his passionate view that all voices should be heard has led to statements and question times running on longer than anticipated."
During her Today interview, Mrs Leadsom was also asked about Theresa May's handling of the Brexit negotiations, and the decision to scrap the vote on her Brexit deal because she knew it would be defeated.
Questioned about how long Mrs May would remain as prime minister, her former leadership rival said: 'I'm not speculating about the future."
She added: "The prime minister is absolutely doing the right thing; going back to the EU and seeking reassurances, in the form of legally binding reassurances, that provide parliament with the democratic capability of preventing the UK being caught in a backstop."
On Tuesday, Mrs May is holding talks abroad with Dutch PM Mark Rutte, Germany's Angela Merkel and European Commission President Jean-Claude Juncker.