Plotting and scheming afoot as PM's options narrow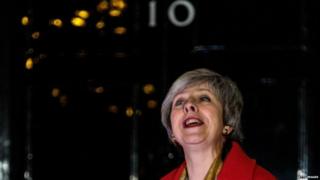 It's seemed almost hard to move anywhere without running into a minister on a mission - tasked to promote a Brexit plan that's widely judged to be doomed to defeat in the Commons on Tuesday.
Meanwhile, the bars and the tea rooms in Parliament have been quietly humming with the sound of plotting and scheming.
For some, about how to take control of Brexit. For others, how to grab the keys to Number Ten.
While no-one can be sure of anything just now, none of the outcomes being discussed by MPs look anything but grim for the prime minister and her plan.
Some MPs are wondering: might a narrow defeat next week mean she could try to squeeze more out of Brussels? She might try, but the signs are the EU's all out of big concessions.
Would she even get the chance to try before she's forced out by her party? Labour's hope of forcing an election seems a little remote.
There's more respect than support for Mrs May among Tories. Some senior Conservatives say, privately, the answer could be to choose a caretaker prime minister to carry on in some fresh direction.
Meanwhile, rival leadership contenders are quietly getting ready to run - even to the point of promising jobs.
One senior Tory told me he'd been offered a senior cabinet post by TWO of them in exchange for his support. And you can bet he's not the only one.
There's still a chance the government pulls out of the big vote and, by so doing, buys a bit more time.
There's another proposal by Labour MP and Brexit select committee chairman, Hilary Benn, to rule out a no-deal Brexit, and rule in a soft version.
That would reunite some Brexiteers and Mrs May and maybe even limit the scale of any defeat.
Yet more speculation, obviously. The prime minister will be mulling her options and her future this weekend. But those options, and maybe her time in office, could be running out.