DUP will vote down deal but back Tories, says Nigel Dodds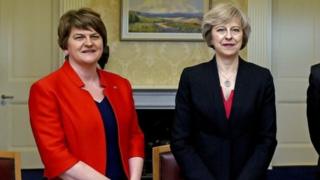 The Democratic Unionists will back Theresa May's government in any vote of no confidence should her Brexit deal be rejected, its Westminster leader says.
Nigel Dodds told ITV his party would vote against the deal, but it would be "illogical" to vote out the government.
Labour has said it will immediately press for a confidence vote if the deal is voted down next Tuesday.
If successful, the move could trigger a general election if no alternative government is formed in 14 days.
At a meeting of Tory backbenchers on Wednesday evening, Conservative Chief Whip Julian Smith appealed for civility in internal party arguments over Brexit.
Government sources said the whip's office was "looking at all options" to secure the support of the Commons.
The vote on the withdrawal deal and the declaration on future relations will take place on 11 December.
Mr Dodds told ITV's Robert Peston: "Clearly if [the deal] is defeated, it would be somewhat illogical - having achieved our aim trying to get to a better deal - it would be illogical then to turn around the next day and say 'let's vote the government out'.
"I think then we start on a process to try to get a better deal."
Following a meeting of Conservative members of the pro-Brexit European Research Group in Westminster - attended by leading DUP figures - its chair Jacob Rees-Mogg said there was a risk of the DUP withholding its support for the government if Parliament approved the PM's deal on the terms of leaving the EU.
'Deal is with the party'
The DUP currently has a parliamentary pact with the Conservatives, known as a confidence and supply agreement, in which it effectively props up Mrs May's government by supporting it in key votes.
But Mr Dodds reiterated that the deal "is with the Conservative Party, not with Theresa May or any particular politician".
The party's 10 MPs are expected to vote against the withdrawal deal amid anger over a proposed customs arrangement between the UK and the EU.
They say it will see Northern Ireland separated economically and politically from England, Scotland and Wales.
Speaking earlier during a debate on the Brexit deal in the Commons, DUP MP Sammy Wilson said Mrs May had "broken promises" made to her party to protect the constitutional integrity of the UK and if the deal went through it would create "further tensions".
Mrs May is struggling to muster sufficient support to get her deal through, with Labour, the Lib Dems and the SNP all opposed and scores of Tory MPs saying they cannot support it.
The BBC's political editor Laura Kuenssberg said the tally of potential Tory rebels was rising and backbenchers who have held private meetings with the prime minister were not emerging convinced.