What do the Commons defeats mean for Brexit?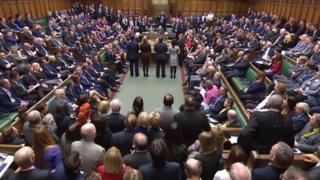 It took little more than an hour for the government to be defeated on three fronts in the Commons on Tuesday, in what the papers are calling a day of mayhem and humiliation for Theresa May. But what does it all mean for Brexit?
17:45 GMT: The most significant defeat. Pro-European Conservative rebel Dominic Grieve wins support for his amendment, which he says will give Parliament a direct say in what happens if Mrs May's deal is rejected by MPs in a vote next Tuesday.
This means instead of merely taking note of what the government tells them, MPs can exert more influence by voting on what they want the government to do.
Some think this could effectively slim the chances of a no-deal Brexit, as MPs push for a "Plan B" alternative to Mrs May's deal and seek to prevent any chance of Britain leaving the EU without a deal in place.
Anything MPs vote for would still have to be put into law by the government.
Leader of the Commons Andrea Leadsom insists MPs still do not have the power to block a no-deal Brexit.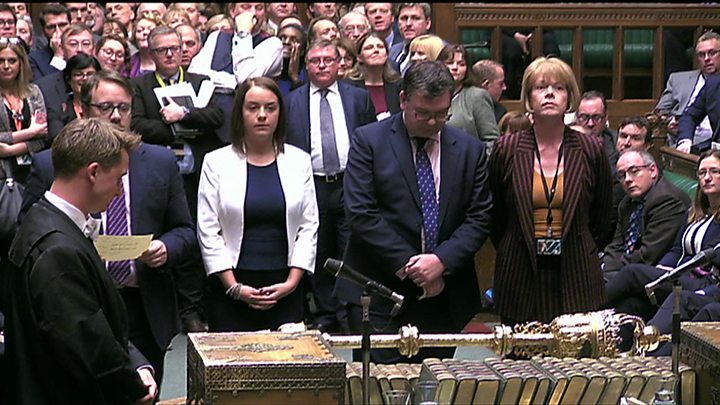 Our political editor Laura Kuenssberg says the amendment could possibly work in Mrs May's favour.
She says some Brexiteers might feel the PM's deal would be their best bet - if Mrs May's deal is rejected, then amended, they risk it coming out softer than the current deal.
16:58 GMT: Ministers are found in contempt of Parliament for refusing to publish the full legal advice they had received before agreeing the Brexit deal.
This is a very serious telling-off for ministers - and unprecedented in modern politics.
They had argued that to publish it would break convention and was not in the national interest, but MPs ruled they had ignored a binding Commons vote to publish it, in full.
Leader of the Commons Ms Leadsom was forced to back down and has now published the six pages of advice in full.
Attorney General Geoffrey Cox had, on Monday, published an overview of his legal advice which Labour said was not legal advice but "simply described the deal".
In his full letter to the PM, dated 13 November, Mr Cox said her deal could result in the UK becoming stuck in "protracted and repeating rounds of negotiations".
He also advised that the proposed backstop arrangement with the EU to prevent a hard Irish border could "endure indefinitely".
16:40 GMT: Ministers try to refer the matter of releasing the full legal advice to the Commons Privileges Committee by tabling an amendment. MPs reject it by 311 votes to 307, opening the way for the contempt vote.