UKIP MEP Patrick O'Flynn defects to 'resurgent' SDP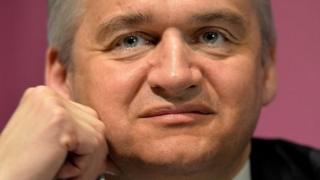 UKIP's ex-economic spokesman Patrick O'Flynn is leaving the party, blaming what he called leader Gerard Batten's "fixation with Tommy Robinson".
He is joining the Social Democratic Party, claiming UKIP had become an "impediment to Brexit campaigning".
Mr O'Flynn claimed many members had left because of the decision to employ the EDL co-founder as a party adviser.
Mr Batten says Mr Robinson will help him turn UKIP into a "mass movement ... a party for ordinary people".
In a statement on his website, Mr O'Flynn said that when he asked himself who the "millions of sensible, moderate Brexit voters betrayed by establishment parties" should vote for, the answer was "clearly not UKIP".
He is joining the Social Democratic Party - best known as the SDP - as its sole MEP.
Mr O'Flynn said UKIP had decided to put off a decision on former BNP and EDL members joining the party until after the UK leaves the EU.
But Mr Batten had made Mr Robinson, whose real name is Stephen Yaxley-Lennon, his policy adviser on rape gangs and prison reform at "this vital stage of the battle for Brexit".
Mr O'Flynn added: "Without any mandate from the membership or the party's elected ruling body to go down this path, Gerard is transforming what UKIP stands for and offers to voters. Many longstanding party members have already left as a result."
Of his new party, Mr O'Flynn said: "I have decided to join the resurgent SDP, which campaigned for Brexit during the referendum and espouses broad and moderate pro-nation state political values that I - and I believe many of our voters from 2014 - will be delighted to endorse."
He said this would allow him to make a "bigger contribution to the cause I was elected to pursue".
Mr O'Flynn was elected as a UKIP MEP for the East of England in 2014, and came fifth in the Cambridge seat in the 2015 general election.
The former Daily Express and Birmingham Post political editor was UKIP's economics spokesman until 2015, and also held the party's media and sport brief.
The SDP was set up by Labour's "gang of four" Roy Jenkins, David Owen, Bill Rodgers and Shirley Williams in 1981 - they were seeking to "break the mould of British politics" after Labour's turn to the left under Michael Foot's leadership.
The party went on to win seats and became a third force in British politics in alliance with the Liberals in the 1983 and 1987 general elections.
The two parties later merged to form what is now known as the Liberal Democrats.
Dr Owen, who opposed the merger, carried on leading a smaller SDP until 1990. The party has continued to exist since then, albeit without any notable electoral success.
The current polices are not closely aligned with the SDP of the 1980s.
Ahead of the 2017 election, SDP spokesman and former UKIP candidate Steven Winstone described the modern-day SDP as Eurosceptic.
It has campaigned for Brexit, free breakfast and lunch for schoolchildren, removing tax for those on the minimum wage, and backed a series of annual referendums.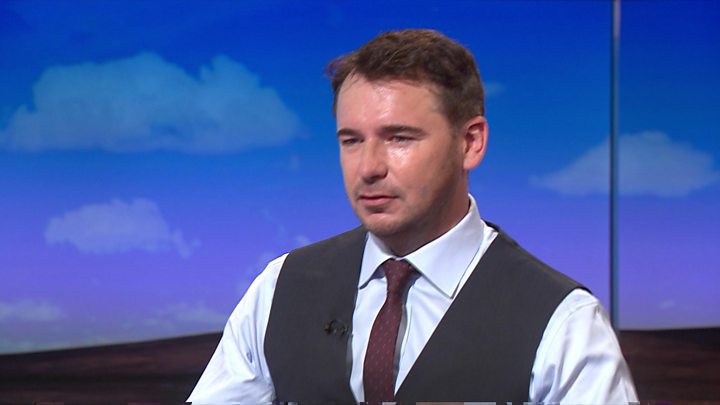 Mr O'Flynn resigned from the UKIP front bench in 2015 after describing long-time leader Nigel Farage as changing from "cheerful, cheeky and daring" to appearing "snarling, thin-skinned and aggressive".
The former leader later said Mr O'Flynn was 'big-hearted and honest'' when he later apologised for the comments.
Last week Mr Farage said he would write to UKIP's ruling National Executive Committee to demand a vote of no confidence in Mr Batten as leader, saying he was damaging both the party and the Brexit cause.
He described Mr Robinson as "a man who's done four prison sentences, lives under a pseudonym and wherever he goes there's violence".
But Mr Batten defended his decision, describing Mr Robinson as "courageous". The decision was announced shortly after UKIP's NEC voted not to stage a ballot on whether to allow Mr Robinson to join the party.
Mr Batten denied moving UKIP to the extremes or opening its doors to racists.