Think tank denies role in Brexit whistleblower sacking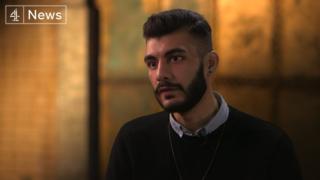 A think tank named in legal papers as being part of a group that allegedly influenced the unlawful sacking of a whistleblower has denied any involvement in the affair.
The Institute of Economic Affairs, a free market think tank, said it had no role in the unfair dismissal of Shahmir Sanni by the TaxPayers' Alliance (TPA).
Mr Sanni was unlawfully sacked by the TPA, which campaigns for lower taxes, after taking his concerns about Vote Leave's spending to the Electoral Commission and the media.
He had volunteered for the official Brexit campaign during the referendum - but told an employment tribunal the TPA fired him after being "materially influenced" by eight other pro-Brexit bodies.
The TPA conceded the case before a full hearing was necessary. It now faces paying out substantial damages.
Part of Mr Sanni's case was that the TPA was part of a nine-strong group of pro-Brexit campaigning organisations and think tanks - and that his actions were allegedly discussed at their regular joint meeting.
TaxPayers Alliance admits unlawful whistleblower dismissal
Vote Leave broke spending limits, activist claims
Vote Leave: Activist to give evidence of 'rule breaking'
But in a statement to the BBC, one of those groups, the IEA, denied its staff were party to any discussion about Mr Sanni.
"The IEA as a corporate entity, as well as its staff members, have not discussed Mr Sanni's decision to take his evidence to the Electoral Commission and the media," said its associate director Kate Andrews.
"The IEA can only speak to our corporate position and our staff's remarks made in a formal capacity as IEA representatives. It is not possible, or appropriate, for the IEA to comment on what our staff say in a personal capacity."
Ms Andrews said that IEA staff had not been involved in any discussions over Mr Sanni's actions with the eight other organisations named in his employment tribunal papers.
"The IEA's director general has held an internal audit, asking all current IEA staff members to supply him with an overview of any interactions the staff member had with Mr Sanni, and if anything had been said about him in a formal capacity.
"Twenty-four staff members have either never heard of Mr Sanni or have never knowingly had any interaction with him; none have ever made a public comment about him. Five staff members have met Mr Sanni, but have never publicly commented on him."
One member of IEA staff, Darren Grimes, was the founder of "BeLeave", the pro-Brexit group at the centre of Mr Sanni's allegations of funding wrongdoing.
The Electoral Commission has fined Mr Grimes £20,000 and referred his conduct to the Metropolitan Police. He denies wrongdoing.
The IEA said that any comments from the one member of staff who had met Mr Sanni and publicly commented on him were in a personal capacity.
Following the TPA's admission of unlawfully sacking Mr Sanni, the chairman of the regular meetings between the organisations said that the forum had been misrepresented.
The IEA said that it too did not recognise the account of the meetings as a forum for political campaigning.