Prime Minister's Questions: The key bits and the verdict
By Brian Wheeler
Political reporter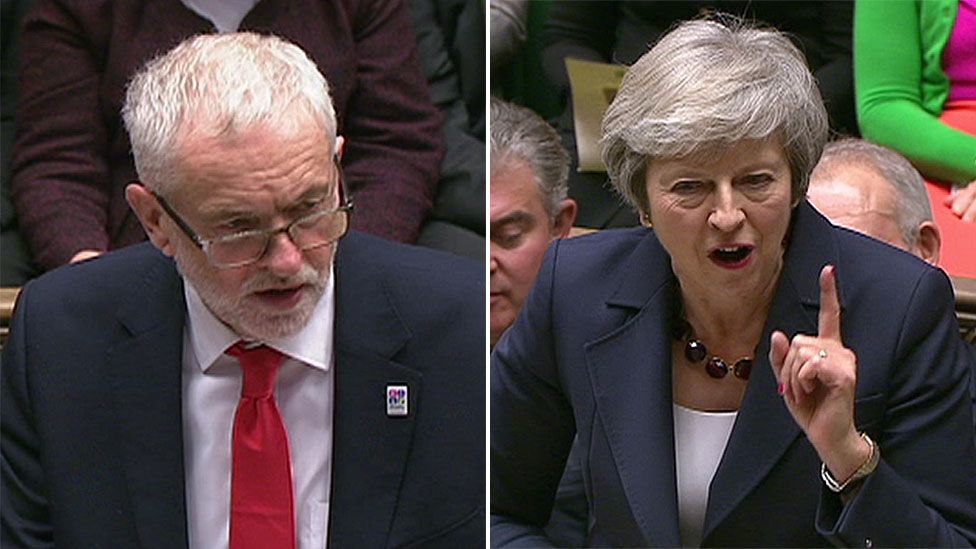 Theresa May went head-to-head with Jeremy Corbyn in the House of Commons. Here's what happened.
Mrs May's draft Brexit agreement was the only show in town - and Jeremy Corbyn went for it, despite the disadvantage - shared by everyone who is not in the cabinet or a select group of Tory backbenchers - of not having read it yet.
He branded the draft agreement a "failure on its own terms", based on what we know about it, that "breaches the prime minister's own red lines" and doesn't protect jobs and industry. He asked: "Does she still intend to put a false choice to Parliament between her botched deal and no deal?"
The PM accused Labour of wanting to "frustrate" Brexit.
Mr Corbyn quoted Jo Johnson who quit the government last week accusing the PM of a "failure of statecraft" of historic proportions - and said the EU's lead negotiator had reportedly told EU ambassadors "the UK must align their rules with the EU, the EU will retain all the controls".
Mrs May insisted she had negotiated a "good deal" for the UK that delivers on the referendum and ensures we "take back control of our money, law and borders".
Mr Corbyn turned to whether the UK can strike its own trade deals if it is in the temporary customs union as part of the so-called backstop to prevent the return of a hard Irish border.
He asked a briefly silent Commons (this is a point Tory Brexiteers are keen to get clarified too) whether her agreement would ensure the "sovereign right of any UK parliament to unilaterally withdraw from any backstop".
Mrs May said there needed be a backstop as an "insurance policy" but neither side wanted it it to be used.
She said she was "aware of concerns" that "we don't want to be in a position where the European Union would find it comfortable to keep the United Kingdom in the backstop permanently and that's why any backstop has to be temporary".
"I think that non-answer has confirmed that Parliament won't have that sovereign right," replied Mr Corbyn. What happened to the 40 trade deals Liam Fox had said would be ready to go "a second after midnight" on Brexit day next March, he asked.
Mrs May said the UK had "started discussions" with other countries, before launching an attack on Labour's policy of being in a customs union, which she claimed would prevent trade deals.
Mr Corbyn had some fun at the expense of Brexit Secretary Dominic Raab, who said last week he had not been aware of how much the UK relied on the Dover/Calais route for trade in goods.
The PM insisted "we do know about trade policy" - before turning PMQs on its head by asking Mr Corbyn - in the light of apparent differences between him and shadow Brexit secretary Sir Keir Starmer - if it was Labour policy to "stop Brexit".
Mr Corbyn said Labour respected the result of the referendum - and took another swipe at Mr Raab's "woeful ignorance". He ended with his first question - would MPs be presented with a choice between her "half-baked deal" or "no deal"?
Mrs May ignored this in favour of her customary swipe at Labour's economic policies and a defence of her Brexit agreement.
The SNP's leader at Westminster, Ian Blackford also went on Brexit, calling for Scotland to stay in the customs union.
Tory Brexiteer Peter Bone accused the PM of failing to deliver the Brexit people had voted for.
The prime minister hinted that a planned crackdown on betting machines in bookmakers shops could be brought forward - after protests from MPs on all sides and the resignation of Sports Minister Tracey Crouch.
Labour's Rosena Allin-Khan called for another EU referendum.
Labour's Wes Streeting called for stricter controls on the sale of crossbows.
Here is BBC Parliamentary Correspondent Mark D'Arcy's take on the session:
Jeremy Corbyn was on fire today. A series of pointed, well-delivered questions, including one on whether the UK could unilaterally leave the Northern Ireland backstop arrangement, which the PM danced around but didn't answer.
The prime minister was in the awkward position of discussing an as yet unpublished and unagreed document, and she looked uncomfortable and, at times, cornered.
She endured a very tough three quarters of an hour against opponents whose position was far more fluid than her's could be. I think we saw Jeremy Corbyn's position evolving a bit, before our very eyes.
His warning that Labour would not accept a choice between the PM's Brexit deal or a no-deal Brexit opens up the prospect of an attempt to present some further option. But what? A new round of negotiation?
Perhaps accompanied by an extension to the Article 50 deadline for Brexit?
His aside that Labour respected the referendum verdict would seem to rule out a call for a second referendum. A number of his senior colleagues are attempting to waft him towards a very soft Brexit position, and maybe more; today they got some Remain body language.
Even more ominous was the intervention that followed from Conservative Brexiteer backbencher Peter Bone.
He normally wraps his political messages in a joke - this time he delivered a blunt, to-her-face warning that the PM's deal was unacceptable. It's the kind of attack from the benches behind that has failed to materialise at previous PMQs that may be a feature of future ones.
The prime minister fielded questions about other issues - the horrible crossbow murder in Ilford, rolling stock in Elmet and Rothwell, viaducts in Eddisbury, disabled veterans and many more, but the Brexit questions kept coming.
Several MPs quoted departed transport minister Jo Johnson at her, and the questions he raised will not go away.
The PM could swat away outright calls for another referendum, but the SNP's leader at Westminster, Iain Blackford, zeroed in on the idea that Scotland should have a similar customs union deal to that offered for Northern Ireland, an idea which alarms Scottish Tories, while Plaid's Liz Saville Roberts used a Brexit question to take a swipe at the Labour-led Welsh government in Cardiff.
And at the end of it all a series of points of order established that the PM will probably be back tomorrow (Thursday) for a full-dress Commons statement on the deal - if it gets through Cabinet.
This was a mere appetiser for what promises to be a gruelling "til they drop" ordeal.