Brexit: Show us Ireland border legal advice, says Gove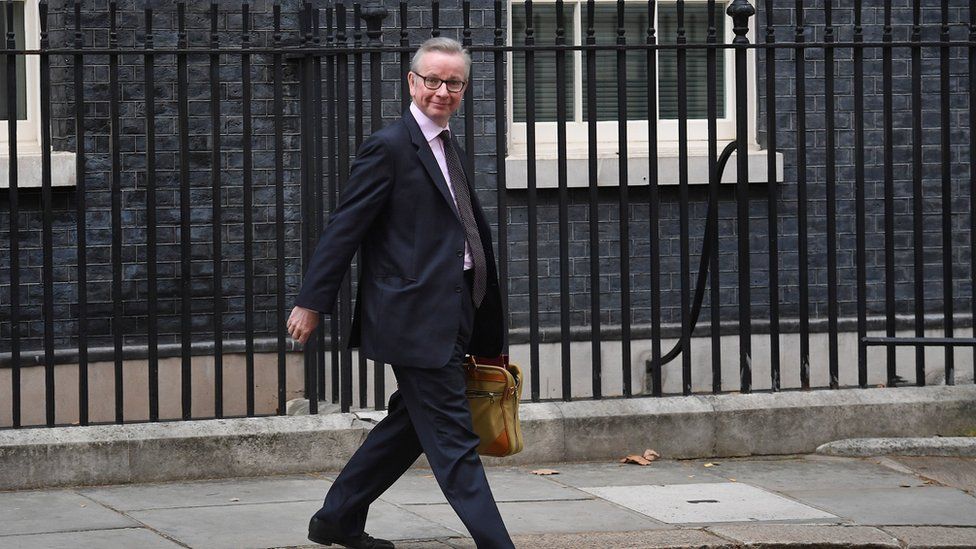 The government is facing calls to reveal legal advice on how a post-Brexit plan for Northern Ireland's border could work.
Environment Secretary Michael Gove wants cabinet ministers to see the full details of the so-called "backstop" that would prevent a hard border.
And Northern Ireland's DUP - which supports the government in key votes - wants it released in full.
The border is proving the main sticking point in reaching a Brexit deal.
EU chief negotiator Michel Barnier said it was "clear that more work is needed".
Both sides have agreed to put in place a backstop, also referred to as an insurance policy, that would only be triggered if a future trade deal is not in place by the end of 2020 - or if this final deal does not ensure a frictionless border.
This is because there have been warnings that a return of visible border checks could undermine the peace process in Northern Ireland as well as damaging businesses operating on both sides.
One option for a backstop is for the whole of the UK to remain temporarily aligned to the EU's customs union, avoiding the need for customs checks at the border.
BBC political correspondent Iain Watson said Mr Gove was concerned that legally, under this arrangement, Northern Ireland could have to continue to follow EU rules while the rest of the UK would merely mirror them.
He wants to see the full legal advice, fearing cabinet members will only see a summary before having to decide whether to back a deal with Brussels.
2. Senior Tory says 'if this legal advice is the crucial thing, then it's crucial that everyone sees it. Theresa May has a poor track record at keeping even her closest colleagues reliably informed about what she's up to. No one would want her to keep repeating past mistakes'

— Laura Kuenssberg (@bbclaurak) November 7, 2018
The DUP - whose votes Theresa May relies on to win key votes in the Commons - has gone further, saying the legal advice should be released to the public.
DUP chief whip Sir Jeffrey Donaldson told BBC Radio 4's Today programme: "I think it's in the public interest we understand fully what's happening here.
"It's because it affects the whole UK, therefore it shouldn't just be the DUP that sees this advice, or the government.
"If the House of Commons is going to have a meaningful vote on a deal that includes, and upon which this legal advice is very, very important, then I think people are entitled to know what that advice is."
Sir Keir Starmer, Labour's shadow Brexit secretary, said it was "essential" MPs saw the legal advice before voting on any deal.
"At this crucial stage, Parliament should not be kept in the dark nor should the government try to bounce MPs into an agreement without all the facts," he added.
But Conservative MP Anna Soubry said there was a convention not to publish legal advice so government lawyers were not put off from providing "robust" opinions.
"If you are a lawyer giving advice to your client you don't expect that to be disclosed to a wider audience," she told the BBC.
Downing Street said it did not comment on legal advice.
Housing Secretary James Brokenshire told the BBC there would be "good informed conversation between cabinet ministers".
'Not Labour's duty' to back PM
If a deal is reached with the EU, MPs will be asked to approve it in a crucial House of Commons vote before Brexit day on 29 March.
Labour votes could be vital to the government's hopes.
Sir Keir said it was not the opposition's "duty" to back Mrs May's deal.
"We can't be expected, with a gun to our head, to back the prime minister whatever she comes back with," he told the Today programme.
Sir Keir, who is holding talks with EU figures in Brussels, insisted Labour could persuade the EU to back its proposed Brexit plan of a customs union with freedom for the UK on trade deals and immigration.
In response, the Tories said Labour would "take the country back to square one" on Brexit.
Cabinet ministers met at Downing Street on Tuesday where they agreed they wanted to reach a deal with the EU by the end of the month.
The EU says it will only schedule a special summit to agree a deal if enough progress has been made in the negotiations.
The government will need to convince both critics within the Tory party and other parties to support any deal that is reached.
And on Tuesday, leaked notes showed how this might be presented. The proposals included key speeches from Theresa May, and interventions from supportive business and foreign leaders.
One of those mentioned, Labour Greater Manchester Mayor Andy Burnham, told the Today programme this was "news to me".
The government dismissed the notes, saying: "The misspelling and childish language in this document should be enough to make clear it doesn't represent the government's thinking."