Jeremy Heywood: UK's former top civil servant dies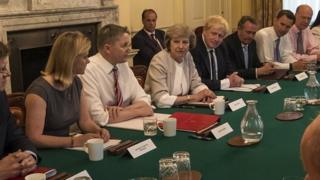 Sir Jeremy Heywood, the former cabinet secretary and civil service head, has died of cancer aged 56, just two weeks after stepping down from government.
Sir Jeremy was cabinet secretary from 2012 until 2018 and head of the civil service between 2014 and 2018.
PM Theresa May said "he worked tirelessly to serve our country" and is a "huge loss to British public life".
His wife Suzanne paid tribute to a "wonderful father" who "crammed a huge amount into his 56 years".
In a statement released on Sunday via Downing Street, she said: "He could light up any room or conversation.
"For me, he was my wonderful partner for 22 years. We shared everything and I will miss him more than I can say".
Who was Sir Jeremy Heywood?
Sir Jeremy first joined the civil service in 1983 as an economist for the Health and Safety Executive before moving to the Treasury, where he worked under chancellors Ken Clarke and Gordon Brown.
He had a long career at the top of government, serving four prime ministers in different roles while also spending four years in the banking sector working for Morgan Stanley.
In January 2012, Sir Jeremy was knighted and made cabinet secretary - a position sometimes described as the second most powerful person in the government after the prime minister.
Cabinet secretaries keep a low public profile but they sit next to the PM at cabinet meetings - and it is their job to ensure policies are put into action and offer advice on running the machinery of government.
He managed former Labour PM Tony Blair's differences with his chancellor, organised Gordon Brown's Downing Street, helped to hold the Conservative-Lib Dem coalition together, and, finally, supported Mrs May's minority administration.
'Exceptional ability, unquestioned integrity'
Former Treasury minister Yvette Cooper said Sir Jeremy had done "a lot to hold government together at very difficult times".
Mr Brown described him as a "leader of exceptional ability and "unquestioned integrity".
"Jeremy Heywood was the most dynamic civil servant of his generation, a leader who inspired confidence, whose expertise was recognised by all and and whose impartiality was never in doubt."
Mr Blair said Sir Jeremy had been "a quite outstanding public servant and someone I came to have enormous respect for both as a professional and as a person".
Sir Jeremy first joined the civil service in 1983 and Sir Mark Sedwill, his successor as cabinet secretary and head of the civil service, described him as an "exemplary public servant".
"We will miss him more than we can say," Sir Mark said, adding the country "will be the poorer without his advice, leadership and extraordinary insight".
Mrs May described the news as "extremely sad" and said her thoughts were with Sir Jeremy's family.
Sir Jeremy had been Cabinet Secretary since 2012 and previously served as principal private secretary to prime ministers Tony Blair and Gordon Brown, chief of staff to Mr Brown and Downing Street permanent secretary to former Conservative prime minister David Cameron.
He revealed earlier this year that he had been diagnosed with cancer in June 2017, but remained in post during a summer of political upheaval triggered by the shock general election result.
He took a leave of absence in June and announced on 24 October that he was stepping down.
Sir Jeremy was nominated for a peerage by Mrs May as Lord Heywood of Whitehall after his retirement, in recognition of his distinguished service to public life.
His career was not without controversy, however. He was given the nickname "Sir cover-up" by tabloid newspapers after it emerged he had blocked the release of letters and phone calls between Mr Blair and then US president George Bush in the run-up to the Iraq war.
He said he felt "frustrated" by the label and argued that he had been the most transparent cabinet secretary ever.
He found himself at the centre of a number of political crises during his career - he was at Tory Chancellor Norman Lamont's side when the pound crashed out of the European Exchange Rate mechanism in 1992.
He also faced criticism for breaking protocol by not taking minutes of key meetings between Mr Blair and officials, which was revealed in evidence to the inquiry into the death of the weapons inspector Dr David Kelly.