Brexit: French officials dismiss UK fears of Calais 'go-slow'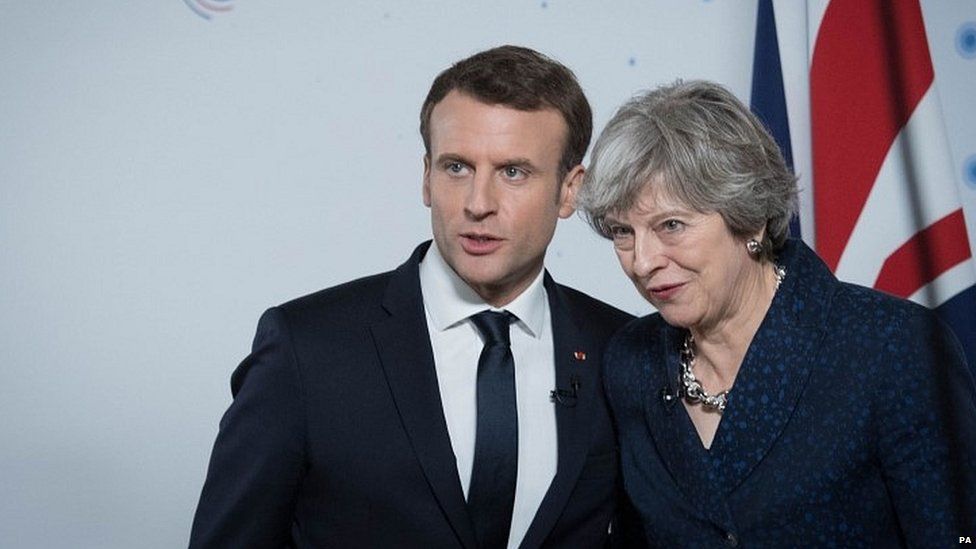 French officials have rejected suggestions they could resort to a "go-slow" policy at the port of Calais if there is no Brexit deal.
The UK's Brexit Secretary Dominic Raab warned on Thursday of major disruption in a "worse case scenario", which might force firms to use other ports.
But Xavier Bertrand, president of the Hauts-de-France region, said ensuring "fluidity" of trade was essential.
Another official said closing Calais would be an "economic suicide mission".
There has been widespread concern about the impact of longer border checks at Calais if the UK leaves the EU on 29 March 2019 without a deal.
Transport Secretary Chris Grayling met the mayor of Calais, Natacha Bouchart, on Thursday to discuss French and British preparations for such an eventuality amid claims that businesses may be forced to use Dutch and Belgian ports instead to transport goods.
Responding to a question in the House of Commons about no-deal planning on Thursday, Mr Raab appeared to suggest the French could choose to create additional delays.
"We also need to prepare for the worst case scenario where the authorities at Calais are deliberately directing a go-slow approach by supporting a diversion of the flow to more amenable ports in other countries," he said.
Responding on Twitter, Mr Bertrand said closing the port of Calais or the Channel Tunnel to cross-channel traffic in the event of a no-deal Brexit "was not envisaged".
"Who could believe such a thing? We have to do everything to guarantee fluidity," he wrote.
And Jean-Paul Mulot, who represents Hauts-de-France, France's northern-most region, in the UK said that while there might be delays if the event of a no-deal, it was in France's interest to minimise these.
French government has got no plans to close down #Calais: lots of people confused about potential threats around No Deal. Customs aren't the issue, maybe delays due to eventual light sanitary controls & #brexit exit bill won't trigger any suicidal economic mission by 🇫🇷 ports https://t.co/dmE4J4Kbw9

— Jean-Paul Mulot (@jeanpaulmulot) October 24, 2018
Brexit-backing MPs, including Dover's Charlie Elphicke, have said talks of gridlock at channel ports are being used politically by opponents of the UK leaving.
Calais region's UK representative calls out latest Brexit Project Fear story - that Calais will he closed down etc - as untrue. https://t.co/mqvQeLikt6

— Charlie Elphicke (@CharlieElphicke) October 25, 2018
At present, the UK's membership of the EU single market and the customs union allows for the free movement of goods, people and services around Europe.
But the UK government has said it is leaving both of these arrangements as part of Brexit.
The UK and the EU are in negotiations on how their final relationship will work but have yet to reach a deal on key issues.
Both sides say they still want to agree a deal before the UK leaves the EU on 29 March 2019, but are also making plans for what happens without one.
This week the National Audit Office warned that queues and delays were likely at border crossings under a no-deal Brexit, saying exporters did not have time to prepare for new rules.
A "transition" period to cushion the UK's exit from the EU is planned to last until December 2020 - but this is dependent on the two sides reaching agreement on outstanding issues like the Irish border.