Prime Minister's Questions: The key bits and the verdict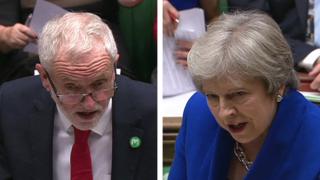 Theresa May went head-to-head with Jeremy Corbyn in the House of Commons. Here's what happened.
With one eye on next week's Budget, Jeremy Corbyn renewed his attack on the prime minister over her party conference vow to end austerity.
He had come armed with quotes from Conservative local government leaders who had, apparently, poured cold water on the PM's claims.
Mrs May repeated lines from her conference speech about people needing to know that their "sacrifice" over the past decade had been worth it and "support for public services is going up".
Could the PM "cheer up these gloomy Tories" by announcing more money for local government in the Budget, asked Mr Corbyn.
The government was putting an extra £1.3bn into local government, replied the PM, before taunting Mr Corbyn about his "past predictions" of rising unemployment, pointing out that youth unemployment was now at a "record low".
What about record levels of people on zero hours contracts, hit back the Labour leader, and more people in work having to use food banks? He then turned to cuts in police numbers, with the aid of a quote from a chief constable.
Mrs May claimed her government had put more money into the police than Labour had promised at last year's election.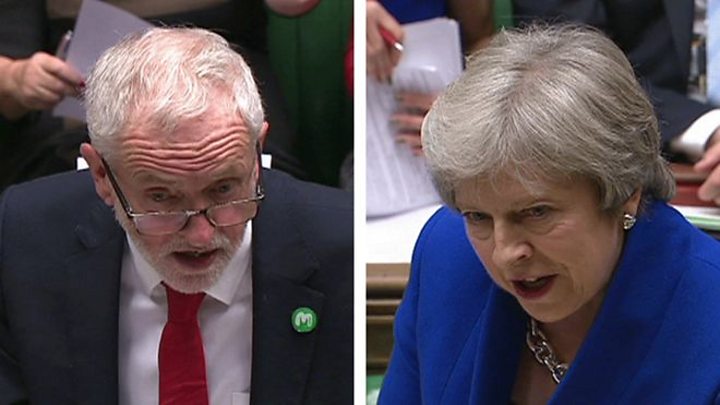 Then she whipped out a book, with a foreword by the shadow chancellor, and a chapter by a Labour economic adviser, who, she claimed, had said Labour's 2017 manifesto figures "did not add up".
"Only one party costed their manifesto in the last election and it wasn't the Tory party," replied the Labour leader, before laying into the PM over universal credit - and work and pensions secretary Esther McVey's admission that some people would be worse off on the new benefit.
Mrs May insisted there would be help for people moving on to the new benefit system. "But let me just tell him what happens under universal credit," the PM went on.
This was too much for Shadow Foreign Secretary Emily Thornberry, who yelled "no, no no" across the chamber (Ms Thornberry was a shadow work and pensions spokeswoman before her promotion to the shadow cabinet).
"Oh, please," she said as Mrs May continued her explanation.
"The prime minister is completely out of touch with the reality of what universal credit is about," said Mr Corbyn, before turning to one of his favourite themes - the axing of the training bursary for nurses.
This was causing a recruitment crisis in the NHS, he told Mrs May, and called on the government to restore the bursary in next week's Budget.
Mrs May claimed her government was putting an extra 3.4% into the NHS, more, she said, than Labour had been promising.
Mr Corbyn - going a little red in the face as he shouted across the despatch box - told Mrs May if austerity really was ending then next week's Budget would deliver more police, more nurses and "elderly people in desperate need of care will not go ignored and forgotten by her government".
Mrs May insisted more money was going into the public services and ended with her customary swipe at the Labour "alternative", which she claimed would cost "£1,000bn" more.
After the session ended, the economic adviser quoted by Mrs May, Simon Wren-Lewis, took issue with her claim that he had said Labour's figures did not add up, tweeting that he had been quoting the Institute for Fiscal Studies think tank as part of a broader argument.
What else came up?
The SNP's leader at Westminster, Ian Blackford, called for arms sales to Saudi Arabia to be halted.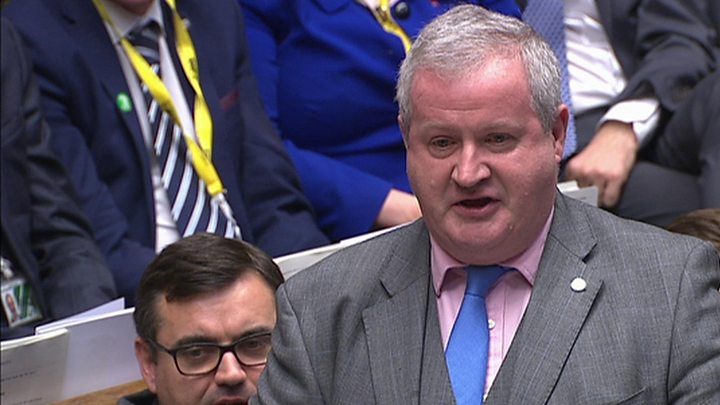 Theresa May updated MPs on the government's latest actions against Saudia Arabia.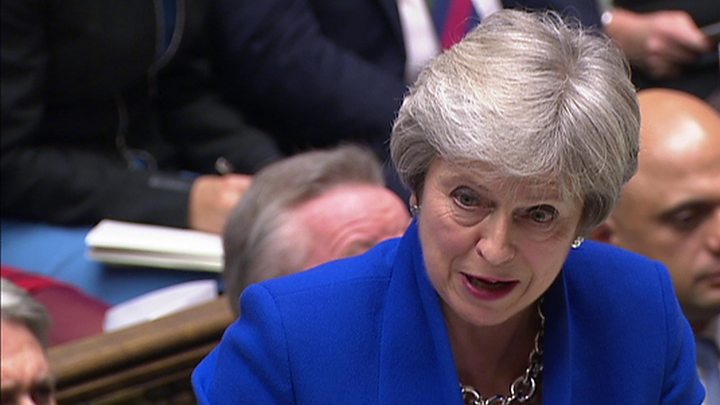 Labour's Jess Philips called for the end of non-disclosure agreements "which have been used to silence women who have been sexually harassed and others who been racially abused".
Tory Brexiteer Jacob Rees-Mogg called on Mrs May to rule out any role for the European Court of Justice when the UK leaves the EU.
Tory MP Sir Henry Bellingham urged the prime minister to scrap an inquiry into historical unsolved killings in Northern Ireland.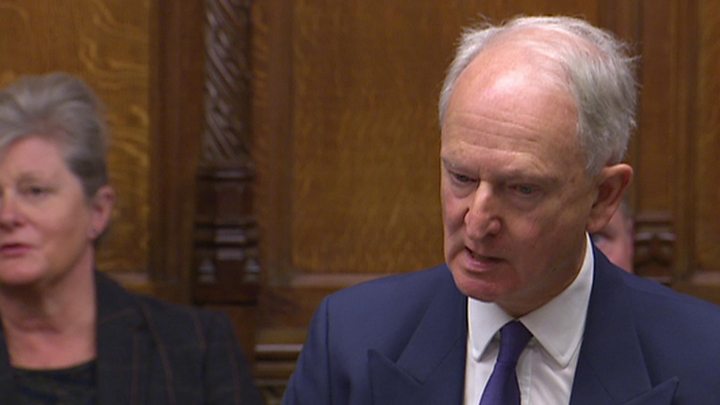 The Verdict
Here is BBC deputy political editor John Pienaar's take on the session:
Here's BBC parliamentary correspondent Mark D'Arcy's verdict:
A prime minister at bay, a party of government riven asunder, an opposition scenting blood. All the ingredients for a classic PMQs were there. But once again the May-Corbyn show delivered its usual formulaic clash.
Perhaps it is my imagination, but Theresa May seemed to me to be a bit more nervous than usual, with occasional micro-stumbles in her answers.
She seemed to gain confidence as this session ran on, but maybe she was conscious that a serious stumble could have put her on the back foot for tonight's appearance before her troops at the backbench 1922 Committee.
By the time Mr Speaker brought her questioning to an end, she seemed a bit more serene. The joust with Jeremy Corbyn ran true to predictable form; he complained about the impact of austerity in several areas of public services, she said the government was putting more money in, and that Labour would wreck the economy - strip out the references to the forthcoming Budget, and it was pretty much the same exchange they have most weeks.
The PM stuck carefully to her prepared line, when the SNP's Ian Blackford raised the murder of Jamal Khashoggi, listing various ways in which the government was responding, and announcing she was due to speak to King Salman about the issue. But, conspicuously, she steered clear of the nub of his question about the UK following Germany in banning arms sales. This was Mr Blackford's most effective outing as SNP Leader.
Once again there was no real friendly fire from Tory dissidents. Jacob Rees Mogg wanted the PM to deny a story about the role of the European Court of Justice, post-Brexit, and she obliged - and that polite intervention was the closest any Conservative came to any kind of challenge to their leader.
Elsewhere, the PM hinted at government support for a a few measures: the Creditworthiness Assessment Bill, a private member's bill from the Lords, being piloted by the former Education Secretary, Justine Greening.
It has little chance of even being debated in the Commons, let alone of becoming law - but the ideas it contains, the PM hinted, may well be picked up by the government in the Budget next week.
Labour's Jess Phillips raised the use of Non Disclosure Agreements "to allow rich and powerful men to do pretty much whatever they want, as long as they can pay to keep it quiet," and was rewarded with the promise of a review of "unethical" use of NDAs.
There was a sympathetic nod to the recent Environment, Food and Rural Affairs Committee report calling for a revamp of the Dangerous Dogs Act.
So some nuggets were dispensed, and one or two people emerged from PMQs with something to show for their attendance. Overall a less sterile proceeding than many in recent weeks.