Firms urged to use other routes if no-deal Brexit threatens vital drugs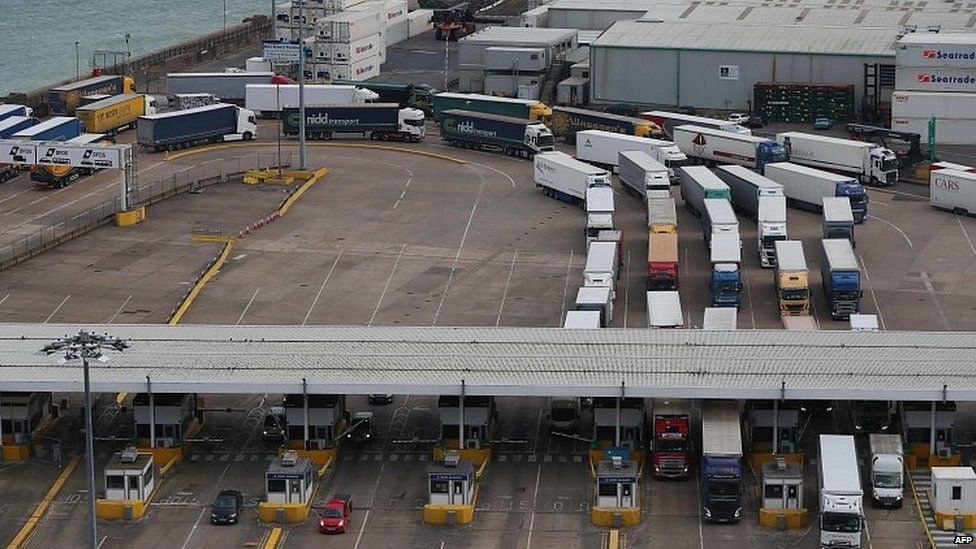 Ferry and freight firms will be urged to plan alternative routes for drugs and other vital supplies if a no-deal Brexit blocks cross-Channel traffic.
The suppliers will be told to use Belgian and Dutch ports if blockages at Calais threaten to delay shipments.
The news emerged after a "passionate" cabinet meeting in which ministers were told about contingencies for no deal.
Cabinet ministers are receiving weekly updates about preparations for Brexit until the UK leaves the EU next March.
After Tuesday's cabinet meeting a senior government source denied there were plans to buy or charter vessels to keep the NHS working or to guarantee food supplies.
Instead, private carriers would be expected to carry out their normal roles, the BBC has been told.
But there are worries among ministers and officials that the sudden introduction of border checks at Calais could cause sudden and serious backlogs.
The Sun reported that ministers had been warned that France could effectively shut down Calais, which it said would have a devastating effect on food exporters and manufacturers reliant on the port.
And BBC Newsnight's political editor Nick Watt said there was a discussion at the cabinet meeting that there could be a 75-80% drop-off on traffic across the Calais-Dover route, causing a huge impact on supplies including food.
The BBC's deputy political editor, John Pienaar, said one source described the meeting as "passionate".
Foreign Secretary Jeremy Hunt was said to have expressed concern that the UK must not be trapped indefinitely in the so-called "backstop" customs union arrangement with the EU, which could hamper the UK from striking wider trade deals.
Attorney General Geoffrey Cox compared that status to being trapped in Dante's "first circle of hell".
The BBC's deputy political editor says the mood among ministers at the meeting was more evidence of the prime minister's limited room for manoeuvre in the Brexit talks, as she prepares to address Tory backbenchers on Wednesday.
Theresa May's appearance before the 1922 Committee will see her face some MPs who have been critical of her Brexit plans and leadership.
It comes as a National Audit Office report says the the UK needs to replace IT systems, boost Border Force staffing levels and build new infrastructure to track goods.
The government said it was confident of striking a "good" deal with the EU for as "frictionless" trade as possible.
It said that plans were already 95% complete.
The government has already asked firms to start stockpiling a six-week supply of drugs and if necessary plan to fly in medicines which cannot be stockpiled because of their short shelf life.
The UK imports 37 million packs of medicine each month from the EU. Concern has been raised that prolonged disruption at the borders could disrupt the supply chain.
On Tuesday, Martin Sawer, of the Healthcare Distributors Association, told MPs that the pharmaceutical industry was "very concerned" about a no-deal as it could have "catastrophic" consequences for the supply of drugs.
He warned it could lead to patients being put on drugs that they are not currently prescribed.
The Department for Transport said that while it was confident of the UK reaching an agreement with the EU on the terms of its exit, it was sensible to plan for all possible outcomes.
"We are continuing to work closely with partners on contingency plans to ensure that trade can continue to move as freely as possible between the UK and Europe," a spokesman said.
But Labour MP David Lammy, who supports a new referendum on the outcome of the negotiations with the option of remaining in the EU, said Brexit had become "like a declaration of war on ourselves".
France has also stepped up its planning for a no-deal Brexit, publishing a draft law last week which would give the government powers to deal with visas, transport and other services.
The UK is due to leave on 29 March 2019 but during the post-Brexit "transition period", set to run until 31 December 2020, the UK-EU relationship will stay largely the same.
Mrs May has insisted that if an extension is necessary it should only last a few months.
A Downing Street spokesman said this was "nothing more than a partial reflection of advice to ministers, and not of decisions taken".