Amber Rudd: I'd like to be home secretary again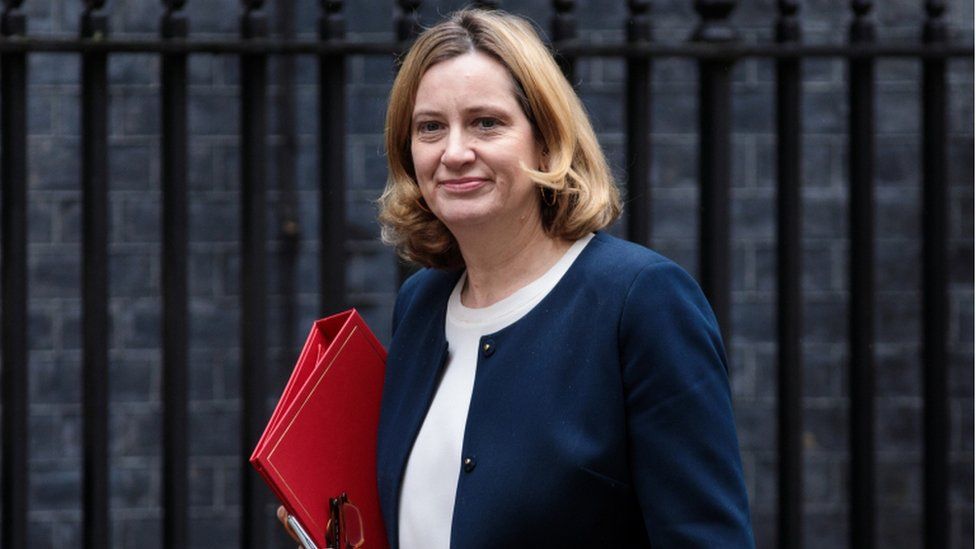 Amber Rudd has said she would "quite like" to be home secretary again "because there's a few things I'd like to do a bit better than last time".
Ms Rudd quit the role in April, saying she had "inadvertently misled" MPs over the Windrush scandal.
She wished she had looked into immigration enforcement "much earlier" but had been misled by some civil servants, she told the BBC.
"Unfortunately I was told certain things that turned out not to be true."
The Windrush generation had been encouraged to settle in the UK from the late 1940s to 1973 but, in many cases, were wrongly being declared illegal immigrants.
Ms Rudd, then home secretary, apologised at the time but her handling of the crisis was criticised as she sought to defend the wider impact of the government's "hostile environment" policy, designed to deter illegal immigration.
During one appearance before a Commons committee, she said there were no removals targets for illegal immigrants - comments subsequently contradicted by a 2015 inspection report.
She later admitted "local" targets for voluntary removals had been set but told the Commons she had not been aware of them. This was subsequently contradicted by a June 2017 memo from an official, copied to Ms Rudd, that referred to targets.
Ms Rudd told Nick Robinson's Political Thinking podcast she should have done more to find out what was happening but when she started "really probing... it became evident that [officials] didn't know what was going on."
She added "I was told certain things that turned out not to be true".
"Even at the time when I resigned, I was still being told it's unlikely that we have illegally deported anybody.
"And a week later, the new home secretary announced we had 64. So they just didn't know what the facts were."
She said it had made her more sceptical about civil servants - although she praised those she worked with on counter-terrorism as "fantastic".
Ms Rudd said she was trying to "play a part", as a backbencher, in "delivering on Brexit in a way that supports the economy and supports our communities".
But she was still interested in returning to frontline politics.
"I would quite like to be home secretary again, if I ever got the opportunity, because there's a few things I'd like to do a bit better than last time.
"I would like to get immigration enforcement right. I think that there is a problem there and it needs some really careful analysis and a brutal look at who's doing what and who's got what powers where."
Her successor as home secretary, Sajid Javid, said in August that a review of 11,800 Windrush cases showed 164 people may have been wrongfully deported or detained.
He issued a formal apology to the 18 of those "most likely to have suffered detriment".