Women told they aren't thin enough for eating disorder treatment, MPs told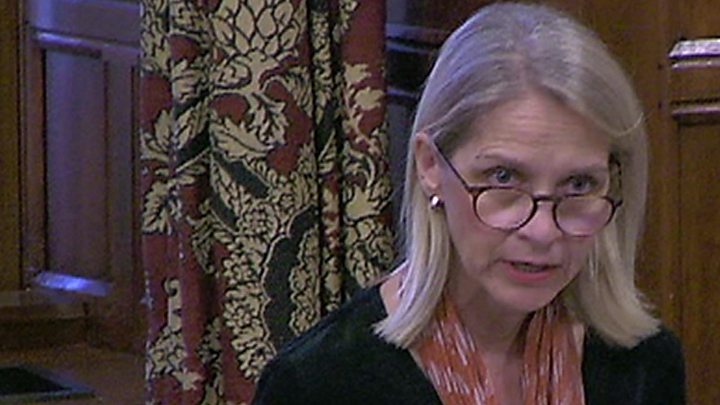 Patients who fear they have eating disorders are being told by GPs they aren't "thin enough for treatment", according to a woman who was denied help.
The woman's MP, Wera Hobhouse, highlighted her story during an emotional debate in Westminster Hall.
In some cases, patients did not get help because they didn't fall under the Body Mass Index (BMI) category of "anorexic", said Ms Hobhouse.
"Judging an eating disorder by BMI isn't good enough," said the Bath MP.
Doctors relying on BMI guidelines to judge the weight and severity of an eating disorder are "failing patients", she added, and in fact were making sufferers worse.
On average, it currently takes people 58 weeks to seek help for an eating disorder and a further 27 weeks before they can receive treatment from their GP, MPs were told.
Adult patients currently have to have a BMI below 17.5 to be diagnosed with anorexia.
But according to the National Institute for Health and Care Excellence (NICE), anorexia sufferers can have a BMI higher or lower than average - and BMI is just one of 14 signs that can indicate an eating disorder.
With more than one million people across the UK suffering from an eating disorder, 90% of them female, MPs debated how the government could help tackle the stigma surrounding the condition.
Teaching about eating disorders is currently minimal, with medical students receiving an average of two hours of lessons on it in total, while 20% of medical schools don't include eating disorders on their curriculum, according to a report by Dr Agnes Ayton, vice chair of the Royal College of Psychiatrists' faculty of eating disorders.
The lack of education and understanding around eating disorders meant patients were often put on a form of anti-depressants as a means to tackle their depressive thoughts, MPs were told.
There are fears this gap of knowledge about eating disorders is why sufferers have the highest mortality rate of those with any mental health condition.
"We are far too quick to offer patients a prescription rather than prescribe the help they actually need," said Conservative MP Kirstene Hair.
Part of the debate revealed that while professionals try to understand the psychological side of eating disorders, more could be done at an earlier stage to prevent it.
As it stands, one in 100 young people aged between 10 and 20 suffers from anorexia each year, but many of the clinics across the UK do not cater to under-17s.
Former Lib Dem leader and Westmorland and Lonsdale MP Tim Farron, who took part in the debate, said: "The government enables public health Cumbria to spend only 75p per head for children in the county on preventative treatment.
"We ought to be investing in having a mental health worker attached to every school to ensure we prevent people from getting to this stage."
In 2015, the government allocated £30m extra per year to tackling eating disorders for the next five years.
According to the government's own Children and Young People's Eating Disorder Access and Waiting Time Commissioning Guide, easier access to services and more support were supposed to be a part of the package.
But MPs say this money is not reaching front-line services and needs to be ring-fenced to avoid it being used to plug other funding gaps in the NHS in England.