Esther McVey: Some to be poorer under universal credit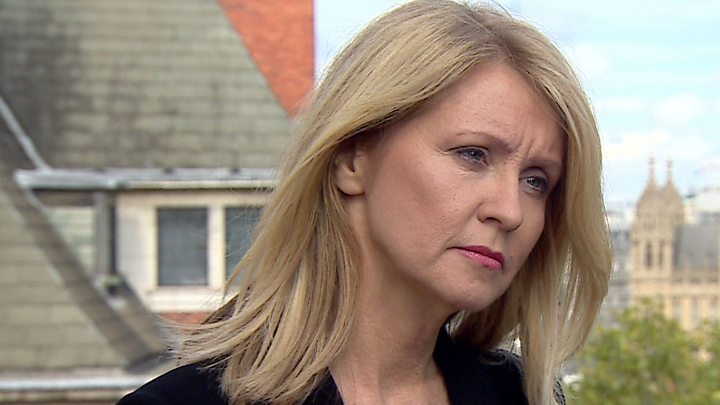 Some people will be worse off under universal credit - but they can take on more work to increase their income, the minister in charge says.
Work and Pensions Secretary Esther McVey defended the new benefit system amid reports 3.2 million households will lose more than £2,000 year.
She told the BBC some people would lose out because the government had made "tough" spending decisions in 2015.
But she insisted the most vulnerable would be protected.
Challenged over one estimate that three million people would be about £1,800 a year worse-off, Ms McVey told the BBC: "I have said we made tough decisions and some people will be worse off."
Earlier, the former Conservative prime minister Sir John Major warned universal credit was being rushed in without enough funding.
Universal credit is a new benefit for working-age people that consolidates into one monthly payment six separate benefits:
income support
income-based jobseeker's allowance
income-related employment and support allowance
housing benefit
child tax credit
working tax credit
Read more: What is universal credit?
Currently being phased in for different types of claimant across the UK, it is aimed at making the benefits system simpler and more flexible so people who are able to work are rewarded for doing so.
Universal credit has been criticised for running over budget and causing delays to people's payments, but the plan is to move all existing benefit claimants on to it next year.
Ms McVey is reported to have privately told cabinet colleagues that many claimants could lose as much as £200 a month as a result of the switch to universal credit.
Asked about those reports, she told BBC News: "Some people could be worse off on this benefit. But a thousand people every day since 2010 have gone in to work."
Asked about those who would lose out, she said: "If those people can work, what they will be losing is benefits, but what they have got now is work. Work will be paying. Their wage will be increasing."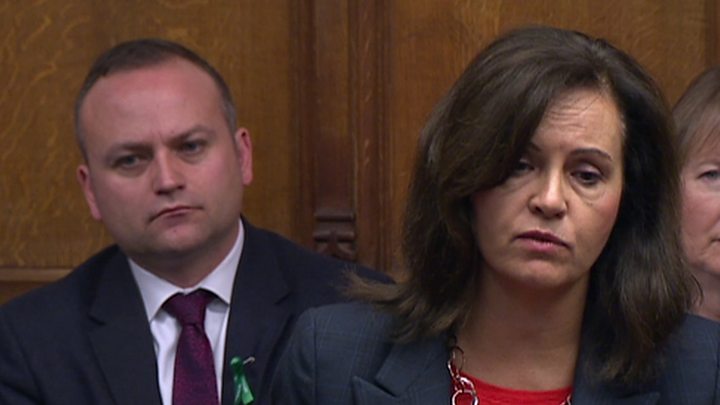 Ms McVey also hit back at criticism from Sir John Major, who has warned that universal credit could hurt current prime minister Theresa May in the same way the poll tax hurt the then prime minister Margaret Thatcher in 1989 and 1990.
Ms McVey said she "knows more about universal credit" than the former Conservative prime minister.
But the government is facing growing calls from Conservative MPs - including the architect of the system Iain Duncan Smith and other backbenchers facing complaints from constituents - to scrap a promised income tax cut and instead pump more more money into universal credit.
Ms McVey claimed it was working "much better than the old system" which "kept people out of work" and she said the government was putting £3.1bn into helping people affected by the transition to the new system.
But the Resolution Foundation think tank said less than 20% of affected families are expected to receive support from the government to change to the new system.
People whose circumstances change, who make a brand new claim, or who come off benefits and then go back on to them, will not be protected.
Speaking at Prime Minister's Questions on Wednesday, Theresa May said "people who are moved on to universal credit... will not see any reduction" in their benefits.
Labour's shadow work and pensions secretary Margaret Greenwood said: "Now that Esther McVey has admitted that people will be worse off under universal credit, this Conservative government has no excuse for pushing ahead with their shameful programme.
"This exposes Number 10's claim this week that no family will receive less money under universal credit as fiction."
Labour leader Jeremy Corbyn said the universal credit system "has to change very, very rapidly" and that Labour will be proposing "a more comprehensive system" in which nobody would be "worse off".
Speaking in Bristol, Mr Corbyn said that Labour would "immediately stop the process" of the nationwide rollout and would maintain "existing levels of benefit immediately".
The switch to universal credit will create some winners, the Resolution Foundation says, with 1.1 million households an average of £53-a-week better off.
But, overall, working families will be worse off than under the current benefit system, with the biggest losers likely to be people with children who are currently in receipt of tax credits, analysts say.