Take me to your leader! MPs to quiz robot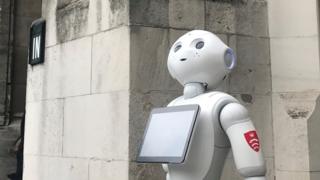 A robot is to be questioned by a panel of MPs in what they are claiming is a first for UK democracy (regular viewers of Parliament may beg to differ).
Pepper - "a culturally aware" robot - was designed to assist with the care of older people.
But next Tuesday she will be assisting members of the education select committee understand the impact of artificial intelligence.
The committee will also quiz human experts during the session.
Pepper - who is part of an international research project funded by the EU and the Japanese government - is likely to be the star turn.
The committee will hear about her work with students at Middlesex University, including a project involving teaching primary school children.
After a demonstration by Pepper, the MPs will look at how robots can be used to support learning and how robotics will transform the workplace and classroom of the future.