'Big issues' still in way of Brexit deal says No 10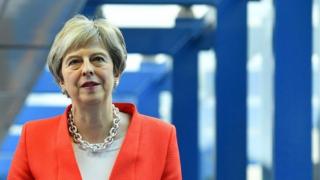 "Big issues" remain to be resolved before a Brexit deal is possible, Downing Street has insisted.
A No 10 spokesman said movement was needed from the EU and warned that no exit deal could be agreed without a "precise" political declaration on the framework of post-Brexit relations.
EU officials have sounded more upbeat in recent days in the run-up to a key summit of EU leaders next week.
But questions remain on future economic co-operation and the Irish border.
The UK is due to leave the EU on 29 March 2019 and talks on the terms of its withdrawal and post-Brexit trade are entering a critical phase.
Comments by senior EU officials Donald Tusk and Jean-Claude Juncker on Friday had raised hopes that a deal was within sight, potentially as early as the next meeting of EU leaders on 18 October.
But No 10 appeared to play down the chances of this happening, a spokesman saying "we have always said that we are working hard for a deal this autumn and that continues at pace".
"It's worth me pointing out that there is a difference between people talking optimistically about a deal and a deal - including both a withdrawal agreement and a future framework - actually being agreed," he added.
"There remain big issues to work through and, as the PM has said, this will require movement on the EU side. There can be no withdrawal agreement without a precise future framework."
The BBC's assistant political editor Norman Smith said it perhaps suited No 10 to talk about how tough negotiations could be at this stage so that if and when a deal was struck, it would seem more of an achievement to MPs whose support the PM will need to get it through Parliament.
As it stands, Brexit Secretary Dominic Raab will not be meeting his EU counterpart Michel Barnier this week.
Mr Barnier, who earlier briefed Italy's PM on Brexit, is due to hold talks with Northern Ireland's first minister Arlene Foster on Tuesday over the crucial issue of the so-called Northern Ireland backstop.
The backstop is an insurance policy designed to stop the return of physical infrastructure on the border with the Republic of Ireland if no other solution is found. The details of how it might work are yet to be agreed.
The UK could update its own backstop proposals this week which, according to the BBC's political editor Laura Kuenssberg, could involve an increase in "light touch" checks on products and goods away from the border until a more comprehensive solution is agreed.
Media reports have suggested Tory Brexiteers might be willing to accept such a temporary customs arrangement extending beyond the end of 2020 - when the UK-EU's proposed transition period will cease.
On Wednesday, the EU is due to publish updated proposals for future co-operation as well as more details of its no-deal contingency plans although the BBC's Europe editor Katya Adler said these could now be delayed.
In a boost for the UK's post-Brexit trade aspirations, Japan's prime minister has said the UK would be welcomed into the Trans-Pacific Partnership trade deal with "open arms" after it leaves the EU.
While the UK would lose its role as a gateway to Europe after Brexit, it would retain its "global strength", Shinzo Abe told the Financial Times. He also urged the UK and EU to use "wisdom" to avoid a no-deal scenario.
The TPP is a trade agreement between 11 countries, including Japan, Canada, Australia and Malaysia.